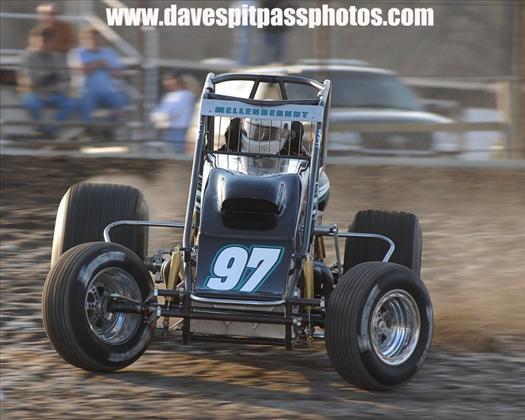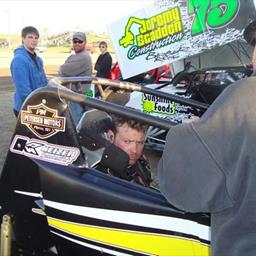 5/17/2010
Bret Mellenberndt
---
Mellenberndt Wins at Rocky! First Win of 2010…
It was all Mellenberndt at Rapid Speedway in Rock Rapids, Iowa this past Friday in the Heartland Racing Association traditional non-winged sprint series. The speedway had nearly 100 cars in the infield as they were holding their first 410 Outlaw Sprint show, but Sioux Falls native, Bret Mellenberndt was the one to watch from the stands.
He started on the pole of the heat race in which he was able to keep his Sioux City Truck and Trailer Keizer Wheels #97 at the front of the pack, taking the Rapid Speedway season opener heat race.
"The car was a little tight," says the veteran non-wing driver. "But, we were still pretty quick and we gained a lot this past week working on the fueling system. The car was fast…I can't complain about that at all!"
He started in the middle of the 19 car field on the inside of the sixth row for the beginning of the main event and quickly moved to the front of the field, taking the lead around lap five. After a long caution flag and restart, Bret kept the lead and capped off the Rapid Speedway season opener with his first win of the year.
"The long yellow was a little frustrating," explains Bret. "But we were able to keep the lead and put the Sioux City Truck and Trailer Keizer Wheels back in victory lane once again. We have won at this place quite often and we were very confident going into tonight's show. Then having this car working perfectly and the motor running the best it ever has, I knew right after the heat race that we were going to have a great night!"
Keep in tune with Bret throughout the 2010 season via his website, www.bretmellenberndtracing.com.
Special thanks to: Bill Mellenberndt, Sioux City Truck and Trailer, Petersen Motors, Hoosier Racing Tire, Keizer Wheels, Bell Racing, DMI, ATL Fuel Cells, Ultra-Shield, Brown & Miller Racing Solutions, RE Technologies, Dri-Bar, Schroeder Racing Components and Driver Websites.
Back to News