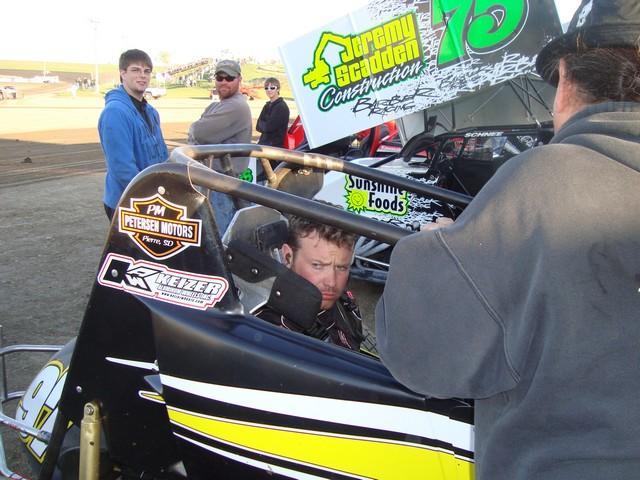 ---
Bret Mellenberndt Sits Second with HRA Season Opener!
Non-wing Sprint Car driver Bret Mellenberndt out of Sioux Falls, South Dakota traveled the short distance to I-90 Speedway in Hartford this past Saturday for the Heartland Racing Association season opener.
The HRA season opener was scheduled for this past Friday, but due to the rain and cold weather, the race was canceled and moved to I-90.
Mellenberndt started on the pole for the heat race to start out the evening and lead the race from flag to flag, holding off the #25 of Dylan Peterson.
"The car felt pretty good," says Bret. "We were just a touch tight, but we were still fast enough to hold off the second place driver. The track was very fast, and it was a lot of fun to get out there and be up front to start out the season!"
Starting on the inside of the third row for the 15 lap main event, Bret quickly made it to third behind Dylan Peterson. The track was fairly heavy, so it was all about momentum. Bret kept on the tail of the Peterson machine and it wasn't until the very last corner in which Mellenberndt was able to overcome the second spot.
"Everyone was really fast tonight," explains Mellenberndt. "It is good to see all of the cars show up here tonight and with the 17 cars that did, all of them were quick, and that's fun to see! We will do our homework and be ready for next week at Rock Rapids' we have been very successful at that place, so we feel pretty confident going into that event."
Special thanks to: Bill Mellenberndt, Sioux City Truck and Trailer, Petersen Motors, Hoosier Racing Tire, Keizer Wheels, Bell Racing, DMI, ATL Fuel Cells, Ultra-Shield, Brown & Miller Racing Solutions, and Driver Websites.
Back to News