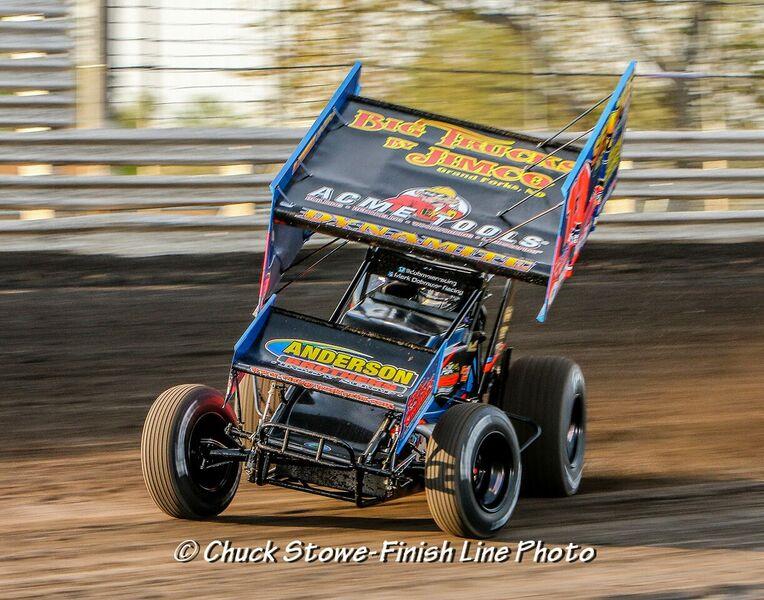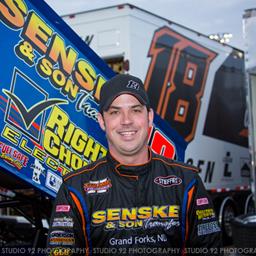 ---
Mark Dobmeier – Two Weeks of Momentum Lead to River Cities Opener!
Mark Dobmeier – Two Weeks of Momentum Lead to River Cities Opener!
(Bill W) April 26, 2016 – Mark Dobmeier and the Jimco Motorsports #13 team have been building momentum in their first two outings at the Knoxville Raceway. The Grand Forks, North Dakota driver nailed down a top ten finish last Saturday night at the "Sprint Car Capital of the World". This weekend will find the Polaris sponsored team at River Cities Speedway in Grand Forks for the opener Friday, with a possible return to Knoxville on Saturday planned as well.
Mark spun to avoid an incident in the feature at Knoxville's opener on April 16. "We've spent the first two weeks at Knoxville, and we've got some momentum going," he says. "The first night we struggled quite a bit. We had to go to the back and got back up to 16th."
He would check in last Saturday night with a decent qualifying lap and a heat race win. "We didn't have what we needed that first week, and we've been making adjustments," says Mark. "We've been working hard, and we're headed in the right direction. The car felt really good in the heat race."
Mark would start outside row seven in the feature. He would climb to tenth before the yellow flag showed with eight laps to go. "I felt like we had a racy car until the caution came out," he says. "After that, we didn't have much. I think the driver was a little too hard on the tire the first half of the race. We burnt up the tire a little bit."
Usually, he is best late in the radce. "As the race goes on, we tend to improve," says Mark. "Unfortunately, after the yellow on Saturday we just couldn't improve from where we were in tenth."
The all-time leading feature winner at River Cities is ready for the opener there. "I think we're good weather-wise for Friday," says Mark. "It's not going to be super-warm, but people are ready to go racing. They had a test and tune last week. It was pretty cool weather and they had a ton of cars and fans for that, so I think they'll be ready to go."
About Polaris…
Polaris Creed
At Polaris, making great products is not just a job - it is a way of life. That is why our creed is etched in steel at the entrance at each of our locations. Our employees are not only building and designing our machines, they are also enthusiastic riders. This gives us the competitive edge as we work together to make the riding experience better.
Polaris Values
Polaris is a strong believer that the key to its success is in the ethics and values of its employees. The Polaris values were defined by its employees, and to prove that this is not just lip service, the Polaris Performance Management Program evaluates employee performance not only on delivered results but also on how well they represent company values:
• Team Player
• Innovation
• Employee Development
• Customer Focus
• Integrity
• Passion for Excellence
• Problem Solver
• Leadership
Polaris products include on-road vehicles, off-road vehicles, snow vehicles, GEM Electric vehicles, commercial and government vehicles, generators and much more! To learn more about Polaris, visit them online at www.Polaris.com!
Follow Jimco Motorsports and Mark Dobmeier Racing on Facebook...
https://www.facebook.com/Mark-Dobmeier-Racing-329718337235441/?fref=ts
Jimco Motorsports would like to thank Polaris, Senske & Son Transfer, Big Trucks by Jimco, Right Choice Electric, Acme Tools, Interstate Towing & Recovery, Kyllo Trucking, B/L Strong Box, Steffes, Dahlstrom Motors, GLB Transport, Tireboss, Forx Radiator, Anderson Auto Body, Gary Gruhot Farms, Willow Ridge, Rose Creek, Herberg Custom Harvesting, Great Plains Plumbing & Heating, Ironman Welding, DAV, Rendezvous Region Construction, High Mark Snowmobile Rentals, Boss Signs & Graphics and Dobmeier Bonding for all their help!
Photo: Mark at Knoxville (Chuck Stowe – Finish Line Photo)
Bill W Media
Monroe, IA USA
sprntcar@hotmail.com
Twitter: @BillWMedia
Back to News