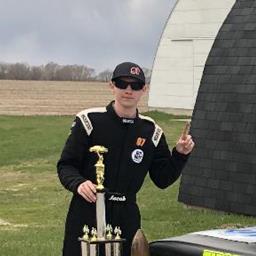 Jacob Nottestad
Stoughton, WI
Driver Information
No Information
No biography information available for this competitor.
2011-2013 Letzow Raceway Track Champ
2014 Max-Torque driver of the year and fall classic Coulee raceway champion
2016 INEX Legend state champs (young lions) 10th in nation
2017 Jefferson speedway LM ROY, only rookie to win 2 features in one season, youngest feature winner of all time
2019 Slinger Super Speedway track champ with 8 feature wins and 8 fast times.
2019 Jefferson speedway state championships 2nd overall and one feature win.
2019 faster than a speeding bullet at NSTC in the Big 8 Late Model and Legend car
Setting fast time at Rockford in the big 8 car and hopping into Jared Apel's legend car and breaking the track record.
Favorites
Track

Rockford and Slinger

Driver

Myself

Event

The Big 8 108 at the Rockford speedway

Food

Buffalo Wild Wings

Movie

Days of Thunder

Song

"Yes Indeed" by Lil Baby

Sports Team

The 97 racing teams

Speed Shop

My dads garage
Recommendations
Restaurant

Buffalo Wild Wings

Fast Food

Culver's

Gas Station

Shell

Car Manufacturer

Chevrolet

Beverage

Root Beer

Parts Store

NAPA

Hotel

Holiday Inn express