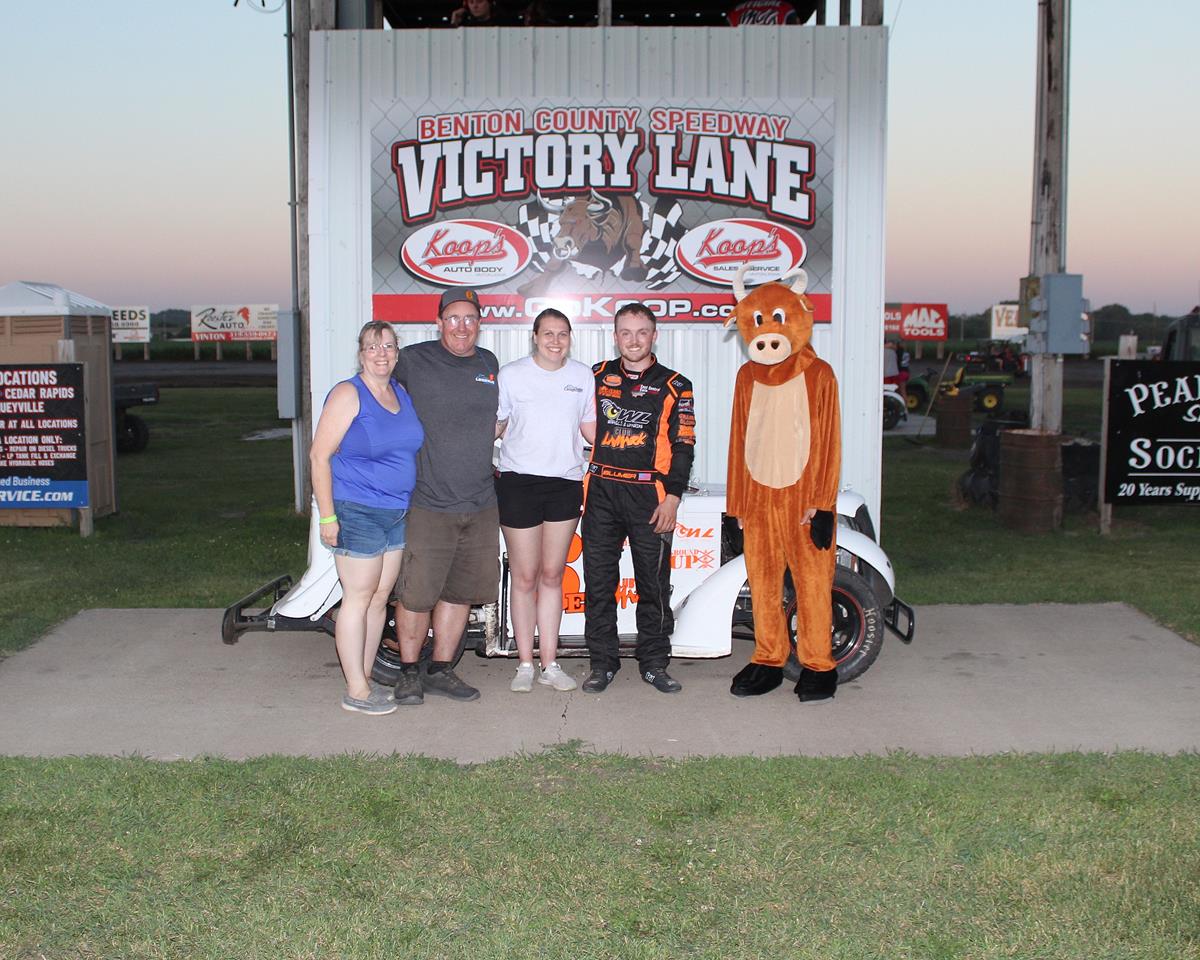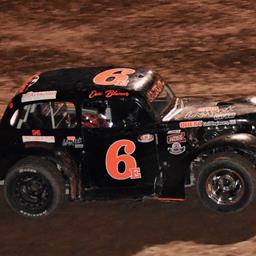 ---
Blumer Takes Two at Vinton, IA Including Urbana 5 Memorial
(July 11 Sun Prairie, WI)
Eric scored one of the biggest wins of his career last night at "The Bullring," at Benton County Speedway, Vinton, IA and the Urbana 5 Memorial. The grandstands were packed and the field was stacked for this special event.
This special race is an annual event honoring five area teens that perished in a car crash in 2015. Along with keeping their memory alive, the outreach includes highlighting the Iowa Donor Network. At the time of this tragedy all five families of these young race fans agreed their loved ones organs should be donated and hundreds of people have benefited from the gifts.
Many area fans and businesses added money to the purse. For the Legends, which on a normal night pays a very respectable $250 to win at The Bullring, the purse was advertised as $400. After the event poster was published, another $100 was added to make the total winner's take $500.
THE WIN RECAP
Literally, every night, Eric is up against some of the top drivers in the country. This 15-lap feature boasted no less than six, 2022 INEX A-Main winners, with a minimum of 20 wins among them. Included in the field were number one and two in INEX National Pro points (Jordan Miklas and Michael Weber) and first in Semi-Pro points, Parker Jones. Eric came into the night ranking 11th out of 65 Pros scored.
The 6E took off from the seventh starting spot. At the drop of the green about half of the field took to the top while the rest drove the bottom. Eric was in the latter group. By the third circuit he was in a six lap, battle with North Dakota's Drew Papke for the lead. Papke was high on the rim and Eric was low on the huggy pole. During this time, on any given lap, the two swapped the point several times, but for the first half of the race, when they hit the transponder wire, Papke was the leader.
Eric got a good rhythm going and Weber was about a car length off his tail. Meanwhile, Jones, Miklas and Papke were battling side by side and nose to tail on the higher end. This and a lapped car running high, allowed Daisy (Eric's car's name) to get about a five length cushion. As the laps wound down, another lapper was going to come into play, this time occupying Eric's groove.
Now, Eric's lost several races due to late cautions. But the one with two laps to go may have been the most fortuitous ever. Had he had to maneuver above the lapped car, if there was room to move up, he'd have been in no man's land, in the middle of the track. But, a car drove off the turn-three straightway and two more tangled on the backstretch bringing out the caution and a green, white, checkered finish. Eric got the jump on the restart, never looking back, leaving Papke, Miklas and Jones to battle for second, in a three-wide duel. Jones took the runner up spot, followed by Papke, Miklas, Weber and David McCalla.
ON A ROLL
Eric has stuck with Daisy all season. It's was tempting to bring the famed "Frankenstein," out, as his only go was on the pavement this year. In Daisy, Eric had success early in the season, with a ton of runner up and podium finishes, but no wins. Then they hit a bad streak of mid-pack finishes. Last week that changed as he ran second at Maquoketa and got his first win of the season at Vinton.
NOTES OF THANKS
Maybe it was the suit! Since donning his new driving uniform, courtesy of Owen Leatherberry, Eric broke out of his funk with finishes of second, first, fourth and first.
The drive to Vinton from Sun Prairie is over three hours and about 400 miles, round trip. It makes it much easier and economical with the help of Stan Otis from Club LaMark who lets us use a smaller and subsequently more fuel efficient trailer.
But, this means we have to rely on the Legends Direct team, including, but not limited to Griffin McGrath and Kacey Korsmo for anything we didn't bring due to limited storage space. Robby Morrison has let us use his pre-paid pit stall, near the LD team, making everything logistically better. Plus he posts his in-car view on YouTube for us to enjoy! View the Urbana 5 Memorial win here:
https://www.youtube.com/watch?v=RaC0z5gs3TQ
On Saturday, at Beaver Dam Raceway, thanks to Brian and Terri Benisch, we were pleased to offer fans Dog Guard Koozies during the Fan Appreciation meet and greet.
Thanks to Justin Hoium for his work this week to including making us super, smoked pulled pork for the BDR race!
Thanks to all of the sponsors and organizers of the Urbana 5 Memorial!
UP NEXT
This coming weekend, July 16 and 17 it's a doubleheader as we travel to our home away from home, Beaver Dam Raceway on Saturday. And then, Sunday, it's home sweet home as we visit historic Angell Park Speedway for the Legends final visit of 2022. Stop down after the races and get one of the limited supply of Dog Guard Koozies we have left!
AS ALWAYS
These are the businesses and folks who are helping to keep Eric on the track through their generous support in 2022! BRS Radiator, Machine & Fabrication; Northern Air Systems, Inc.; Dog Guard of Wisconsin; North Central Utility of Wisconsin LLC; East Central Coin Inc.; Stan at Club LaMark; Ground Up Lifts; Owen Leatherberry; Sieg Law Office; OWL Graphics and Lettering; Grandpa Blumer, Legends.Direct, Mary Lybeck in memory of Denny.
Here are the people who go hands on the 6E to get it in top shape every week: Justin Hoium, Greg Leatherbeary, Big Dumb Guy, Joe Wipperfurth, Brian Benisch, Faith Piepenburg, Logan Stevens and Stephanie Blumer.
We salute Owen Leatherberry (U.S. Navy) and Andrew Upperman (U.S. Marine Corps.)!
Thank you all for your part in Eric Blumer Racing!
Photo credit to Speedway Souvenir Photos from last week's Benton County win with Mom, Dad, Faith, Eric and The Bull!
---
Submitted By: William Blumer
Back to News