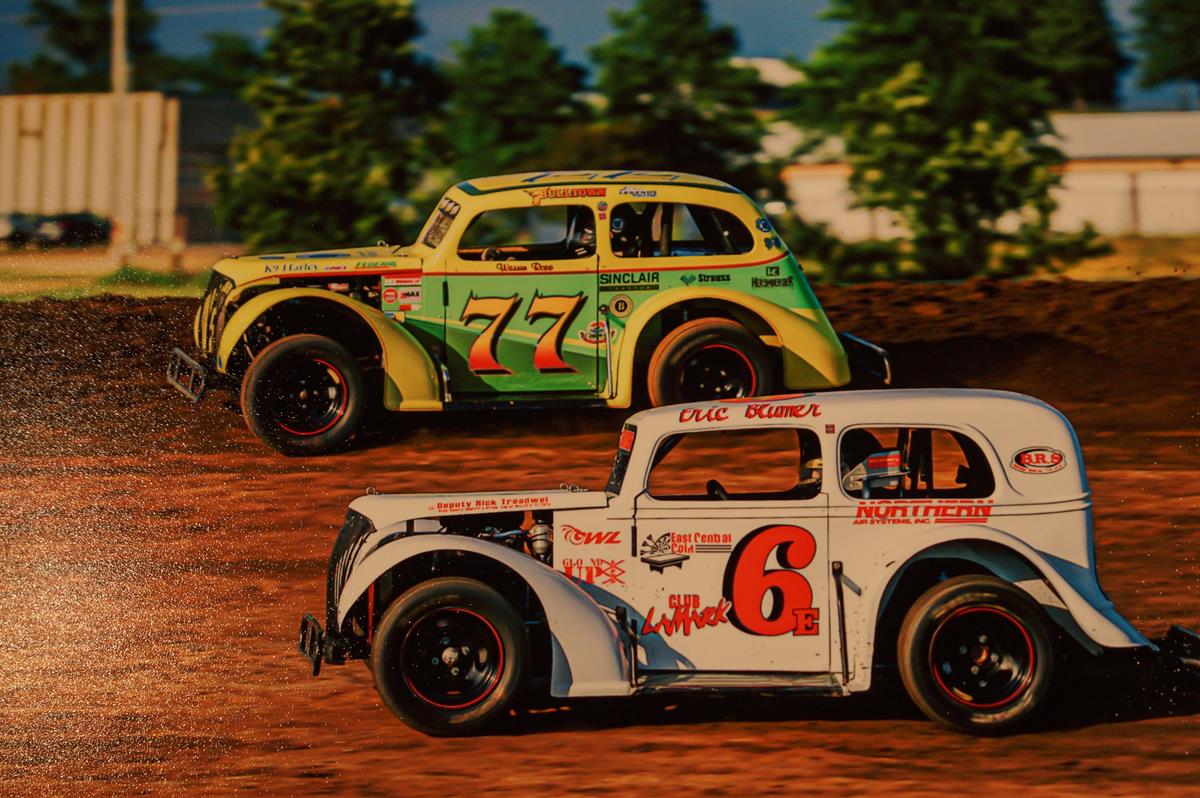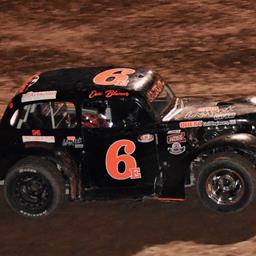 ---
July 29 Report: One Down, Two to Go for EBR
It's a busy week(end) for the EBR team, as we began last night, Thursday, July 28, at Iowa's Maquoketa Speedway for the annual Jackson County Fair race. Eric ran second in his heat, making the invert. He then pulled into the infield for the draw and picked the #12 pill, out of 12.
Banging doors in an A-Main vs. the top two in INEX National Pro Dirt points and number one in Semi-Pro points (Jordan Miklus, Michael Weber and Parker Jones respectively) is tough enough, but starting behind them, makes the task even tougher. Twenty Legends in all, took the green.
It was a tricky track that seemed to have a bit left on the top early, but that went away within the first few laps. Eric didn't start making headway until mid-race and with the help of a couple of restarts. In the end he finished a respectable sixth.
We pulled into the Maynard Dr. facility at about 12:30 a.m. Eric was off to work at about 6.
FRIDAY and SATURDAY GOES
Tonight, Friday, July 29, we make the haul to Chilton, Wisconsin's, Gravity Park Speedway for a Wisconsin Legends Racing Dirt Series event. Saturday, we're at Beaver Dam Raceway for another exciting "5 Division Night." Please see their media outlets for times and pricing.
Note, we had fully planned on making this weekend a four night in a row deal, but Vinton, IA is NOT racing Sunday. Please see their outlets for confirmation.
CURRENT POINTS
INEX NATIONAL PRO DIRT (For Entertainment Purposes Only) Eric ranks #3 out of about 75 scored.
WLRDS- 2nd
BEAVER DAM RACEWAY-3rd
GIVING BACK
As many know, Maquoketa was in the news recently for the tragic murder of a family at Maquoketa Caves State Park. Arlo Schmidt, a 9-year-old, was the only survivor. Eric, along with the rest of the Legend drivers, donated his race check to the boy.
THANKS!
Thanks to Justin for spending a couple of evenings this week helping Eric get Daisy and Frankenstein ready for the weekend!
These are the businesses and folks who are helping to keep Eric on the track through their generous support in 2022! BRS Radiator, Machine & Fabrication; Northern Air Systems, Inc.; Dog Guard of Wisconsin; North Central Utility of Wisconsin LLC; East Central Coin Inc.; Stan at Club LaMark; Ground Up Lifts; Owen Leatherberry; Sieg Law Office; OWL Graphics and Lettering; Grandpa Blumer, Legends.Direct, Mary Lybeck in memory of Denny.
Here are the people who go hands on the 6E to get it in top shape every week: Justin Hoium, Greg Leatherbeary, Big Dumb Guy, Joe Wipperfurth, Brian Benisch, Faith Piepenburg, Logan Stevens and Stephanie Blumer.
We salute Owen Leatherberry (U.S. Navy) and Andrew Upperman (U.S. Marine Corps.)!
Thank you all for your part in Eric Blumer Racing!
About the photo from Full Throttle Photography: It was from the last time we were at Maquoketa, but this shot could have been taken during tonight's heat race as Eric went door to door with "The General," Warren Ropp, one of Eric's early mentors in the Legends class.
---
Submitted By: William Blumer
Back to News