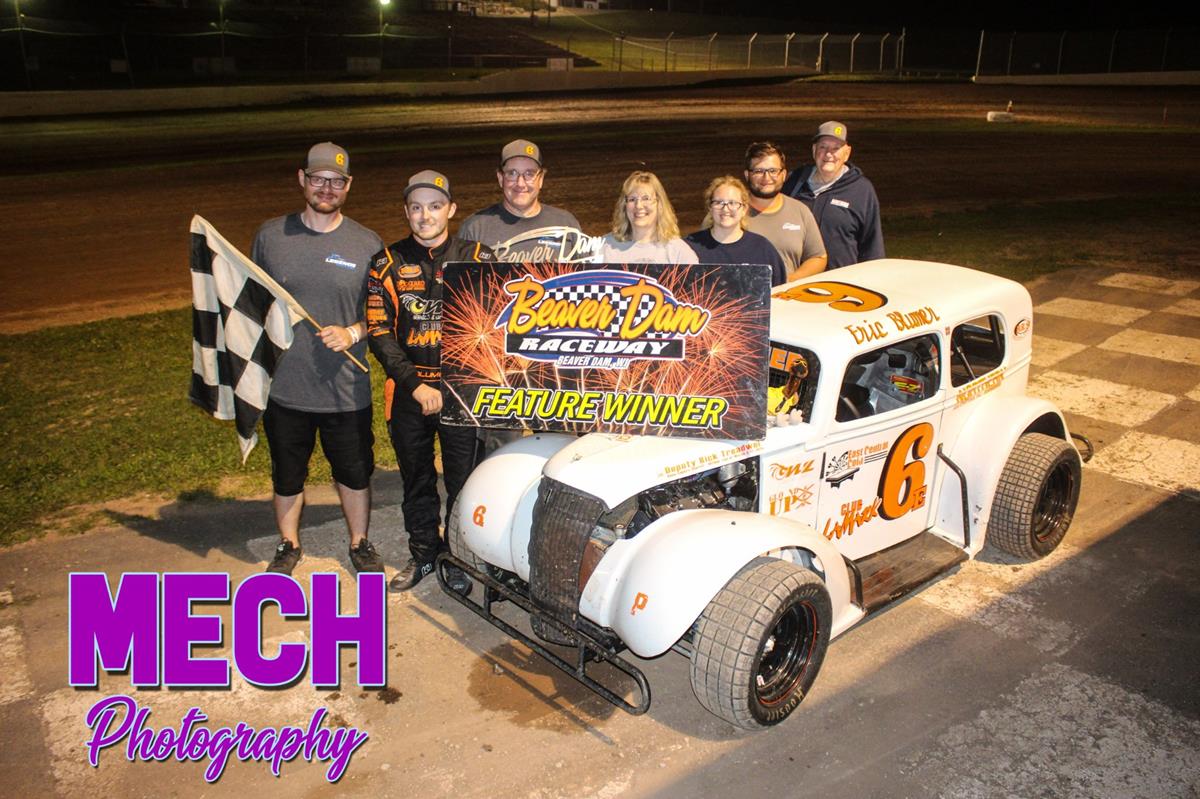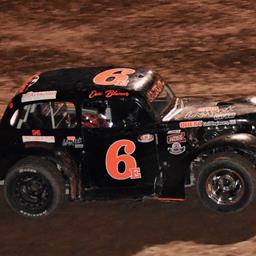 ---
Blumer Finally Finds Victory Lane on Wisconsin Soil
Sun Prairie, Wisconsin's Eric Blumer scored his first Wisconsin win for 2022 at Beaver Dam Raceway, Sunday. On the season he had two wins in Iowa and many laps led with podium finishes at home, but no trips to Victory Lane. BDR in particular had eluded him, as he had not won at his weekly gig since the Wipperfurth Memorial to open the 2021 season.
THE OHIO INVADER
It was a stout field of 20 cars that signed into the Legend pits. Included were the INEX National Points leaders for Semi-Pro, Parker Jones and Young Lions, Austin Winkle (fresh off a Chilton win). And then there was Ohio's Steve Partin. At first glance, Eric didn't recognize his car or the rest of his team, but he would later.
Partin got everyone's attention early as he easily took his heat race. In doing so, onlookers jaws dropped at the speed the Buckeye generated. Timing would later bear this out.
Eric had some good, clean laps in winning his heat and a cursory check indicates of all heat times, he was the third fastest. Partin's worst lap in his heat was .1 faster than Eric's best. Partin's best lap was nearly .5 seconds faster than Eric's and .4 faster than Nick Johnson's. The Badgers had their work cut out for them.
A fun fact, Partin's fast lap was 17.007. Ryan Mech's track record, set about a year ago, is 16.884. Partin runs the new FZ09 engine, while Mech's feat was in the old 1200 Yamaha.
A GREEN TO CHECKERS BLESSING
A night removed from Gravity Park Speedway, where the Legends started 16 and finished with 6 cars, there was no reason to believe tonight would be a lot different. The clay at BDR was the best it had been all year (as was Gravity Park) when they took the green. Hayden Schmuhl jumped to the lead from his pole start. When they crossed the start/finish line on the first lap, Eric (who started 6th) led by a bumper and started to check out.
From here, all eyes were on the battle for second. It took about five laps to break free from the pack. But when they did, Partin who started 11th and Jones from 10th, went side by side and nose to tail for many laps, putting nearly a straightaway between themselves and the next cars. Meanwhile, Eric had his own half a straightaway lead.
With about six to go, Partin broke away and started to chase down the 6E. Here, Eric caught a three car duel that included INEX Masters drivers, Keith Meyer and Tim Franz, who were battling each other for valuable points. Eric was able to split the two coming out of turn-four with about four laps to go. Having run many laps with the pair, Eric knew he'd get through safely. "I knew Eric was coming and I just wanted to hold my line," Meyer would note later.
Once they cleared the lappers, Partin wasn't gaining much and Eric cruised to an easy victory. Jones was third, followed by Nick Johnson and Ryan Sullivan.
Had there been a late yellow, with the track providing three grooves, Eric would have had a tough time keeping the rest of the pack off his back.
In tech Eric approached Partin. "You probably don't remember me, sir. But, I'm the guy who destroyed his car at your track at the Nationals and left it at the track last fall," Eric said, referring to the night Alice was totaled at the track Partin owns.
Partin laughed and said, "I remember. It's still sitting where you left it!" It should be noted that Partin, did give consent for Alice's final resting spot to be at his Brushcreek Motorsports Complex.
THE REST OF THE WEEKEND
BDR was the last of a three race weekend for EBR. We started on Thursday at Maquoketa (IA) Speedway, where Eric started 12th and finished 6th. Friday night, was a heartbreaker, as he was battling for the lead when his throttle cable broke. Eric and Dad got to bed at about 1 a.m. after both of those races.
JUSTIN'S NEW RIGHT HAND MAN
With first mate Greg Leatherberry out of action due to work obligations, Crew Chief Justin Hoium brought Limu, the stuffed Emu, on board. Limu supervised the night's changes from the pit box and conferred with his plush counterpart Tony Stewart Bear on various set up issues. Both mascots enjoyed posing for Victory Lane photos.
Thanks to Justin, who came over prior to every race this weekend to help get Daisy ready!
UP NEXT
We'll be back in action at Beaver Dam Raceway on Saturday, August 6. Then, Sunday, as it stands, we'll make the tow to the Benton County Bullring in Vinton, IA.
THANKS!
Thanks to Beaver Dam Raceway, who continues to provide the best Victory Lane mementoes we've seen, in the form of a laser cut plague.
These are the businesses and folks who are helping to keep Eric on the track through their generous support in 2022! BRS Radiator, Machine & Fabrication; Northern Air Systems, Inc.; Dog Guard of Wisconsin; North Central Utility of Wisconsin LLC; East Central Coin Inc.; Stan at Club LaMark; Ground Up Lifts; Owen Leatherberry; Sieg Law Office; OWL Graphics and Lettering; Grandpa Blumer, Legends.Direct, Mary Lybeck in memory of Denny.
Here are the people who go hands on the 6E to get it in top shape every week: Justin Hoium, Greg Leatherbeary, Big Dumb Guy, Joe Wipperfurth, Brian Benisch, Faith Piepenburg, Logan Stevens and Stephanie Blumer.
We salute Owen Leatherberry (U.S. Navy) and Andrew Upperman (U.S. Marine Corps.)!
Thank you all for your part in Eric Blumer Racing!
About the photo: Thanks to Diane Mech Photography for supplying us with photos we can publish in a timely manner! Pictured left to right: Justin, Eric, Dad, Mom, Stephanie, Logan, Grandpa Blumer, Limu to the right of the victory sign. Not pictured, Tony Stewart Bear (in memory of Denny Lybeck), who was on the other side of the car.
---
Submitted By: William Blumer
Back to News