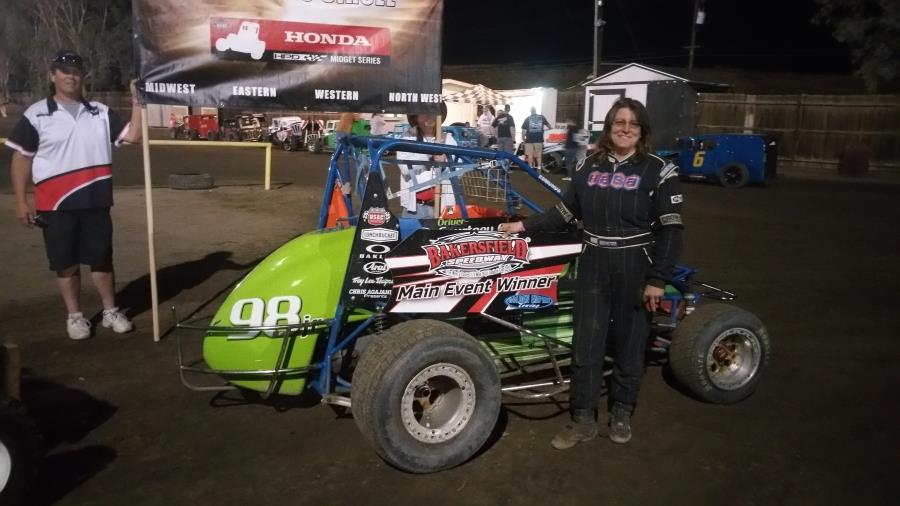 ---
Randi Pankratz Wins Bakersfield HPD
Bakersfield, CA……..Randi Pankratz of Atascadero, Calif. led all but the first lap to win Saturday night's USAC Western HPD Midget dirt opener at Bakersfield Speedway. She passed Tom Paterson on lap two and led the rest of the way to beat Shawn Buckley, Jet Davison, Ron Hazelton and Robert Dalby. The win was her first under USAC sanction since a 1998 TQ Midget win at Bakersfield.
USAC HPD WESTERN MIDGET RACE RESULTS: April 18, 2015 – Bakersfield, California – Bakersfield Speedway
FIRST HEAT: (8 laps) 1. Ron Hazelton (#15 Hazelton), 2. Shawn Buckley (#7 Buckley), 3. Jet Davison (#59 Davison), 4. Cody Jessop (#00 Jessop), 5. Wally Pankratz (#37 Pankratz). NT
SECOND HEAT: (8 laps) 1. Randi Pankratz (#98 Pankratz), 2. Ashley Hazelton (#5 Hazelton), 3. Marvin Mitchell (#25 Mitchell), 4. Tom Paterson (#44L Love), 5. Jesse Love (#38L Love), 6. Robert Dalby (#4d Dalby). NT
FEATURE: (30 laps) 1. Randi Pankratz, 2. Shawn Buckley, 3. Jet Davison, 4. Ron Hazelton, 5. Robert Dalby, 6. Jesse Love, 7. Ashley Hazelton, 8. Tom Paterson, 9. Cody Jessop, 10. Wally Pankratz, 11. Marvin Mitchell. NT
**A.Hazelton flipped on lap 28 of the feature.
FEATURE LAP LEADERS: Lap 1 Paterson, Laps 2-30 R.Pankratz.
NEW USAC HPD WESTERN MIDGET POINTS: 1-Dylan Nobile-333, 2-Jessop-298, 3-Toni Breidinger-287, 4-Annie Breidinger-287, 5-A,Hazelton-231, 6-J.Love-217, 7-Paterson-181, 8-R.Hazelton-106, 9-Buckley-97, 10-Dezel West-94.
NEW USAC HPD WESTERN MIDGET DIRT POINTS: 1-R.Pankratz-68, 2-Buckley-64, 3-J.Davison-60, 4-R.Hazelton-59, 5-Dalby-51, 6-J.Love-49, 7-A.Hazelton-49, 8-Paterson-44, 9-Jessoip-41, 10-W.Pankratz-37.
NEXT USAC HPD WESTERN MIDGET RACE: April 25 – Ventura (CA) Raceway
Back to News