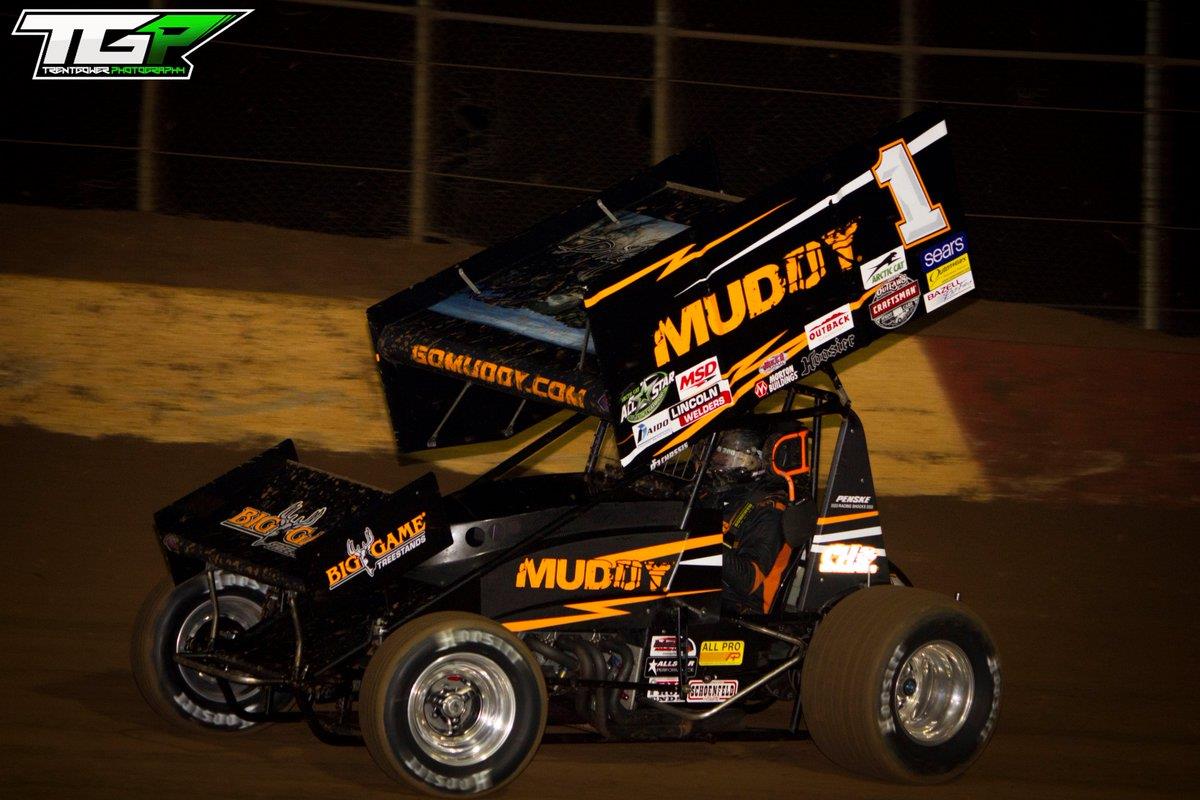 11/8/2016
Inside Line Promotions
---
Blaney Grades 2016 Season a 'B' After Year Filled With Ups and Downs
(Photo by Trent Gower Photography)
Inside Line Promotions – WINDOM, Minn. (Nov. 8, 2016) – Dale Blaney has perspective following a season filled with the highest of highs and lowest of lows.
Blaney won eight races, including his first of the year, and the Mainstream Holdings, Inc., sponsored CH Motorsports team was in a tight battle for Blaney's seventh Arctic Cat All Star Circuit of Champions title until the final lap of the season finale.
"We started our year really good," he said. "We won our first race of the year in January at Cocopah Speedway (during the Winter Heat Sprint Car Showdown). I've had a superstition that if you win the first race of the year the rest of the year doesn't go that well, but we had a really good year. We were really fast all year. We were consistent all year except for a month between the middle of June to the middle of July."
Blaney captured the opening race of the Winter Heat Sprint Car Showdown on Jan. 1 at Cocopah Speedway before he ended the five-race series ranked second in the championship standings.
"Cocopah was big, the first race of the year and winning against a great field of cars," he said. "We ran good the whole series. We competed and ran really, really good. (Crew Chief) George (Fisher) had never seen that place and I felt like we were good every night. That was one of the highlights."
Blaney and the team recorded seven All Star feature wins, including the inaugural Keith Kauffman Classic at Port Royal Speedway in Port Royal, Pa., on April 23.
"I won by about six seconds," he said. "That was pretty neat. That was probably the other highlight of the year."
Unfortunately, the season was met with tragedy as Fisher passed away in October following a battle with cancer.
"He's somebody you could count on every day," Blaney said. "He was going to give you 100 percent of whatever he had, whether it's the shop or the race track or anywhere. We thought a lot alike and we acted a lot alike. We got along like brothers. We won probably 100 races in those 15 years together. He was my guy. There's no other words to say than he was my guy. It's going to be hard to go on and do what we do without him."
Blaney capped the season by leading 23 laps during a 30-lap World of Outlaws Craftsman Sprint Car Series main event at the Bad Boy Off Road World of Outlaws World Finals hosted by The Dirt Track at Charlotte in Concord, N.C., last month. He finished fourth, which marked his
36th top five of the season.
"I didn't meet some of the goals that we wanted, but that's life," he said. "Overall I thought the season was pretty good. I'd grade it a B."
Additionally, the 2016 season concluded the partnership between Mainstream Holdings, Inc. and CH Motorsports.
"We would like to thank the entire CH Motorsports team for an outstanding two years together," Mainstream Holdings, Inc. Chief Financial Officer Luke Lundt said. "We appreciate everything Janet, Dale and George did during our time together. They were first class in everything they did. Our thoughts and prayers remain with the team and their families during this difficult time and we thank them all for everything they've done."
SEASON STATS –
69 races, 8 wins, 36 top fives, 51 top 10s, 57 top 15s, 62 top 20s
MEDIA LINKS –
Website: http://www.BigGameTreestands.com
Twitter: http://www.Twitter.com/BigGameMotorspt
Facebook: https://www.facebook.com/pages/Big-Game-Treestands/251832101535076?fref=ts
MUDDY –
Muddy has always been known for its exceptionally high-end features and unwavering quality. The line has recently been expanded and revolutionized to contain even more options, including ladderstands, tripods and ground blinds as well as hang-ons and harnesses. For more information, visit http://www.GoMuddy.com.
BIG GAME TREESTANDS –
Established in 1977 in Windom, Minn., Big Game Treestands® has grown to be a leading company in the outdoor industry. Big Game Treestands® offers a Rock Solid™ line of field tested, safety certified above TMA requirements, welded steel stands & free standing elevated platforms that gives you not only a safe and extremely sturdy vantage point, but also reliable all-day comfort at a great value. Large, non-slip standing platforms, top-notch fastening systems, and our innovative pinned, sleeved ladder sections provide the Rock Solid™ stance, twist free climbing, and all around silence that Big Game Treestands® is known for. Non-glare, powder coat finish keeps our products hidden from nature's wary eye.
For over 30 years, it has been our goal and our philosophy to provide the most innovative and practical treestands and hunting accessories in the field. As tradition continues, we are Exceeding Limitations and once again providing new models that challenge Mother Nature. In 2012 Big Game extended the line into Trail Cameras known for the easy to set, great picture quality, and over all great camera. Eyecon Trail Cameras® exceeds the expectations of consumers. Big Game Treestands® and Eyecon Trail Cameras® offers undeniable quality on time-tested favorites as well as new innovations for 2016.
For more information on Big Game Treestands®, visit http://www.BigGameTreestands.com.
INSIDE LINE PROMOTIONS –
Inside Line Promotions specializes in affordable public relations and media management for motor sports drivers, teams, sponsors, tracks, series, events, organizations and manufacturers. ILP Founder Shawn Miller leverages professional journalism with new media technologies and social networking to improve your exposure and the return on investment for your sponsors.
To meet the media relations needs of your program by joining Team ILP, contact Shawn at 541-510-3663 or Shawn@InsideLinePromotions.com. For more information on Inside Line Promotions, visit http://www.InsideLinePromotions.com.
---
Article Credit: Inside Line Promotions
Submitted By: Shawn Miller
Back to News