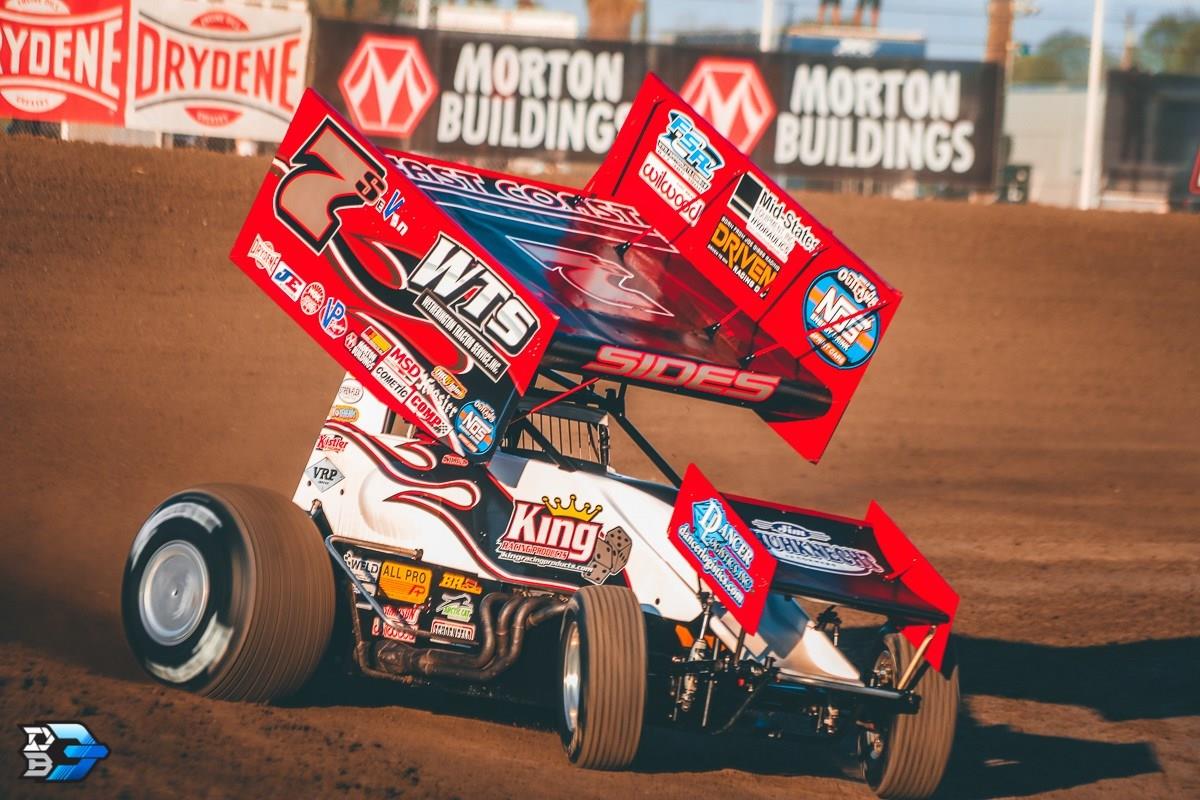 11/12/2019
Inside Line Promotions
---
Shaffer Earns Hard Charger Award for Sides Motorsports During World Finals
(Photo by DB3 Inc)
Inside Line Promotions – CONCORD, N.C. (Nov. 12, 2019) – Tim Shaffer highlighted the Can-Am World Finals for Sides Motorsports by earning the Hard Charger Award on Friday at The Dirt Track at Charlotte.
Shaffer's hustle from 24th to 14th marked the most cars passed during the World of Outlaws NOS Energy Drink Sprint Car Series main event. It was also the best result of the weekend for Shaffer and team owner Jason Sides.
"I felt like we could have been a little better and he could have got a top 10, which would have been good starting 24th," Sides said. "The track was spotty with rubber, but got cleaned off enough it didn't lay it down. It ground the tires off and you could move around the track. It was down to the cords of the left rear and right rear at the end."
Both Sides and Shaffer qualified in the top 15 in their group for both shows. However, with more than 50 cars competing and a six-heat race format, neither driver finished in the top three of a heat race to lock into the main event.
"We could have been better in qualifying with more gear the way the track was," Sides said. "When you have that caliber of cars you have to be on the front row of a heat race. It's hard to pass. Also, on Friday and Saturday you go into the heat races without hot lapping or anything so that makes it tough."
Shaffer powered from 11th to sixth in the Last Chance Showdown on Friday to garner the final transfer position into the A Main. He continued to move forward by gaining 10 more positions in the feature to place 14th.
Shaffer used a provisional to start 27th in Saturday's main event. He picked up a handful of spots to finish 23rd.
"We went a little further with the setup on Saturday from how we had it Friday," Sides said. "We were the feature before the late models so the track wasn't as cleaned off as the night before. They moved the tires in and that threw a lot of mud on the race track. We just missed it a bit with how the car was set up."
QUICK RESULTS –
Jason Sides:
Nov. 8 – The Dirt Track at Charlotte in Concord, N.C. – Qualifying: 11; Heat race: 6 (4); B Main: 16 (5).
Nov. 9 – The Dirt Track at Charlotte in Concord, N.C. – Qualifying: 15; Heat race: 8 (5); B Main: 18 (12).
Tim Shaffer:
Nov. 8 – The Dirt Track at Charlotte in Concord, N.C. – Qualifying: 15; Heat race: 5 (5); B Main: 6 (11); Feature: 14 (24).
Nov. 9 – The Dirt Track at Charlotte in Concord, N.C. – Qualifying: 12; Heat race: 4 (4); B Main: 7 (6); Feature: 23 (27).
SIDES MOTORSPORTS SEASON STATS –
108 races, 0 wins, 7 top fives, 19 top 10s, 37 top 15s, 68 top 20s
MEDIA LINKS –
Website: http://www.SidesMotorsports.com
Twitter: http://www.twitter.com/SidesMotorsport
Facebook: https://www.facebook.com/pages/Sides-Motorsports/283833970847?ref=br_tf
SPONSOR SPOTLIGHT – R.E. Enterprises
Based in Memphis, Tenn., R.E. Enterprises is a one-stop solution for sprint car parts and racing supplies, racing and performance shock services, chassis repairs and fabrication, and custom welding or machining needs. For more information, visit http://www.RacingEclipse.com.
"R.E. Enterprises does a lot for us and we really appreciate their support," Sides said. "Chris and everybody over there are just as good of friends as they are partners."
Sides would also like to thank Wetherington Tractor Service, Inc., East Coast Logistics, BR Motorsports, VRP Shocks, Dancer Logistics, Inc., King Racing Products, TORA TORA, Jim Schuhknecht, FSR Radiators, Mid-States Equipment, Brad, Driven Racing Oil, Ingles Racing Engines, Wings Unlimited and All Pro Aluminum Cylinder Heads for their continued support.
INSIDE LINE PROMOTIONS –
Inside Line Promotions specializes in affordable public relations and media management for motor sports drivers, teams, sponsors, tracks, series, events, organizations and manufacturers. ILP Founder Shawn Miller leverages professional journalism with new media technologies and social networking to improve your exposure and the return on investment for your sponsors.
To meet the media relations needs of your program by joining Team ILP, contact Shawn at 541-510-3663 or Shawn@InsideLinePromotions.com. For more information on Inside Line Promotions, visit http://www.InsideLinePromotions.com.
---
Article Credit: Inside Line Promotions
Submitted By: Shawn Miller
Back to News