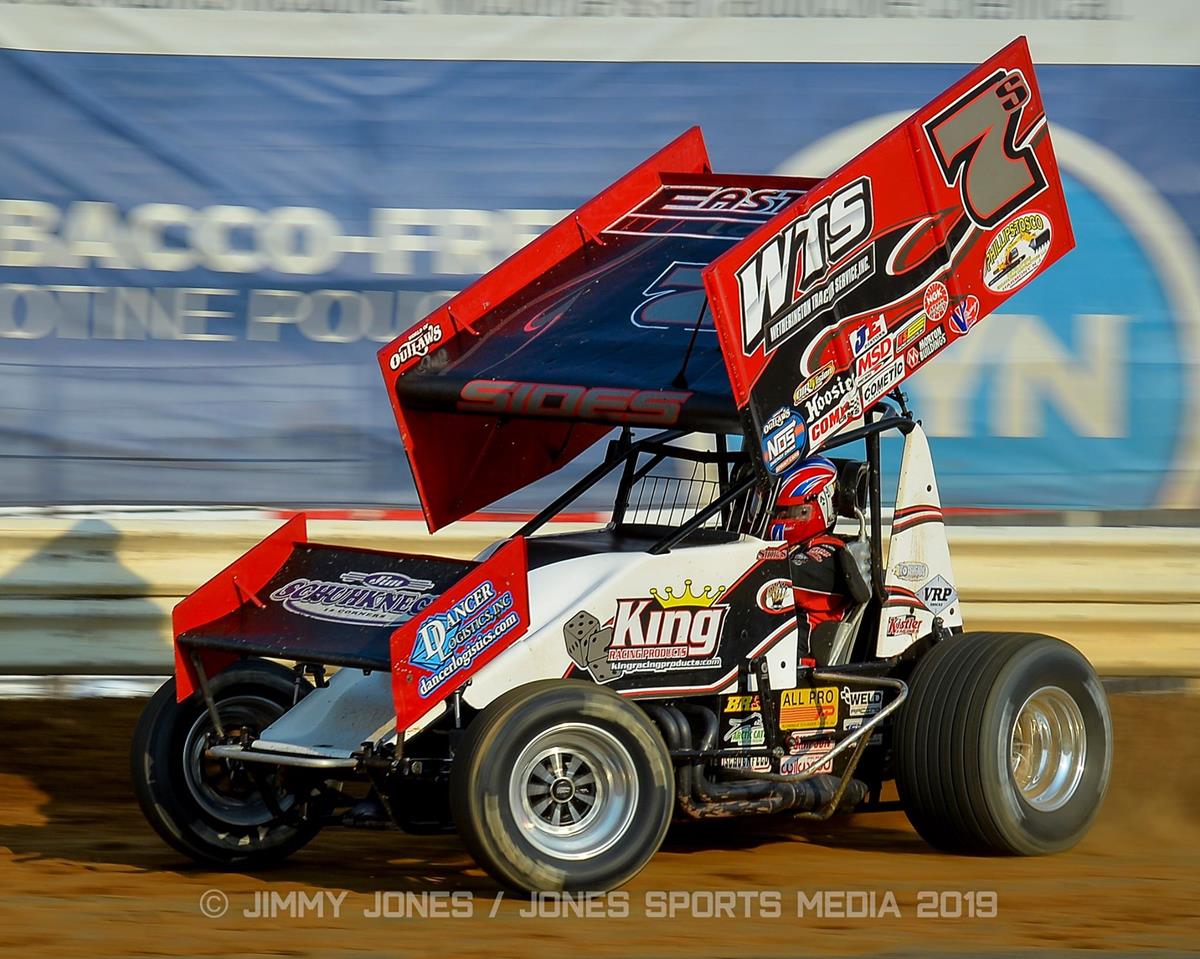 11/19/2019
Inside Line Promotions
---
Kaeding, Shaffer and Sides Lead Sides Motorsports Through Another Year on the Road
(Photo by Jones Sports Media)
Inside Line Promotions – BARTLETT, Tenn. (Nov. 19, 2019) – A top-five outing during the famed Knoxville Nationals highlighted the season for Sides Motorsports.
Tim Kaeding spent a little more than two dozen races behind the wheel for the team, earning seven top fives during World of Outlaws NOS Energy Drink Sprint Car Series competition. The best moment came in August when Kaeding guided the team to a career-best fourth-place finish during the sport's biggest event.
"TK is an underrated driver that needs a full-time ride," team owner Jason Sides said. "Any time he'd get in our car he was capable of winning. Every time he hit the track it seemed like it was potential for a top five.
"At the Capitani Classic the weekend before the Knoxville Nationals he had to run the B Main and came out of that (from 12th to win) and then he started 20th and ran sixth in the feature. With the same caliber of cars as the Nationals it's pretty good to get through the field like that. Then in the Nationals to start 10th and finish fourth was great. I think there was maybe a top three at one point."
Veteran Tim Shaffer also competed in nearly a half dozen races with the team.
"Shaffer jumped in it and had a really good run at Lernerville," Sides said. "Williams Grove is all about the luck of the draw. To make the show one night and have a good night going was a decent showing given how challenging it is there."
Sides ran the entire World of Outlaws schedule, finishing 13th in the championship standings highlighted by five top 10s.
"We weren't on our game this year at all," he said. "Sometimes you get over it for a year. Now I'm motivated to do it again. I'm rejuvenated and looking forward to next year.
"I want to thank everyone for their support of our team. Also, we wish Kimball Wetherington well in his recuperation. We have some great people who are a part of this team and we're looking forward to a better season next year."
SIDES MOTORSPORTS SEASON STATS –
108 races, 0 wins, 7 top fives, 19 top 10s, 37 top 15s, 68 top 20s
MEDIA LINKS –
Website: http://www.SidesMotorsports.com
Twitter: http://www.twitter.com/SidesMotorsport
Facebook: https://www.facebook.com/pages/Sides-Motorsports/283833970847?ref=br_tf
SPONSOR SPOTLIGHT – TORA TORA
TORA TORA is a blues-based hard rock band formed in Memphis, Tenn., in the late 1980s. Band members include Keith Douglas, Patrick Francis, John Patterson and Anthony Corder. TORA has two major releases Surprise Attack/Wild America through A&M Records that promoted five singles and videos (Walkin' Shoes, Guilty, Phantom Rider, Amnesia and Faith Healer). The band recently released a new album titled 'Bastards of Beale.' For more information, visit http://www.TORATORAMusic.com.
"It's an exciting relationship," Sides said. "They are from Memphis and we're from Memphis. A lot of good bands and a lot of good racers come from Memphis. I used to race dirt bikes with guys that were on their setup crew years ago. I've been to several concerts and listened to their music for 20-plus years. We're excited to have them as part of the team."
Sides would also like to thank Wetherington Tractor Service, Inc., East Coast Logistics, BR Motorsports, VRP Shocks, Dancer Logistics, Inc., King Racing Products, R.E. Enterprises, Jim Schuhknecht, FSR Radiators, Mid-States Equipment, Brad, Driven Racing Oil, Ingles Racing Engines, Wings Unlimited and All Pro Aluminum Cylinder Heads for their continued support.
INSIDE LINE PROMOTIONS –
Inside Line Promotions specializes in affordable public relations and media management for motor sports drivers, teams, sponsors, tracks, series, events, organizations and manufacturers. ILP Founder Shawn Miller leverages professional journalism with new media technologies and social networking to improve your exposure and the return on investment for your sponsors.
To meet the media relations needs of your program by joining Team ILP, contact Shawn at 541-510-3663 or Shawn@InsideLinePromotions.com. For more information on Inside Line Promotions, visit http://www.InsideLinePromotions.com.
---
Article Credit: Inside Line Promotions
Submitted By: Shawn Miller
Back to News