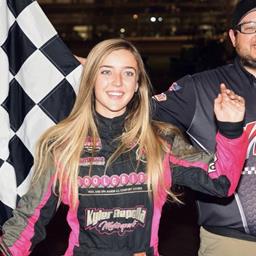 Taylor Kuehl
Cave Creek, AZ
Driver Information
I am a 21-year-old driver looking to gain experience and become successful in the auto-racing industry.
When I was 4 years old, my father first introduced me to racing. He put me in an asphalt go-kart and told me how it works. I learned how to drive it and found joy in every race I competed in. The thrill was soon an addiction. I began racing competitively at 5 years old. I raced kid karts until I aged out and got into cadet karts with bigger chassis and engines. After 2 years of Yamaha and Rookie Sportsman cadet classes technology took a turn and the go-kart world turned to Rotax. At that point, I had to switch over to the Mini-max class, where I competed with the top drivers in the country, traveling to California, various tracks in the west, and Arizona. In 2013, I had the opportunity to compete for the 2013 World Finals in New Orleans, LA, USA, invite only. I won the competition that year and moved on to the World Finals, where I had mechanical failure and was unable to finish in a top spot.
In 2014 I started clean with a whole new world of racing, dirt track. Modlites were a start to my dirt racing career. I was presented Arizona Rookie of the Year. The next years of racing were up and down, as I was progressing, but also having spurts of bad luck. I was the only female in the class often competing with the top drivers. Our experience turned into a harsh lesson, not everyone likes you when you're winning. But the challenges did not slow me down... they only made me more passionate and have more drive to excel and show them why I was there.
In 2019 I got my start in a sport mod. I strived to earn Northern Sport Mod Rookie of the Year, in which I fought hard to end with a second place. This is a proud moment, and it allows for bigger goals for the following years. I normally run around the Southwest as I live in Arizona. I spent 2020 racing around the Northern United States, gaining new experience. In 2021 I ran the sport mod around Iowa, carrying myself and learning more than I ever have. Being alone most of the time allowed for focus and perseverance. I also race a stock car once in a while, sharpening my skills and diversifying my driving record. The start of 2022 has been successful thus far, as I've hopped in a midget for the Chili Bowl and learned a new art form of racing. The challenges I've worked hard through were great lessons in teaching me the true value of being assiduous in my performance.
One day I plan to move up to an A mod. For now, I am excited to keep learning and progressing in the sport mod to compete with the top racers in the country and show out for the people who support me. I don't want to be the best girl- I want to be the best.
My first win in a sport mod at Canyon Speedway.
Working out, traveling, working on the race cars.
Favorites
Event

IMCA Supernationals

Sports Team

Green Bay Packers
Recommendations
Restaurant

Janeys Cave Creek

Fast Food

In n out

Gas Station

Casey's

Car Manufacturer

Karl's Chevrolet

Beverage

Water