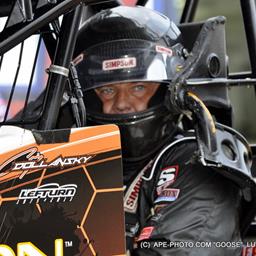 ---
Dollansky Racing Update
The 2017 season of racing has been trying for Craig Dollansky as many have noticed he has not landed a solid ride in sprint car racing. For the past 2 seasons 'The Crowd Pleaser' piloted the TKS Motorsports, 2KS in the mid-west, running mainly at Knoxville and on the NSL Tour, winning 8 events along the way. The Duo parted on good terms when rumors began swirling of the National Sprint League folding, and Badlands Speedway potentially closing down. Dollansky said, "I had hoped with the success I had with TKS, the possibility of landing with a national touring team might open up." Early in 2017 in an interview with Jeremy Elliott Craig again expressed his interest in racing at the sports highest level. "Unfortunately, nothing ever opened up," Craig commented. After driving 5 different cars on various tours, Dollansky just hasn't found the right situation. "Racing is the way I have made my living for 20 years but I wasn't going to be able to with the way things were going."
Craig, a fierce competitor who has always raced through injury and adversity found himself in a situation where he would need to make a difficult decision. "I raced last year with Lyme's Disease and have suffered with chronic back pain from my 2003 crash at Indianapolis Motor Speedway," Dollansky stated, "My back pain has gotten steadily worse over the years and it is now at the point where it needs to be addressed." Without a solid ride Dollansky has made the difficult decision to sit out of this year's Knoxville Nationals. "It hurts me to not be racing the nationals this year, I have had offers," said Craig, "But I wouldn't do it justice and the time has come to get my back sorted out, my 14 year old injury has become unbearable and I have tried to not reveal this to anyone." Dollansky has a stellar record at the Knoxville Nationals making the A-main in 19 of his 23 attempts. Last year after starting 15th, Craig was running up through the field and had just taken the 7th position when a mechanical failure forced his team's retirement from the event.
Though times are tough, the Dollanskys are optimistic about the future for Craig. "I'm certain there have been advancements in orthopedics over the years, that there is something that can be done to lessen the severity of pain for Craig." his wife Julie said, "Craig has been miserable." Craig added, "It took a while to realize that the root of the problem was the chronic pain I have on a daily basis. I have every intention to get fixed and get back training like I used to, I by no means want my career to be over, if anything I would like to make a comeback and get back to doing what I love and supporting my family. They have struggled with me through all of this."
Craig has appointments in the next week to begin the process of addressing his back pain and getting a plan in place to do what is necessary to make any repairs and get him healthy again. "I know I can't race forever, but I do feel that I have a few good years left, I just need to focus on getting my health back and feeling better and training the way I need to. I have never felt that I was affected behind the wheel, racing is the best pain killer there is." Dollansky continued by saying more of his pain comes when he travels and it hinders his sleep and is just a chronic problem for him. He also understands that if he is unable to race effectively he at least needs to be able to work and provide for his family.
"I would like to give myself the time necessary to have surgery if that is what is needed and re-cooperate and train to be ready to race in 2018. I know I rushed things in 2003 and I don't want to do that again. I hope my fans understand how difficult it has been to make this decision." Dollansky also stated. He would like to thank the teams he has raced with this year and the fans and friends that have been there to support him in his decision. "My fans have always been the brightest part of my career and I have been very blessed, and I will be determined to come back with less pain!"
---
Article Credit: J.Dollansky
Submitted By: Julie Dollansky
Back to News