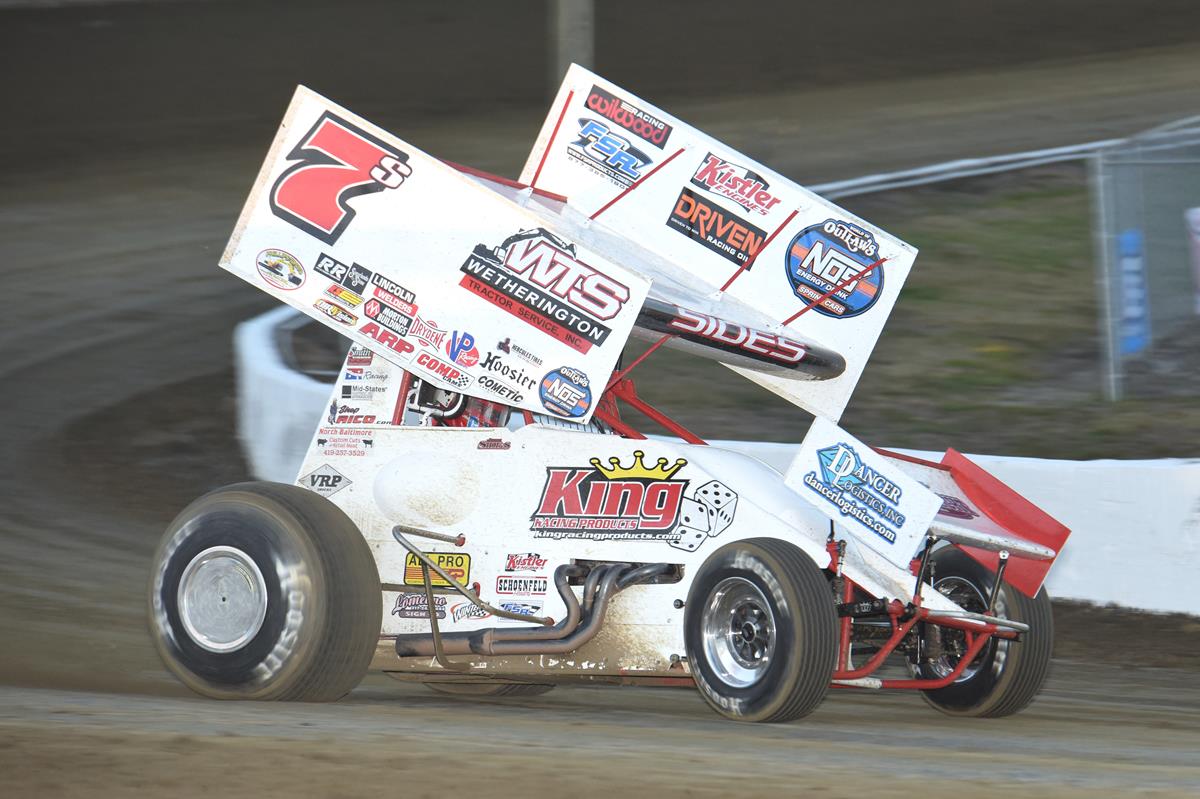 10/26/2021
Inside Line Promotions
---
Sides Heading to Lawton Speedway and Devil's Bowl Speedway This Weekend
(Photo by Paul Arch)
Inside Line Promotions – KANSAS CITY, Kan. (Oct. 26, 2021) – Jason Sides is down to the penultimate weekend of the World of Outlaws NOS Energy Drink Sprint Car Series season.
"Going into the end of the year you want to have some good runs," he said. "It'd be nice to have a couple of top 10s to help you get through the offseason."
Sides and the Outlaws venture to Lawton Speedway in Lawton, Okla., on Friday before heading to Devil's Bowl Speedway in Mesquite, Texas, on Saturday for the Texas Outlaw Nationals. He placed 13th at Lawton Speedway and ninth at Devil's Bowl Speedway last year.
"I did like Lawton when we went there last year," he said. "We had a good run there besides giving up a little at the end of the feature. I feel like we can have a good run this weekend. And at Devil's Bowl, we've qualified well and raced well there. I'm looking forward to both tracks."
Sides ran into misfortune last Friday at Lakeside Speedway, which hosted the FVP Platinum Battery Showdown. He qualified 22nd quickest and placed sixth in a heat race to miss locking into the A Main by only one spot. However, Sides was well on his way to transferring into the main event as he was running second in the Last Chance Showdown when a flat tire ended his night early.
"It wasn't a good night for us," he said. "I really don't know what happened there to the tire. We kept looking and couldn't find anything on the tire. It had good tread, but the thing blew up so we probably cut it on something."
QUICK RESULTS –
Oct. 22 – Lakeside Speedway in Kansas City, Kan. – Qualifying: 22; Heat race: 6 (6); B Main: DNF (4).
SIDES MOTORSPORTS SEASON STATS –
70 races, 0 wins, 1 top five, 4 top 10s, 18 top 15s, 42 top 20s
UP NEXT –
Friday at Lawton Speedway in Lawton, Okla., and Saturday at Devil's Bowl Speedway in Mesquite, Texas, for the Texas Outlaw Nationals with the World of Outlaws NOS Energy Drink Sprint Car Series
MEDIA LINKS –
Website: http://www.SidesMotorsports.com
Twitter: http://www.twitter.com/SidesMotorsport
Facebook: https://www.facebook.com/pages/Sides-Motorsports/283833970847?ref=br_tf
SPONSOR SPOTLIGHT – TORA TORA
TORA TORA is a blues-based hard rock band formed in Memphis, Tenn., in the late 1980s. Band members include Keith Douglas, Patrick Francis, John Patterson and Anthony Corder. TORA has two major releases Surprise Attack/Wild America through A&M Records that promoted five singles and videos (Walkin' Shoes, Guilty, Phantom Rider, Amnesia and Faith Healer). The band recently released a new album titled 'Bastards of Beale.' For more information, visit http://www.TORATORAMusic.com.
"It's an exciting relationship," Sides said. "They are from Memphis and we're from Memphis. A lot of good bands and a lot of good racers come from Memphis. I used to race dirt bikes with guys that were on their setup crew years ago. I've been to several concerts and listened to their music for 20-plus years. We're excited to have them as part of the team."
Sides would also like to thank Wetherington Tractor Service, Inc., East Coast Logistics, BR Motorsports, VRP Shocks, Dancer Logistics, Inc., R.E. Enterprises, King Racing Products, Jim Schuhknecht, FSR Radiators, Mid-States Equipment, Brad, Driven Racing Oil, Ingles Racing Engines, Wings Unlimited and All Pro Aluminum Cylinder Heads for their continued support.
INSIDE LINE PROMOTIONS –
Inside Line Promotions specializes in affordable public relations and media management for motor sports drivers, teams, sponsors, tracks, series, events, organizations and manufacturers. ILP Founder Shawn Miller leverages professional journalism with new media technologies and social networking to improve your exposure and the return on investment for your sponsors.
To meet the media relations needs of your program by joining Team ILP, contact Shawn at 541-510-3663 or Shawn@InsideLinePromotions.com. For more information on Inside Line Promotions, visit http://www.InsideLinePromotions.com.
---
Article Credit: Inside Line Promotions
Submitted By: Shawn Miller
Back to News