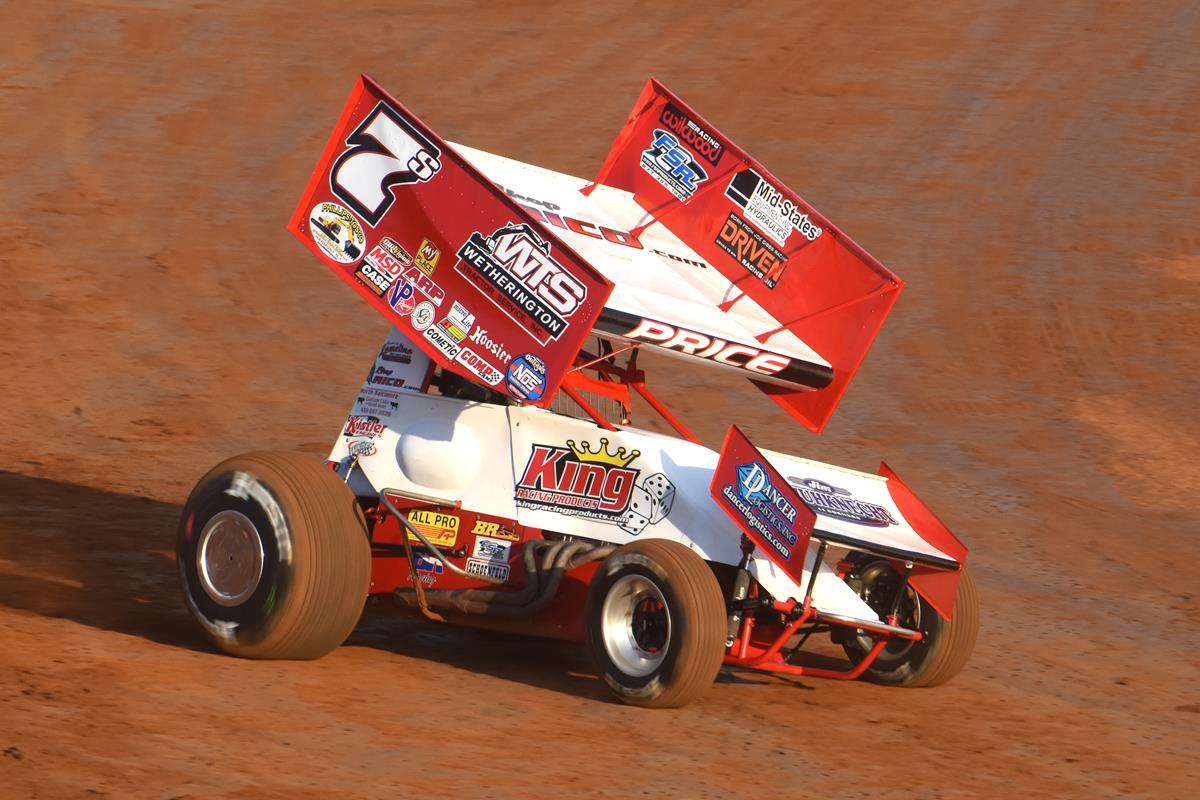 11/14/2022
Inside Line Promotions
---
Sides Motorsports Garners Two Top Fives and Crew Chief of the Year Award During 'Different' Season
(Photo by Paul Arch)
Inside Line Promotions – BARTLETT, Tenn. (Nov. 14, 2022) – A pair of top-five finishes highlighted the season for Sides Motorsports.
The team featured a different year of sorts as owner and driver Jason Sides needed to vacate the drivers seat early in the World of Outlaws NOS Energy Drink Sprint Car Series season because of hip and knee problems. Tim Shaffer drove for a weekend before Robbie Price was tabbed as the full-time driver for the remainder of the World of Outlaws season beginning in May.
"It was certainly different being on the other side of it for most of the season," Sides said. "When you're used to going up and down the road, pulling into the race tracks and then racing that night it's difficult to not get to do that last piece. Health-wise I needed to sit out and Robbie did a good job for us this year. It's not easy to just jump on the World of Outlaws trail and produce competitive results, especially consistently.
"For taking Robbie and throwing him to the wolves like we did, just to be able to show him the ropes and get him used to different places, I think he did all right. He had a couple of really good runs and could have had a few more that just didn't go right. Even the places we went back to a second time he got better at. There's so many places that we go to that other people don't race at. It's difficult."
Price posted fifth-place runs at Red River Valley Speedway in West Fargo, N.D., and at Skagit Speedway in Alger, Wash.
"I felt like we made a bunch of gains," he said. "The first month I was out on the road I was struggling to make shows. Then I started locking in through the B Main and then through heat races toward the end. I've learned a lot and grown as a driver. There's things I can tell looking at video where I've learned stuff and gotten better.
"The two top fives were the highlight. I was in the dash three times I believe. I feel I can run up front given the right circumstances. I have to get better at putting myself in those circumstances."
Also of note, Sides was honored during the season finale as the World of Outlaws Crew Chief of the Year Award winner.
"I feel like somebody else didn't want it so they gave it to me," he joked. "It was a shock to me. It was pretty neat."
Sides is planning on having surgery on a hip this offseason with the hope to be able to return to action at some level in 2023.
"I don't know yet what next year holds," he said. "I want to thank all of the sponsors who stuck with us through all this change. They put a lot of sponsorship toward me. We put a different driver in and they still stuck with us. We have a lot of great people who support us and we're grateful."
SIDES MOTORSPORTS SEASON STATS –
75 races, 0 wins, 2 top fives, 2 top 10s, 10 top 15s, 32 top 20s
MEDIA LINKS –
Website: http://www.SidesMotorsports.com
Twitter: http://www.twitter.com/JasonSides7s
Facebook: https://www.facebook.com/pages/Sides-Motorsports/283833970847?ref=br_tf
SPONSOR SPOTLIGHT – Wetherington Tractor Service, Inc.
Wetherington Tractor Service is a state certified contractor specializing in site development, utilities, demolition and trucking. For more information, visit http://www.WTSinc.us.
"Wetherington Tractor Service, Inc., has been with me for about 20 years," Sides said. "If I need something I can count on Kimball and his team. Regardless of what happens they've stuck by me and that gives me a lot of confidence."
Sides would also like to thank Wetherington Tractor Service, Inc., East Coast Logistics, BR Motorsports, Dancer Logistics, Inc., VRP Shocks, King Racing Products, R.E. Enterprises, Jim Schuhknecht, ShopRico.com, Phillips Tosco, North Baltimore Custom Cuts and Retail Meat, TORA TORA, Lomelino Sign Co., FSR Radiators, Mid-States Equipment, Wilwood, Brad, Driven Racing Oil, Ingles Racing Engines, Builtwiser Wings and All Pro Aluminum Cylinder Heads for their continued support.
INSIDE LINE PROMOTIONS –
Inside Line Promotions specializes in affordable public relations and media management for motor sports drivers, teams, sponsors, tracks, series, events, organizations and manufacturers. ILP Founder Shawn Miller leverages professional journalism with new media technologies and social networking to improve your exposure and the return on investment for your sponsors.
To meet the media relations needs of your program by joining Team ILP, contact Shawn at 541-510-3663 or Shawn@InsideLinePromotions.com. For more information on Inside Line Promotions, visit http://www.InsideLinePromotions.com.
---
Article Credit: Inside Line Promotions
Submitted By: Shawn Miller
Back to News