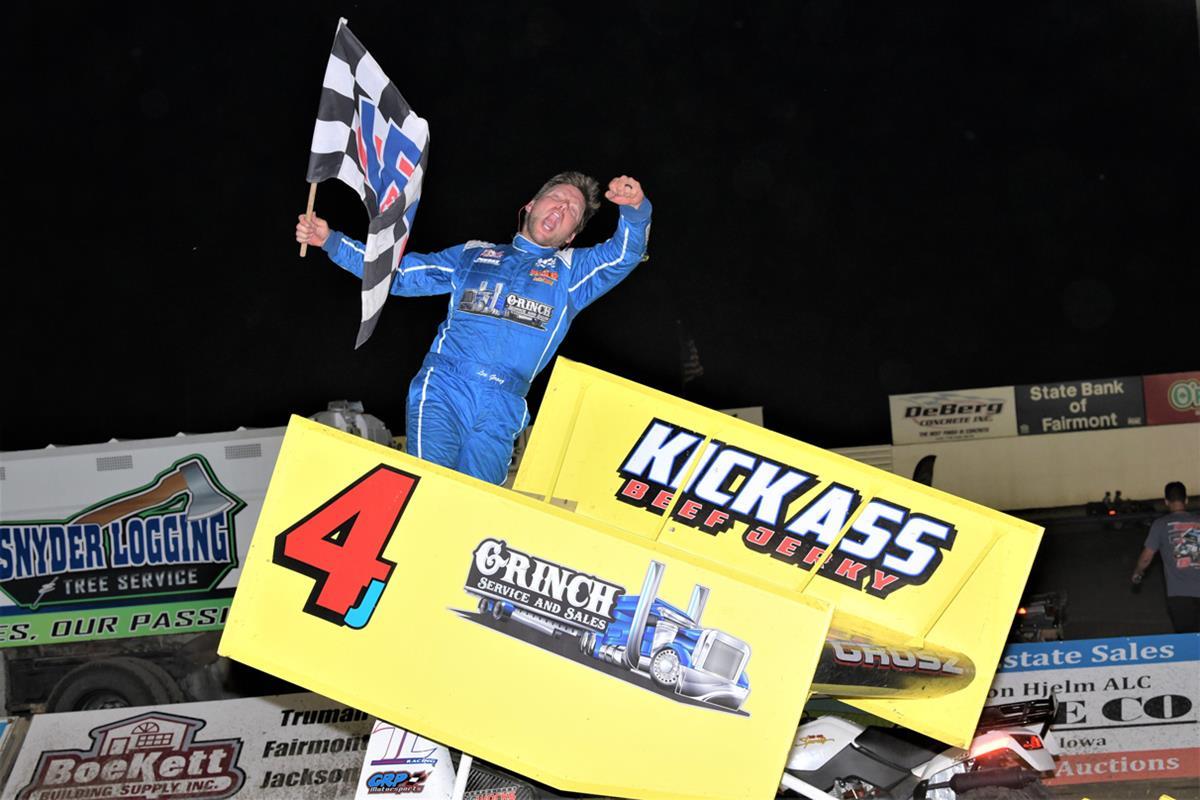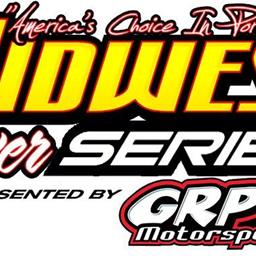 6/14/2021
Midwest Power Series
---
Grosz and Bickett win season-opening events to kick off 2021
(Photo by Rob Kocak Photos)
Grosz capitalized on some late race dramatics on Friday Night at Jackson Motorplex to capture his fifth career Midwest Power Series victory, which ranks second on the all-time list. The Qualify Freight Rate Midwest Power Series feature was also sanctioned by the Midwest Sprint Touring Series. It marked the 12th feature contested at Jackson Motorplex in series history, and it was Grosz's 4th series win at the Southern Minnesota track, the most all time.
Brooke Tatnell lead on the opening lap of the 25-lap main event from his 2nd place starting spot ahead of youngster Christopher Tramm and pole-sitter Skylar Prochaska as Grosz was fourth. Tatnell would lead until Lap 15, until he slide the car high out of turn for allowing the hard charging Grosz to lead by 0.064 of a second. Tatnell would battle back down the back stretch, but it would ultimately be undone by the yellow flag. After restarting with 10 laps remaining, traffic would play a part in this one quickly. The drivers battled until, with 4 laps to go, Tatnell would reclaim the race lead. Misfortune struck one lap later for the Australia native, as Tatnell got into the back of a car he was attempting to put a lap down in turn four. Tatnell got over the inside burm and into the guard rail, allowing Grosz back into the lead which he did not relinquish again.
Grosz pulled away to a 1.750 second win over Jody Rosenboom. Rosenboom started 10th and passed Jack Dover for the runner up spot with laps dwindling late in the feature. Jack Dover rounded out the podium with Tim Estenson finishing fourth and Eric Lutz fifth. Two-time series champion Chris Graf started 21st after misfortune struck in his heat race, but salvaged the night nicely with a 9th place finish to capture the Donnohue Designs Hard Charger award. He now has 4 hard charger awards to his credit, most in series history.
Grosz was also fast qualifier to start the night. Estenson, Dover and Tatnell each earned a heat race victory and picked up a $100 bonus curtesy of Broty Racing Engines. It was Estenson's first heat race win of his MPS career, but for Dover and Tatnell it makes 9 for each of them, tied with Ryan Bowers for most in series history.
On Saturday night the series moved on to I-90 Speedway in Hartford South Dakota. Ryan Bickett would take advantage of his pole starting position to wire the field in the main event Saturday night. The ASCS regular lead the whole way and picked up his 2nd career Qualify Freight Rate Midwest Power Series victory, his first since 2018. The event was also sanctioned by the MSTS 360s.
While Bickett knew nothing about it, the racing behind him was wild on the perfectly prepared South Dakota oval. Traffic came into play on lap 6, but a caution on lap 7 stacked the field up. At that point, The "Romona Rockett" had a nearly 2 second advantage over the battle for second between Dusty Ballenger, Jack Dover, and JodyRosenboom. After the restart on lap 9, Lee Goos Jr came charging around his preferred high line to challenge those three and eventually move into 4th. One lap later, Jody Rosenboom through a spectacular slide job to pull into the 3rd spot all alone. After another restart on lap 11, Rosenboom pull a "chili-bowl" style move on the restart, and put a massive slide job to put the 14 into the second position. He would hold on for second behind Bickett, while Jack Dover would cross the line in in third ahead of Eric Lutz Dusty Ballenger. Lutz would secure the Donnohue Designs Hard Charger Award, his second with the series.
Grosz won his 9th heat in series history, making it a 4 way tie for most all time for just a little while. Brant O'Banion won his first career series heat race, and Jack Dover won his heat, giving him 10 all time and the series lead. All of those heats are presented by Broty Racing Engines and earned the drivers a $100 bonus.
After two excellent nights of racing to open the season, the back to back runner-up finishes give Rock Rapids, IA driver Jody Rosenboom the series point lead by 4 over Lee Grosz. Ryan Bickett, Jack dover, and Eric Lutz complete the top 5.
The Quality Freight Rate Midwest Power Series season continues this coming weekend with another Double header. Friday night will see the series join forces again with MSTS at the Rapid Speedway in Rock Rapids, IA for a $2,000 to win affair, before we hit the road to Ogilvie, MN for the $2,500 to win Davey Tabor Memorial Race. More information to come on these events.
The QualityFreightRate.com Midwest Power Series is a 360 winged sprint car series based in the upper Midwest. It was formed by Randy Grages of Midwest Power Equipment in 2015 as a "series within a series" featuring added purse money at several UMSS 360 winged sprint car shows. It continued to gain momentum in 2016, and in 2017 Greg Parent of GRP Motorsports out of Stillwater, MN came on board as a race sponsor and series point fund sponsor. Today, Greg Parent directs the series and it has become a premier racing series in the upper Midwest. You can find the Midwest Power Series online at http://midwestpowerseries.myracepass.com/ or on Facebook at https://www.facebook.com/MidwestPowerSeries/.
---
Article Credit: Austin Lloyd
Submitted By: Austin Lloyd
Back to News