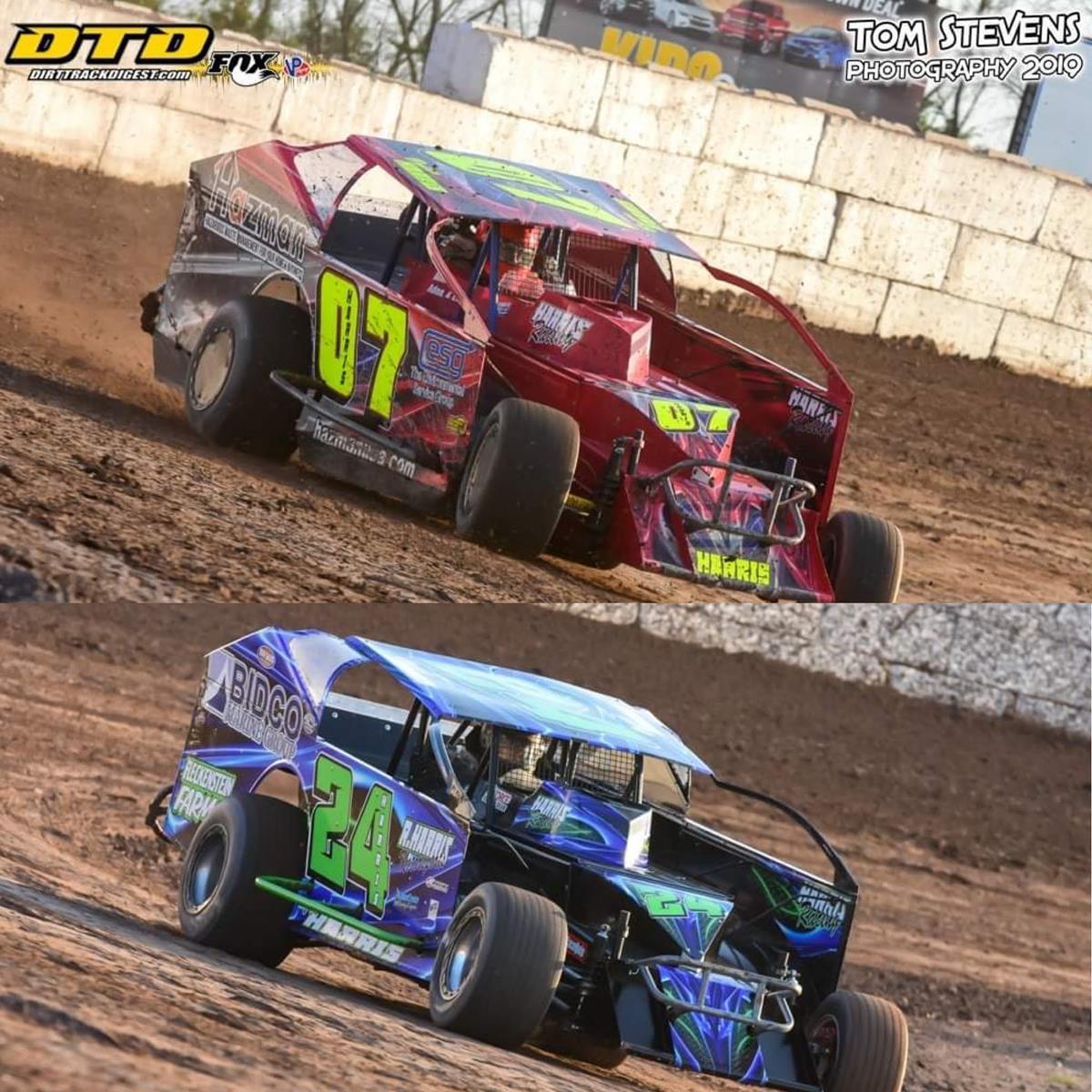 2/8/2021
Ransomville Speedway
---
A Family Tradition for the Harris's at Ransomville Speedway
The history of the Harris family at the Ransomville Speedway goes back to the early days of the track. Vic Moore started racing in the 1960s in the Modifieds and Late Models at both Ransomville and Lancaster. Fast-forward nearly 60 years later, Brian and Orval Harris are continuing the tradition of racing at "The Big R".
Brian Harris is entering his fifth season of racing. "There is a lot of great talent at Ransomville and my goal for the season is to get our first feature win and finish in the top ten in points", Brian said. "I'm excited to see the new upgrades to the facility and thankful for all the staff at Ransomville for their efforts to make it possible for us as racers to compete every week," Harris said. Brian's number 07 comes from Grandfather Vic Moore as that was Vic's number when he raced at both Ransomville and Lancaster. Brian is sponsored by HAZMAN, The Environmental Service Group (ESG), Stirling Lubricants, Champion Racing Oil, Just Signs & Designs, and SJE. Brian would like to thank his wife Adele for all her love and support day in and day out. "From watching race tapes, spending her summers racing and if not at the races, talking about racing", Brian said. He would also like to thank Uncle Adam, Aunt Michele, his son Aden and daughter Emily, Father Russ, his grandfather (Bumpa) Orval, his little brother Orval, and their sponsors. "My brother and I may be on the same team but out on the track, it's a different story. It's all about the competition!" Brian also said that "everyone we mentioned we couldn't do it without them as they are so supportive in everything".
Orval Harris is behind the wheel of the no. 24 Investors Service Sportsman sponsored by Bidco Marine Group, Philipps Bros Supply Inc, and TNT Builders. "I like the speed of Ransomville," Orval said. "You can stay on the throttle in the corners unlike some of the smaller tracks around," Orval continued. "A very close second about liking Ransomville has to be the food", he said. The goals for the 2021 campaign for Orval would be to make his way to the top five. "Ransomville has very talented drivers and running in the top five is definitely no easy task." Orval's crew includes Andrew Spurback, Tyler Moore, Mason Call, Chris Moore, Zack Thompson, and his parents, Russ and Dawn Harris.
Adam Harris has raced for a couple of seasons, running in both the Investor's Services Sportsman and the Kevin's Carpet Cleaning Novice Sportsman. Adam's plan for 2021 is possibly running Brian's car for a couple of races. He will continue to turn the wrenches on the Harris Racing Team entries. Adam is the Uncle to both Brian and Orval.
The next generation will be competing on Thursday nights at "The Little R" as Sophia Harris will be making her debut in the Novice division. The 10-year-old will be racing the no. 28 entry sponsored by HAZMAN and The Environmental Service Group (ESG). "There are a lot of girls that race and I am looking forward to hanging out with them and making new friends", Sophia said. "I like the food at the track, especially the cheeseburgers and funnel fries!" Sophia's goals for the 2021 season are to learn go-kart racing and hopefully get top-five finishes. She would like to thank her mom and dad, Brian, Adele, Aden, and Emily Harris.
Aden Harris will be returning on Thursday nights to compete in the Senior Lites division. "It's only going to be my second year in the kart, but I feel like it has been many years and it has been great meeting and becoming friends with all the other drivers in my class", Aden said. "I like Ransomville because it is close to home, has an awesome staff, and is a nice community of other racers and crews", Aden said. Aden drives the no. 05 sponsored by HAZMAN, Environmental Service Group (ESG), Stirling Lubricants, Champion Racing Oil, Just Signs & Designs, and SJE. His biggest goal for this season is to get his first win and finish in the top five in points. The crew for Aden includes his Mom and Dad, Uncle AJ, Aunt Michele, and Emily. He would like to thank his family and friends for the help and support throughout his career, especially his parents for helping him to be prepared for every race and for getting him started. Aden is looking forward to seeing how his Dad (Brian) and Uncle Orval do this season in the Sportsman on Friday nights and how cousin Sophia does as she starts her racing career on Thursday nights.
The Harris family's history with the Ransomville Speedway dates to the 1960s. Six decades later, the tradition continues on both Thursday and Friday nights at "The Big R" and "Little R".
---
Article Credit: Steven Petty
Submitted By: Steven Petty
Back to News