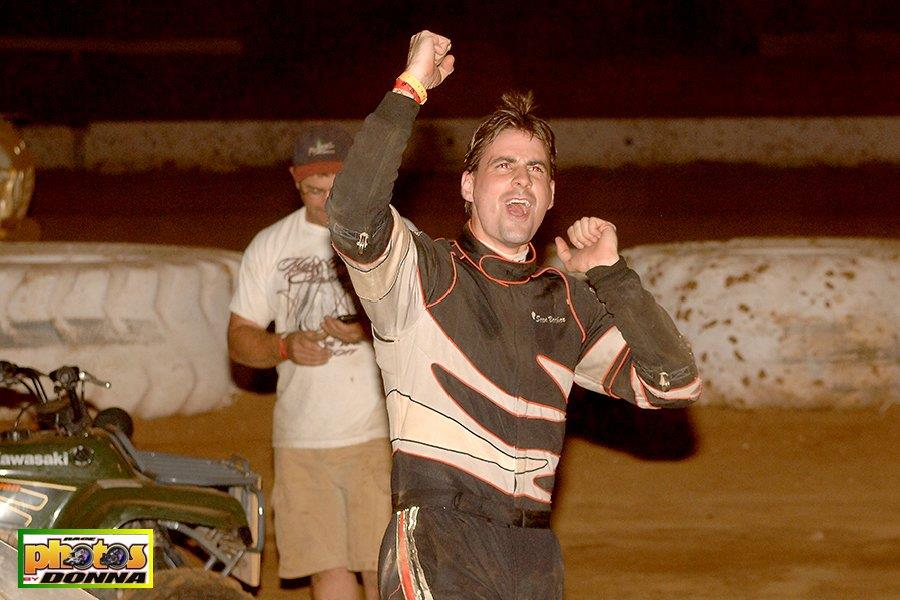 ---
The Shark is back in the water; Becker and Monhoff on hot streak
By Bill Sullivan, SI Media
ROSEVILLE, CA (8-22-12) - Veteran open wheeler Sean Becker of Roseville will look to continue his recent hot streak this weekend behind the wheel of the Dan Monhoff owned M&M Structures #35 sprint car. Becker will be in competition at Placerville Speedway for the 14th segment of the Red Hawk Casino Championship season.
As Becker returns to the high banks of Placerville's quarter mile clay oval, he will look for his third win of the season since teaming with Monhoff's newly formed sprint car team in late July. The driver known as "The Shark" has been taking a bite out of the competition as of late with two victories and five top five finishes in the last five weeks of competition.
"I can't thank Dan Monhoff and everyone on this team," said 31-year-old Becker following a recent Placerville win. "They are all a great group of guys and they know what they doing on this car, I have the easy job. I'm really thankful for the opportunity to drive this car and be a part of this team. We're doing well and we're having fun."
Early this season, Monhoff, the owner of M&M Structures in Woodland, purchased the competitive #35 sprint car from longtime car owner John Taylor of Roseville. With the guidance of Taylor in the set up and maintenance of the Borello powered XXX Chassis, Monhoff is already a winning car owner in the first year in which he advanced from being a longtime sponsor of the team. With Becker now being his primary driver for the remainder of the year there is little doubt that Monhoff's early success as a team owner is sure to continue.
"This guy is an amazing driver and he's really kicking some butt for us," said Monhoff. "I think the reason we work so well together is that John and I don't really get in his face or have any expectations when we run. We just tell him go out there and have fun. We take care of the car and he just does his job. It's a great combination."
Last week at Placerville Speedway, Becker started on the pole of the 25-lap feature event and led the event flag to flag to hold off Charlie Cagle and Jimmy Trulli to the finish line. With Taylor out of town, it was the first race that Becker and Monhoff competed in without Taylor's hands on assistance. The race was won using Taylor's notes, a few advisory texts throughout the night and Becker's talent behind the wheel.
In his first night behind the wheel of the #35 sprint car one month ago, Becker qualified 6th and drove from fourth place to second place in the A-feature. One week later he picked up his first win for the teama fter qualifying 10th. Two weeks ago he made an impressive charge from 16th place to second place before he garnered his second win of the year last weekend. In addition to Placerville the team recently competed at the famed Calistoga Speedway with the Civil War Series where they set fast time anf finished fourth at the end of the night.
In the coming weeks Becker and Monhoff plan to compete weekly at Placerville Speedway and will continue to race in the Civil War series. They plan to compete in a handful of high paying events in the post season, including the big $5000 to win open competition race at Calistoga Speedway on October 27th.
"Calistoga is pretty much Dan's home town even though he now lives in Woodland," said Becker. "We haven't learned all the details of this big race just yet but we are definitely going to be there. Winning at Calistoga is something I have never done and I know what it would mean for this team if I could make it happen."
Sean Becker's #35 sprint car team is supported by a number of dedicated sponsors including M&M Structures Incorporated, John Taylor Motorsports, XXX Race Cars, Powder Coat-It and Cherry Street Mini Storage of Ukiah and Borello Race Engines.
Sean Becker Racing can be found on Facebook. Race updates are provided during race nights at each event in which he competes. Media relations for Sean Becker and the M&M Structures racing team provided by Sullivan Images Media. For more information contact them at sullivanimagesmedia@gmail.com. Photos courtesy of Donna Peter www.racephotosbydonna.com.
---
Article Credit: By Bill Sullivan/Photo By Donna Peter
Submitted By: Bill Sullivan
Back to News