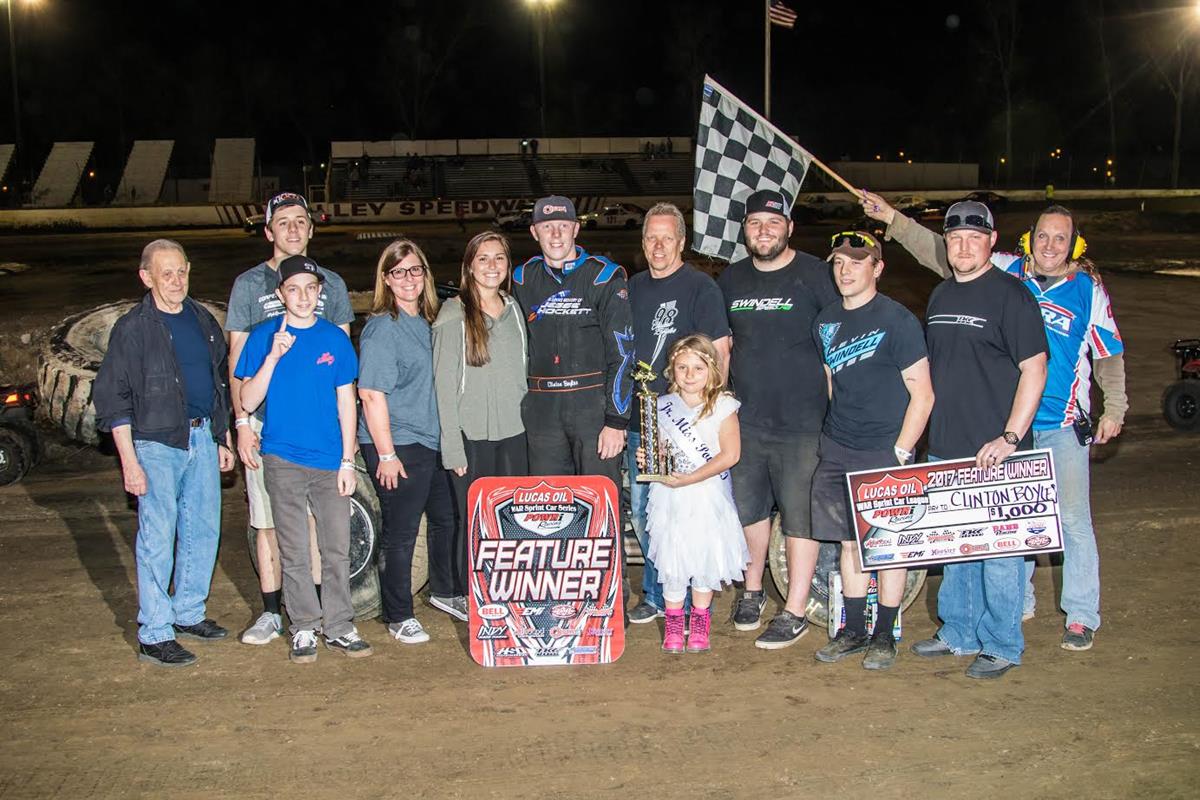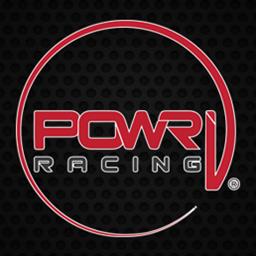 ---
BOYLES TOPS POWRI LUCAS OIL WAR SPRINTS AT VALLEY
BOYLES TOPS POWRI LUCAS OIL WAR SPRINTS AT VALLEY
Grain Valley, MO (April 8, 2017) - Jumping into the lead at the start and holding off Korey Weyant throughout the A-Main, Clinton Boyles picked up the opening night win Saturday at Valley Speedway.
Boyles and Wyatt Burks led the field to the green as Boyles moved into the lead. Burks bicycled in turn two allowing Weyant and Cody Baker to move by.
Boyles would lead lap one as Weyant worked his way past the 2016 series champ on lap two. Before the lap could be completed, JD Black spun to a stop in turn two to bring out the yellow flag. This was the break Boyles needed as he regained the top spot.
Once green, Boyles and Weyant moved away from the field as Baker and Burks trailed. Many times throughout the 25 lapper Weyant would work his way up to Boyles, but was never able to make the pass.
Boyles went on to the win in the JHR/Rockwell Security/Lucas Oil Kistler powered Eagle. Weyant was second in the Weeble's Bar and Grill/ Ealey Transportation/Tosti'sTransmission Automotive Machine-powered Eagle. Burks ran a strong third in the RCB Motorsports/Clem Signs/Bumper to Bumper Salina-powered Maxim. Baker was fourth in the Ultra-Shield/ Hinchman Race Uniforms/Bell Helmets Ott-powered Maxim. Rounding out the top five was Walton in the Walton Racing/Walton-powered GF-1. Slater Helt, making his first ever sprint car start, was sixth followed by Quinton Benson. Chris Parkinson was eighth followed by Craig Carroll and Danny Thoman.
The POWRi Lucas Oil WAR Sprints will be back in action next Saturday April 15th at I-35 Speedway in Winston, MO.
POWRi Lucas Oil WAR Sprints recap
4/8/17
Valley Speedway-23 cars
Hinchman Racewear 1st Heat-8 laps
1. 11W-Wyatt Burks, Topeka, KS (3); 2. 98-Clinton Boyles, Greenwood, MO (5); 3. 15B-Quinton Benson, Emma, MO (2); 4. 71-Robert Bell, Colfax, IA (1); 5. 7-Mitch Wissmiller, Saybrook, IL (6); 6. 31-Dylan Kadous, Topeka, KS (4); DNS: 88-Chad Tye, Independence, MO; 9L-Hunter Lane-Milo, IA
Wilwood Disc Brakes 2nd Heat-8 laps
1. 93-Taylor Walton, Warrensburg, MO (1); 2. 99-Korey Weyant, Springfield, IL (6); 3. 24C-Craig Carroll, Collinsville, OK (4); 4. 42-Warren Johnson, Overland Park, KS (8); 5. 27-Danny Thoman, Lexington, MO (7); 6. 24H-Ty Hulsey, Owasso, OK (5); 7. 82-Vinny Ward, Warrenton, MO (2); 37-Brian Beebe, Oak Grove, MO (3)-DNF
Bell Helmets 3rd Heat-8 laps
1. Terry Babb, Decatur, IL (1); 2. 38-Cody Baker, Lone Jack, MO (6); 3. 22S-Slater Helt, Harrisonville, MO (5); 4. 65-Chris Parkinson, Gladstone, MO (2); 5. 51-Mitchell Moore, Edgerton, KS (3); 6. 7JR-JD Black, Grain Valley, MO (7); 7. 21-Ryan Kitchen, Lincoln, NE (4)-DNF
POWRi Lucas Oil WAR Sprints A-Main-25 laps
1. 98-Boyles (1); 2. 99-Weyant (4); 3. 11W-Burks (2); 4. 38-Baker (3); 5. 93-Walton (5); 6. 22S-Helt (8); 7. 15B-Benson (10); 8. 65-Parkinson (12); 9. 24C-Carroll (9); 10. 27-Thoman (11); 11. 31-Kadous (20); 12. 51-Moore (16); 13. 9L-Lane (19)-DNF; 14. 42-Johnson (7)-DNF; 15. 7-Wissmiller (14)-DNF; 16. 24H-Hulsey-DNF; 17. 71-Bell (13)-DNF; 18. 8D-Babb (6)-DNF; 19. 7JR-Black (15)-DNF; 20. 82-Ward (18)-DNF
Photo Credit: Redlined Photography
---
Article Credit: Chad Buford
Back to News