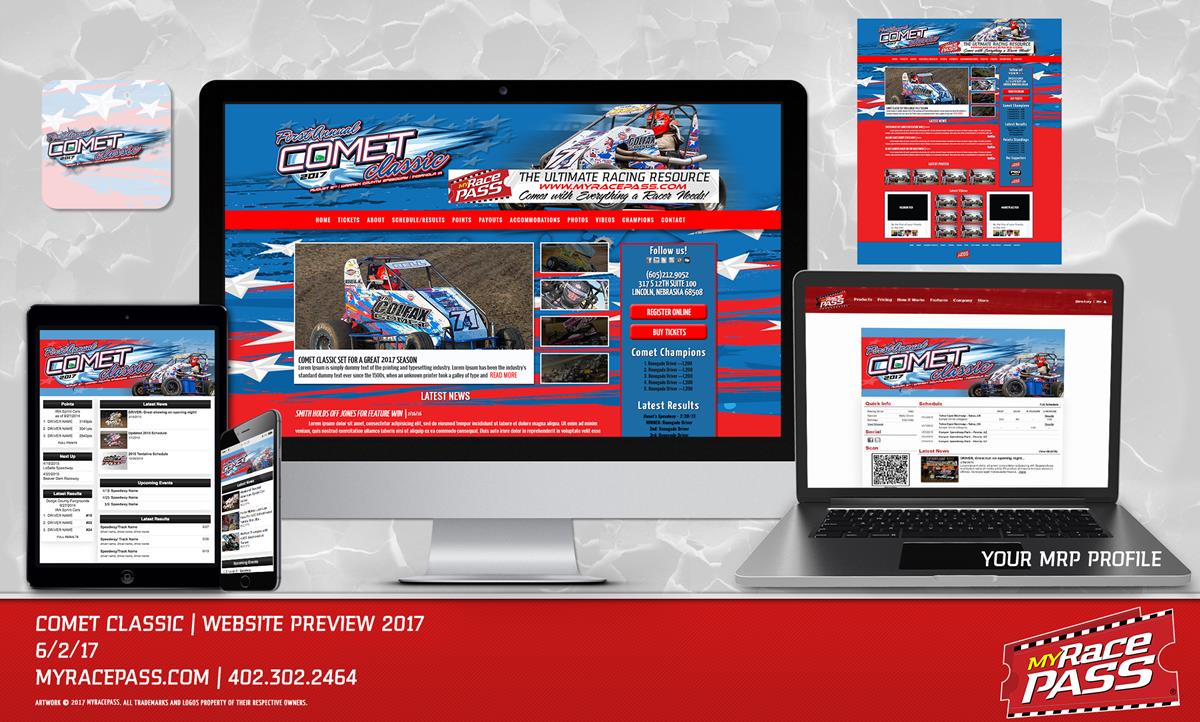 7/5/2017
Inside Line Promotions
---
MyRacePass Creates Pro Platinum Package for Comet Classic
Inside Line Promotions – LINCOLN, Neb. (July 5, 2017) – MyRacePass has established a new MRP Pro Platinum event package for the Comet Classic, which is a midget and micro sprint event that will held on Aug. 8 at Warren County Speedway in Indianola, Iowa.
The website – http://www.ColfaxComet.com – has pages showcasing event information, tickets, payout, accommodations, photos, videos and more.
The event is promoted by midget veteran Robert Bell and Tim St. Arnold, who have known each other since both started competing in the early 1990s.
"Robert and myself both endured a long learning curve when it came to racing," St. Arnold said. "Let's put it this way, neither one of us were natural born racers. I can truthfully say, me and Robert wrecked or spun out at about every track we had ever raced at. We sucked. As many years passed, I was fortunate enough to have a little success behind the wheel. Robert hadn't tasted victory yet, but still showed up to the races willing to have fun and give it his best. As the years progressed we both graduated to the 410 class at Knoxville Raceway (in Knoxville, Iowa). Again, this chapter in our racing careers garnered little success for either of us. Much more less for Robert. I left Knoxville after 15 years and Robert followed a couple of years later.
"Robert's semi-retirement from racing was short-lived. He wanted to get back into racing. So he got back into winged sprints again, and like an old re-run movie you've seen a thousand times, it was the same ending as the last time. Now Robert decides to write a new chapter. He tells me he's going to race midget sprint cars. I'm thinking to myself, 'Sure you are. You're nuts. What the hell do you know about midgets? Nothing.' He tells me that he can rent a midget and run it as much as he wants. So he did. He rented that car for two years and had a blast. Robert Bell had won his first race ever in that midget sprint car. It took him 20 years to win a race.
"Now for some reason, Robert isn't content with just racing midgets every week. So in the fall of 2014, Robert said he's going to build a USAC sprint car and follow the USAC tour in 2015. Again, I say, 'Sure you are. You're nuts. What the hell do you know about non-wing sprint cars? Nothing.' We put a car together and Robert headed to the first race in Florida with USAC. Robert hit every race but two races that year with USAC. He traveled a lot of miles in that Ford Dually, pulling his hay bail wagon with a USAC sprint car on it. Robert didn't win any races with USAC that year, but won over the hearts of a lot of fans that could somewhat relate to what it would be like for your average Joe to do something like this. Living out your dreams.
"After the 2015 season ended I asked how he was planning to top the year he just completed with USAC. He said he was not running the USAC tour in 2016. He would run a few non-wing sprints and mostly midgets. Well, Robert topped 2015 alright. He ran the full year with the Allstar Midget Series and won the series championship. Robert won only his second race ever during his championship run, but showing up and having fun every night was the key. Lady luck helped also because the motor blew one week after his championship.
"How you going to top that? The 2017 Chili Bowl trip. Robert received his championship trophy at the All Star Midget Series Banquet the week of the Chili Bowl. He shows up the next day to race his preliminary night and wins the heat race. Won it with a junkyard motor we put in it the week before that had 60,000 miles on it. I have a spot in my top 20 list of all-time great races I have personally watched that this is going to be on. I know this was just a heat race win, but a major victory in our book of accomplishments. This win was a personal win for me. I help Robert so he can drive a better race car; drive a straight line and hold it. Robert never had good consistent help 24 years ago. I did and it helped. Everybody deserves a little help and it's helped.
"In April of this year, Robert said he wanted to promote a midget race. I told him, 'Good luck, you're the only guy in Central Iowa that owns a midget.' He said he'll make some calls to some of the racers and see if they would be interested. He made some calls and had a lot of positive feedback from the drivers. I said, 'That's great. Now we need to find a track.' We both decided on Warren County Speedway in Indianola, Iowa. Aside from the yearly midget race at Knoxville that they had, Central Iowa has not had a midget sprint car race since the 1950s. Warren County Speedway had a long history of midget racing back in the 1930s, 1940s and 1950s. Warren County Speedway is a quarter-mile, semi-banked dirt track that will make for a good, tight, action-packed race. Warren County Fairgrounds is one of Iowa's nicest fairgrounds with concessions, parking and new grandstands that will showcase 'The Comet Classic.' As of today, we have commitments from several of the top drivers in the country who plan to race our event. In conjunction with the midget race, the Iowa Micros Sprint Car Series will be running with us as our support class. They will complement our race very well. Also thanks to the help of our sponsors – RFG, 212 Boiling Point, Phillips Floors, EMi, L.C.I. Buildings, Jack L. Anderson Auto Body, MyRacePass and Ostrich Racing Engines – midget sprint car racing will happen again in Central Iowa."
UTILIZE THE POWER OF THE MYRACEPASS NETWORK –
MyRacePass (MRP), originally Driver Websites, contains much of the racing content people are looking for. Tens of thousands of drivers, more than a thousand race tracks and race series, and more than a million race fans are included in the MyRacePass network. There are communication tools, management tools and promotional tools available for anyone to use. Bottom line – they make promotion and management much easier!
WHY DO YOU NEED TO TAKE ADVANTAGE OF MYRACEPASS –
There are so many aspects of running a successful race team outside of what you do on the track. It's what you do off the track that draws the attention you need to help with your team's recognition throughout the sport. A website is a very useful tool to keep your sponsors and marketing partners up to date with your racing. With our PRO website packages, you have the ability to track the impressions and clicks your sponsor logos receive while being on your website. You can use that as a tool to show your current marketing partners the benefits of being involved with your race team – solely on the website. You can also use those same tools to help generate new, long-lasting marketing partnerships. On top of that, a website is a great database for your career and with the power of your information gets spread throughout that entire fast-growing network of websites.
For more information about MyRacePass, be sure to check them out online at http://www.myracepass.com. For instant updates on products/promotions and contests, be sure to follow them on Facebook at http://www.facebook.com/myracepass and on Twitter, http://www.twitter.com/myracepass.
INSIDE LINE PROMOTIONS –
Inside Line Promotions specializes in affordable public relations and media management for motor sports drivers, teams, sponsors, tracks, series, events, organizations and manufacturers. ILP Founder Shawn Miller leverages professional journalism with new media technologies and social networking to improve your exposure and the return on investment for your sponsors.
To meet the media relations needs of your program by joining Team ILP, contact Shawn at 541-510-3663 or Shawn@InsideLinePromotions.com. For more information on Inside Line Promotions, visit http://www.InsideLinePromotions.com.
---
Article Credit: Inside Line Promotions
Submitted By: Shawn Miller
Back to News