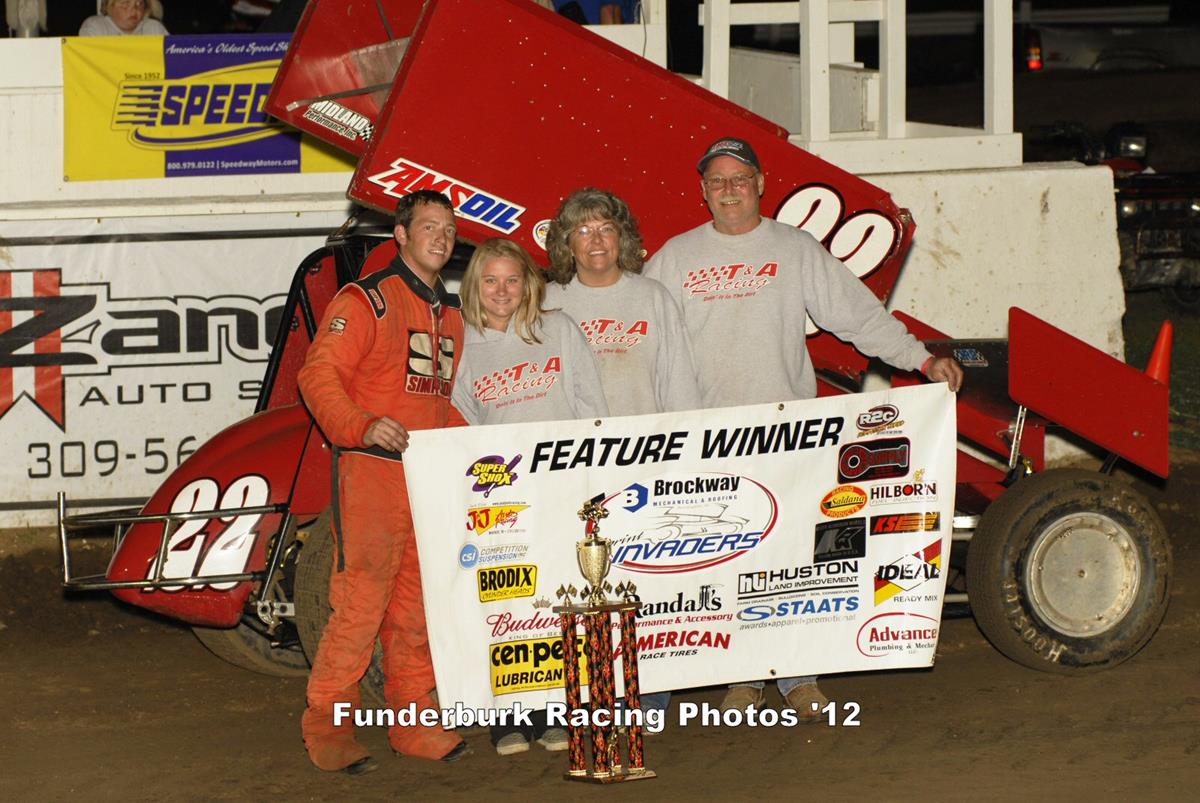 ---
Bret Tripplett Scores First Win With Sprint Invaders at Peoria!
(Bill W) June 1, 2012 – On a night when drivers had to "saddle up" on a heavy and rough track, Bret Tripplett looked at home in the middle of it all. The Lincoln, Illinois driver scored his first ever victory with the Brockway Mechanical & Roofing Spring Invaders on Friday night at the Peoria Speedway.
A four-car pile-up started things in the 25-lap main event. Tony Shilling hit an infield tire and bent his front axle. The incident collected Daniel Bergquist, John Schulz and
Justin Parrish. None were able to continue.
Ryan Jamison paced the field from outside row one once the green flag dropped for good. Tripplett, who started inside row two utilized a middle groove and tracked down Jamison, who rode the bottom. He took the lead on lap five and pulled away.
At the halfway point, Tripplett led Jamison, Jerrod Hull, Jordan Goldesberry and Bobby Mincer. Tommy Rockwell came to a stop with 13 laps in the books and slowed the event with a caution. On the restart, Hull stopped against the turn four fence, eliminating his third place run. The rest of the event went non-stop, with Tripplett pulling away for his first Sprint Invaders win.
"We talked about the setup all night," said Tripplett in Victory Lane. "We didn't want to dial ourselves out. I was hoping that starting third, lapped traffic would work to your benefit, and it sure did. We tried to run down around the tires in the Dash, and it was just too slick. You couldn't carry your momentum. We moved up a bit and it worked out for us."
Goldesberry, who won the B main, was the Hard Charger, driving from 16th to 2nd, using a groove high above the cushion. "We had a good night," he said. "The track was not the best, but it looked worse on the bottom and middle. We were starting so far back, we thought we'd try the top. I think things are coming together."
Mincer finished third. "It was definitely rough," he said. "One and two wasn't bad for us. Three and four was better once I moved up. I made a few passes low in one and two, but you had to move up a bit in lapped traffic. All in all, it wasn't a bad night. It's in once piece and we get to race again."
Jamison was fourth ahead of Russ Hall. Ben Wagoner, Andy Huston, rookie Chris Martin, Jimmy Davies and John Greenwood rounded out the top ten. Jamison, Shilling and Tripplett won heat races, with Jamison also taking the Dash.
The Sprint Invaders travel to Jacksonville Speedway next Friday night, June 8.
Brockway Mechanical & Roofing Sprint Invaders Main Event:
22, Bret Tripplett, Lincoln, IL (3) 2. 14P, Jordan Goldesberry, Springfield, IL (16) 3. 15, Bobby Mincer, Burlington, IA (1) 4. 51J, Ryan Jamison, Mediapolis, IA (2) 5. 45c, Russ Hall, Pleasant Hill, IA (10) 6. 84, Ben Wagoner, Emden, IL (9) 7. 40, Andy Huston, Roseville, IL (7) 8. 44, Chris Martin, Ankeny, IA (19) 9. 99, Jimmy Davies, Oquawka, IL (12) 10. 1st, John Greenwood, Woodward, IA (13) 11. 53H, Matt Harms, Lacon, IL (17) 12. 11, Mark Brucker, Elliott, IL (20) 13. 3, Matt Sutton, Macomb, IL (5) 14. 41, Jerrod Hull, Sikeston, MO (8) 15. 95, Tommy Rockwell, Towanda, IL (18) 16. 2x, Pat Moore, Moline, IL (15) 17. 47T, Tony Shilling, Knoxville, IA (4) 18. 40B, Daniel Bergquist, Burlington, IA (6) 19. 27, John Schulz, West Burlington, IA (11) 20. 4J, Justin Parrish, Oquawka, IL (14). Lap Leaders: Jamison 1-4, Tripplett 5-25. KSE Hard Charger: Goldesberry.
Advanced Plumbing & Mechanical Heat one (started), 8 laps:
Ryan Jamison (2) 2. Daniel Bergquist (1) 3. Andy Huston (7) 4. Russ Hall (5) 5. John Greenwood (3) / 6. 10T, Tim Moore, Rock Island, IL (6) 7. Jordan Goldesberry (4) DNS – 68, CJ Houseman, Norwalk, IA.
Huston Land Improvement Heat two (started), 8 laps:
Tony Shilling (1) 2. Matt Sutton (3) 3. Jerrod Hull (6) 4. John Schulz (2) 5. Justin Parrish (8) / 6. Matt Harms (4) 7. Tommy Rockwell (5) 8. 79, Destini Clark, Bolingbrook, IL (7)
CenPeCo Lubricants Heat three (started), 8 laps:
Bret Tripplett (7) 2. Bobby Mincer (3) 3. Ben Wagoner (6) 4. Jimmy Davies (5) 5. Pat Moore (2) / 6. Chris Martin (8) 7. Mark Brucker (4) 8. 18, Jamie Lusher, Pekin, IL (1)
Budweiser "King of Beers" Super Shake-Up Dash (started), 6 laps;
Ryan Jamison (2) 2. Bret Tripplett (1) 3. Tony Shilling (4) 4. Matt Sutton (3) 5. Daniel Bergquist (6) 6. Bobby Mincer (5)
Holtkamp's Trailer Repair B main (started), 12 laps:
Jordan Goldesberry (3) 2. Matt Harms (2) 3. Tommy Rockwell (4) 4. Chris Martin (8) 5. Mark Brucker (5) / 6. Destini Clark (6) 7. Jamie Lusher (7) 8. Tim Moore (1) DNS – CJ Houseman
---
Article Credit: Bill Wright
Submitted By: Admin Account
Back to News