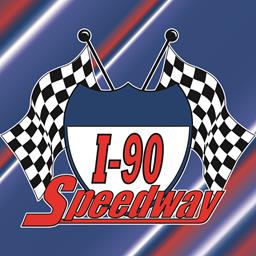 ---
Brown conquers Tri-State Late Models at I-90 Speedway, Thram gets first win in IMCA Sprints
Brown conquers Tri-State Late Models at I-90 Speedway, Thram gets first win in IMCA Sprints
Gary Brown, Jr., the two-time defending RepairableVehicles.com Tri-State Late Model Series champion, took his first career win at I-90 Speedway in a Late Model on Saturday night. Brown had to fight of several challenges and masterfully maneuver through traffic to take the win.
Scott Ward was able to pull even with Brown as the top two worked through dense lap traffic. As they battled, it was Nate Beyenhof coming forward from the sixth row on the starting grid. Beyenhof was able to get alongside with Ward on several occasions, but couldn't complete the pass.
That's how they'd cross the finish line with Justin Boomsma in fourth. Blair Nothdurft, fresh of his first career win in a late model the night before in Wagner, took home the fifth spot.
It didn't take Christopher Thram long to drive from ninth to the lead in the Cressman Sanitation IMCA Sprint Car feature. It was the third lap of the event when he took over the top spot from Taylor Ryan. Thram, a 16-year-old racer, looked like a seasoned driver as he held a steady lead through lap traffic. Dusty Ballenger and Elliot Amdahl each drove from deep in the field to place second an third. Nate Barger slipped off the track on the opening lap but came bath through the field for fourth with Trefer Waller in fifth.
A birthday celebration turned Cory Yeigh's luck around. The driver of #64 moved from thirteenth on the lineup to the lead at the white flag. He'd lead the final circuit and take his second win of the year at I-90 Speedway, after taking a touring series win the previous night at Murray County Speedway. Brylee Gough led the majority of the race and took second with Dan Jensen in fourth. Matt Steuerwald and Craig Hanisch completed the top five.
Quinten Johnson led all the laps of the Great Western Bank USRA B-Modified feature event to take his first ever win at I-90 Speedway. Scott Kennedy was a close second. Camden Myers, John Kaiser and Aaron DeThury took home top five honors.
Tracy Halouska had to hold onto the lead of the LawnSnow.com Hobby Stock feature with several late-race restarts. He started outside the fifth row and took over the lead at the halfway point of the 12-lap event. Dustin Gulbrandson pressured Halouska on the closing laps, but took second with Tyler Schlumbohm in third. Gulbrandson and Schlumbohm had started in row six.
---
Submitted By: Shawn Neisteadt
Article Media
Back to News