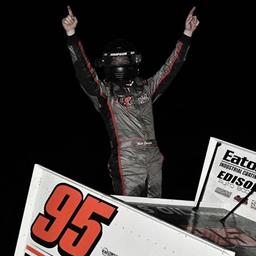 Matt Covington
Glenpool, OK
Driver Information
At age five, Matt began his racing career as a member of the Tulsa Quarter Midget Association. For the next eight years, Matt traveled the States and into Canada accumulating over 100 A-Feature wins and three national titles. In 2004, he was inducted into the Quarter Midget Hall of Fame.
After Quarter Midgets, Matt made the crossover from asphalt to dirt, by driving a 600 micro. Matt was able to keep the success going in the micros with 10 feature wins. In his first ever Micro National appearance, he turned heads by placing 4th among some of the top contenders in the country at the 2004 Micro Nationals. Since 2004, Matt has made yearly appearances at the Tulsa Shoot-Out, and has raced the Chili Bowl Midget Nationals several times with hopes of making yearly appearances.
Currently, Matt is running a 360 Sprint Car in the Lucas Oil ASCS National and Regional Sprint Car Series. In 2008, He finished 4th in points in the ASCS Sooner Region. In 2009 Matt finished 2nd in the ASCS Sooner points only 32 points back from clinching his first sprint car championship while also mixing in half of the ASCS National schedule while and picked up a win at the famed Knoxville Raceway followed by a Knoxville 360 nationals A-Main start. In 2010 Matt ran the Full Lucas Oil ASCS National Series with a National win at Kilgore and also picked up a win at the "Ditch" in West Memphis. 2011 saw Matt winning the ASCS Lonestar Series championship and a runner-up finish in the ASCS Sooner region. Matt also added another national tour win at the end of 2011 at Las Cruzes, New Mexico. In 2012 and 2013, Matt became only the second driver in American Sprint Car Series history to earn two Regional championships in the same season by winning both the Sooner and Lonestar regional championships. Matt went back full time with the Lucas Oil ASCS National tour In 2014. During the past five seasons Matt has picked up multiple National Tour wins along with a steady presence among the top-5 in year end points. For the 2021 season, Matt will run with the ASCS National Tour along with a handful of World of Outlaw races when the schedule permits. His goal will be to finish inside the top-3 in ASCS National points with multiple wins and contend for the championship.
Matt understands the importance of education and attends Tulsa Community College. He plans on transferring to Northeastern State University in Broken Arrow, Oklahoma for a degree in Education. If his racing plans do not work out, he would like to become a high school wrestling coach. Matt's spare time is spent in the Glenpool High School wrestling room assisting the wrestlers while keeping in shape.
3-Time Quarter Midget National Champion, Inducted into the Quarter Midget Hall Of Fame, 10-ASCS National Tour Wins, 2-Knoxville 360 Nationals A-main qualifier, 3-Time ASCS Lone Star Region Champion, and 2-Time ASCS Sooner Region Champion
Recommendations
No recommendation information