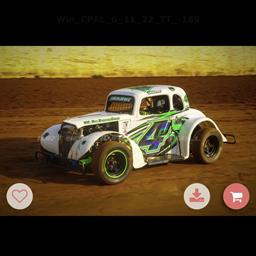 Choya Young
Glenville, PA
Driver Information
We are excited to welcome another new OTL driver to the team for the upcoming season! ?
Choya Young is a competitor in the Central PA Legends racing series . In addition to racing in Central PA he also travels to other big Legend car races around the country -- including trips to Charlotte Motor Speedway and Fayetteville Motor Speedway in the past year.
Choya got his start racing back in the early 2000s in the Scramble Car class at Trail Way Speedway where he picked up a win in his first season before moving into the Thunder Car class. Recently Choya began racing again in the very popular Central PA Legends series which travels around to area tracks in Pennsylvania and surrounding states. In the Legends Car Choya has had a lot of success over the past few seasons including two top five finishes and seven top ten finishes during the 2021 season. In addition to races with the Central PA Legends in 2021, Choya competed at the Road Course World Finals at Charlotte Motor Speedway where he charged from 23rd to 15th in the masters feature race. Choya recently got a strong start to the 2022 season with a trip to Fayetteville Motor Speedway where he picked up a solid second place finish racing against a very strong field of cars.
Choya gets a lot of support from family and friends at the track each week and has some great sponsors that support his racing as well. Be sure to give his race team page a like and be sure to keep an eye on our page for more information about Choya and all of the OTL drivers during the 2022 season! ????
Choya's racing team page ??
Yeti race Team
Choya's team partners ??
Joe Ryan Racecars
Hanover Door
Freedom Offroad & Automotive Accessories
W.E. Sell Sporting Goods
F & S Yamaha & Marine Inc
The Cake Bar
Yeti Soap Co
Just 4 JACK's LLC
Spending time with Family & friends, Racing, snowmobiling
Favorites
Track

Charlotte Road course

Food

Steak

Sports Team

Yeti Race Team
Recommendations
Beverage

Water and coffee

Parts Store

Joe Ryan Race Cars