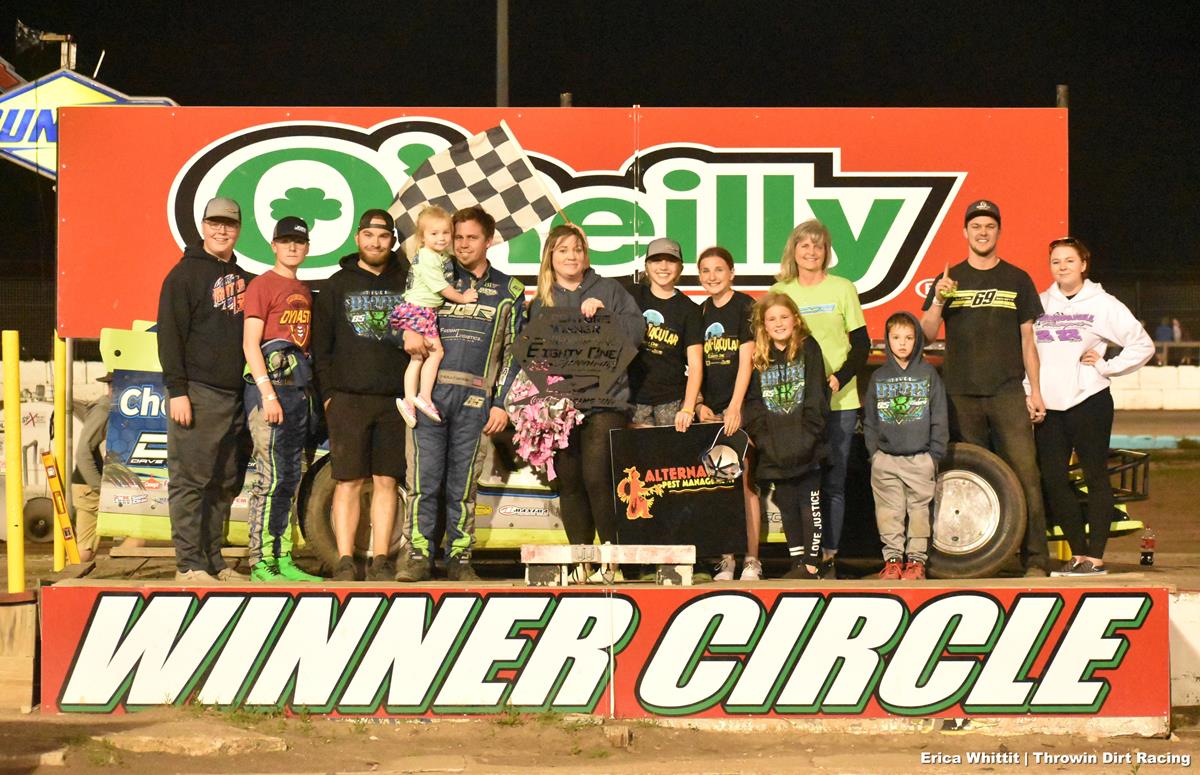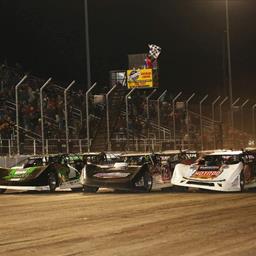 ---
Davis outduels Traugott & Mullens, Chambers stays hot, Dale & Esparza snag firsts of year.
It was a modified race fans paradise to kick off the month of May at 81 Speedway. The Alternative Pest Management USRA Modifies and Chunky Poodle USRA B-Mods along with the Two M Motorsports and Machine Rookie Modifieds and the Primal Beef Jerky Mini Stocks all did battle on Saturday night. Tyler Davis and Jeremy Chambers both continued their current hot streaks early in 2021, while Dakota Dale and Aaron Esparza each picked up their first wins on the season.
In what has become a consistent theme for the Alternative Pest Management USRA Modifieds, it was another barnburner atop the 3/8ths mile Park City, KS oval. Reeling off his second victory and fourth straight top five in Summit Racing Equipment USRA Weekly racing series action, Tyler Davis out dueled Cole Traugott and Tanner Mullens for the win.
From the drop of the green, Traugott consistently challenged Davis, an early lap five caution not deterring either driver once racing got back underway. Reaching traffic on lap thirteen, Davis quickly navigated through the back markers, slowly inching away from Traugott.
After missing his heat race earlier in the night and transferring in from the B-feature, 16th starting Tanner Mullens picked his way through the field finding himself third with six to go. Forced to contend with the late charging Mullens, Traugott battled to hold the No. 02 machine at bay. Mullens won that battle with two laps to go but settled for second while Davis charged under the checkers for the win.
Traugott finished third ending his night on a positive note, taking the points lead away from Cody Schniepp. Bryce Schniepp turned in his best result on the year finishing fourth, and Scott Green completed the top 5. The B-feature win on the evening went to Kenny Sweet and heat race wins went to Bryce Schniepp, Ryan McAninch, and Tyler Davis.
In Chunky Poodle USRA B-Mod action, Jeremy Chambers kept his hot streak alive, picking up his second win at 81 Speedway and fourth overall on the year. Chambers battled early with Matthew Crowell, taking the lead on lap five. Fifth starting Brian McGowen gave chase, taking over the second spot from Crowell on lap 11. McGowen then searched every possible racing line around the speedway trying to track down the No. B52 machine. For the third time this year, once at Humboldt and twice at 81, McGowen finished runner up to Chambers when the checker flag fell. Crowell finished third, Randy Wilson fourth, and pole-sitter Alex Wiens completed the top 5. Wiens, Wilson, and McGowen picked up the three heat race wins.
The Two M Motorsports and Machine Rookie Modifieds nearly ran green to checker, just on caution flag slowing down the field of up-and-coming drivers. Valley Center's Dakota Dale flexed his muscle leading the event wire to wire. Another Valley Center native, Chas Klinkner, had an impressive run, keeping Dale within striking distance for most of the event before a late race tussle over second with Wichita's Brett Davis. Davis won that battle, Klinkner finished third, John Cohoon finished fourth, and Jeremy Sigler completed the top 5. Dillon Moler, Dakota Dale, and Jim Roney each picked up heat race wins.
In a night full of open wheel modified racing, the Primal Beef Jerky Mini Stocks put on a show of their own. After both picked up heat race wins earlier in the night, Aaron Esparza led wire to wire in an entertaining nose to tail affair with defending champion Korey Bice for the entire 10 lap distance. Brett Barber, Colten Kelley and Addison Petty made up the rest of your top 5.
Racing action picks back up next weekend as the Sooner Late Model Series presented by Wichita Tire and Alignment returns for their second of three stops on the year. The Two M Motorsports & Machine Rookie Modifieds, AutoTech Service Center Super Stocks, Heyglassman.com Stock Cars, and Midwest Wrap Co. IMCA Mod Lites also join the show. General Admission tickets are $12, Military and Seniors 65+ are $10, and kids 10 and under are free. Gates open at 5pm, hot laps at 6:15, and racing gets under way at 7! For a complete schedule and all your race day information visit us at www.81speedway.com, on our official Facebook page "Race 81 Speedway" or call us during business hours at 316-755-1781. We will see YOU at the races!!!!
5/1/2021 at 81 Speedway
Alternative Pest Management USRA Modifieds
A Feature 1 (20 Laps): 1. 65-Tyler Davis[1]; 2. 02-Tanner Mullens[16]; 3. 9-Cole Traugott[3]; 4. 21B-Bryce Schniepp[4]; 5. 25-Scott Green[7]; 6. 3J-Jake Nightingale[8]; 7. 75-Tad Davis[12]; 8. 21C-Cody Schniepp[17]; 9. 99T-TJ Tolan[14]; 10. 2G-Brandon Givens[15]; 11. 46-Jason McGehee[9]; 12. 15-Jason Denny[18]; 13. 32R-Daniel Richey[23]; 14. 194-Scott Phillips[19]; 15. 7-Treyton Gann[11]; 16. 69-Cecil Dymond[20]; 17. 429-Shelby Stucky[24]; 18. 7J-Jerry Eveland[22]; 19. 11B-Bill Siemers[21]; 20. 151-Lucas Gibbs[2]; 21. (DNF) 87-Kenny Sweet[13]; 22. (DNF) 4-Dan Powers[6]; 23. (DNF) 52-Ryan McAninch[5]; 24. (DNF) 71-Patrick McManus[10]
B Feature 1 (10 Laps): 1. 87-Kenny Sweet[4]; 2. 99T-TJ Tolan[1]; 3. 2G-Brandon Givens[6]; 4. 02-Tanner Mullens[18]; 5. 21C-Cody Schniepp[9]; 6. 15-Jason Denny[2]; 7. 194-Scott Phillips[8]; 8. 69-Cecil Dymond[10]; 9. 11B-Bill Siemers[5]; 10. 7J-Jerry Eveland[14]; 11. 32R-Daniel Richey[17]; 12. 429-Shelby Stucky[12]; 13. 35G-Barry Gifford[15]; 14. 40-Jason Yager[7]; 15. 20G-Jake Greider[11]; 16. (DNF) 020-Frederick Freeman[16]; 17. (DNS) 86-Eric Main; 18. (DNS) A2-Randy Wilson
Heat 1 (8 Laps): 1. 21B-Bryce Schniepp[3]; 2. 151-Lucas Gibbs[8]; 3. 3J-Jake Nightingale[6]; 4. 25-Scott Green[10]; 5. A2-Randy Wilson[4]; 6. 15-Jason Denny[9]; 7. 21C-Cody Schniepp[2]; 8. 69-Cecil Dymond[1]; 9. 86-Eric Main[7]; 10. (DNF) 020-Frederick Freeman[5]
Heat 2 (8 Laps): 1. 52-Ryan McAninch[6]; 2. 46-Jason McGehee[2]; 3. 71-Patrick McManus[5]; 4. 99T-TJ Tolan[3]; 5. 7-Treyton Gann[10]; 6. 11B-Bill Siemers[7]; 7. 40-Jason Yager[8]; 8. 20G-Jake Greider[4]; 9. 7J-Jerry Eveland[9]; 10. (DNF) 32R-Daniel Richey[1]
Heat 3 (8 Laps): 1. 65-Tyler Davis[3]; 2. 4-Dan Powers[6]; 3. 9-Cole Traugott[9]; 4. 75-Tad Davis[5]; 5. 87-Kenny Sweet[2]; 6. 2G-Brandon Givens[7]; 7. 194-Scott Phillips[8]; 8. 429-Shelby Stucky[4]; 9. (DNF) 35G-Barry Gifford[1]; 10. (DNS) 02-Tanner Mullens
The Chunky Poodle USRA B-Mods
A Feature 1 (20 Laps): 1. B52-Jeremy Chambers[4]; 2. 22-Brian McGowen[5]; 3. 2C-Matthew Crowell[2]; 4. A2-Randy Wilson[3]; 5. 10-Alex Wiens[1]; 6. TM3-Bryan Lariviere[10]; 7. 98K-Kenton Allen[11]; 8. 7G-Gabriel Hodges[8]; 9. 14J-Reece Solander[7]; 10. 52-Cory Janasek[6]; 11. 18-Kyle Wiens[9]; 12. 06-Andrew Wallace[23]; 13. 2W-Richard Wilson[12]; 14. 9-Slade Mohr[13]; 15. 41J-Brady Lanphier[22]; 16. 3C-Jacob Crowell[20]; 17. 7D-Davis Givens[18]; 18. 28-Seth Beard[14]; 19. (DNF) 44-Braden Stoner[15]; 20. (DNF) 2-Rustin Wilson[17]; 21. (DNF) 31-Dylan Allen[16]; 22. (DNF) 70P-Tanner Prochnow[21]; 23. (DNF) 4T-Timothy Burkholder[19]
Heat 1 (8 Laps): 1. 10-Alex Wiens[2]; 2. 52-Cory Janasek[6]; 3. 18-Kyle Wiens[1]; 4. 7G-Gabriel Hodges[7]; 5. 2W-Richard Wilson[8]; 6. 2-Rustin Wilson[4]; 7. 4T-Timothy Burkholder[3]; 8. (DNF) 06-Andrew Wallace[5]
Heat 2 (8 Laps): 1. A2-Randy Wilson[1]; 2. 2C-Matthew Crowell[5]; 3. TM3-Bryan Lariviere[3]; 4. 9-Slade Mohr[2]; 5. 28-Seth Beard[4]; 6. 31-Dylan Allen[8]; 7. 3C-Jacob Crowell[6]; 8. 41J-Brady Lanphier[7]
Heat 3 (8 Laps): 1. 22-Brian McGowen[1]; 2. B52-Jeremy Chambers[3]; 3. 14J-Reece Solander[4]; 4. 98K-Kenton Allen[6]; 5. 44-Braden Stoner[2]; 6. 7D-Davis Givens[5]; 7. 70P-Tanner Prochnow[7]
Primal Beef Jerky Mini Stocks
A Feature 1 (10 Laps): 1. 1-Aaron Esparza[1]; 2. 14K-Korey Bice[2]; 3. 36-Brett Barber[6]; 4. 2K-Colten Kelley[3]; 5. 16-Addison Petty[10]; 6. 15-Wyatt Gaggero[7]; 7. (DNF) 11-Haley Cash[4]; 8. (DNF) 9K-Koby Quiring[8]; 9. (DNF) T9-Robert Santos Jr[5]; 10. (DNS) 4K-Kasey Coleman; 11. (DQ) 775-Jayce Reimer[9]
Heat 1 (6 Laps): 1. 1-Aaron Esparza[1]; 2. 2K-Colten Kelley[3]; 3. 36-Brett Barber[2]; 4. 15-Wyatt Gaggero[6]; 5. 16-Addison Petty[4]; 6. 775-Jayce Reimer[5]
Heat 2 (6 Laps): 1. 14K-Korey Bice[1]; 2. 11-Haley Cash[3]; 3. T9-Robert Santos Jr[4]; 4. 9K-Koby Quiring[2]; 5. (DNS) 4K-Kasey Coleman
Two M Motorsports & Machine Rookie Modifieds
A Feature 1 (15 Laps): 1. 37D-Dakota Dale[2]; 2. 65B-Brett Davis[5]; 3. 11C-Chas Klinkner[1]; 4. 6-John Cohoon[11]; 5. 21J-Jeremy Sigler[9]; 6. 41-Chevy Coleman[7]; 7. 78D-Dillon Moler[3]; 8. 55-Patrick Mazur[19]; 9. 97-Zach Prather[8]; 10. 96-Logan Johnson[17]; 11. 14R-Ryan Quiring[4]; 12. 13-Josh Barnes[10]; 13. 3-Austin Krogmeier[13]; 14. 7-Steve Emond[14]; 15. 54-Jim Roney[6]; 16. 72-Dickie Koeppen[16]; 17. 47-Doulphus Koeppen[18]; 18. 93J-Jeff Carrell[15]; 19. (DNF) 38-Cody Kelly[12]; 20. (DNS) 19-Terry Collins; 21. (DNS) 26K-Micheal Quiring; 22. (DNS) 11-Nick Quiring
Heat 1 (6 Laps): 1. 78D-Dillon Moler[3]; 2. 65B-Brett Davis[4]; 3. 21J-Jeremy Sigler[5]; 4. 6-John Cohoon[6]; 5. 3-Austin Krogmeier[1]; 6. 72-Dickie Koeppen[8]; 7. 47-Doulphus Koeppen[2]; 8. (DNS) 26K-Micheal Quiring
Heat 2 (6 Laps): 1. 37D-Dakota Dale[3]; 2. 14R-Ryan Quiring[4]; 3. 97-Zach Prather[6]; 4. 13-Josh Barnes[7]; 5. 7-Steve Emond[1]; 6. 96-Logan Johnson[5]; 7. (DNF) 55-Patrick Mazur[2]
Heat 3 (6 Laps): 1. 54-Jim Roney[3]; 2. 11C-Chas Klinkner[4]; 3. 41-Chevy Coleman[7]; 4. 38-Cody Kelly[2]; 5. 93J-Jeff Carrell[5]; 6. (DNS) 19-Terry Collins; 7. (DNS) 11-Nick Quiring
Photo Credit: Throwin Dirt Racing - Erica Whittit
---
Article Credit: 81 Speedway
Submitted By: Erick Chesterman
Back to News