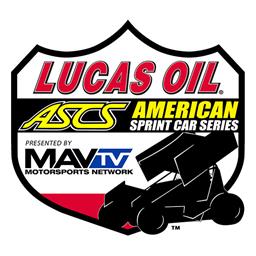 ---
White a Gulf South Winner in Waco!
Cody Morris, Waco, Texas (4-27-2012) - The Griffith Truck & Equipment ASCS Gulf South region cruised into Waco's Heart O' Texas Speedway Friday night, looking to place the first divisional contender in victory lane in the seventh event of the season.
Winning each of the six Gulf South events contested thus far in the 2012 season, the ASCS National Tour invaders were due to battle each other in Oklahoma and Arkansas this weekend, leaving the door wide open for the first for Griffith Truck & Equipment ASCS Gulf South regulars to earn their way into victory lane.
Fort Worth, Texas racer George White survived a spirited race long haunting by former Gulf South champ Brandon Berryman en route to his first victory of the Gulf South campaign aboard the Swafford Electric no. 10.
Berryman pulled alongside numerous times, but White's high line around HoT's semi banked, ¼ mile oval proved true by a slim two car lengths at the finish line of the 25 lap main event.
Known nationally for both his achievements in the modified ranks and his versatility to compete in almost any form of auto racing; White's triumph marked his first ASCS victory at Waco's Heart O' Texas Speedway.
Albuquerque, New Mexico's Josh Hodges took advantage of a lap 17 stoppage that bunched the field back up, battling past Beau Smith and Channin Tankersley in one fell swoop to ultimately claim show position honors and leave Smith and Tankersley to complete the top five running order.
Advancing via B Feature action, Tommy Bryant climbed 8 positions to nab seventh in the final rundown, earning The Woodlands' based racer the Hard Charger effort.
Heat race wins over the 27 car field belonged to Beau Smith, Brandon Berryman, Travis Elliott, and Channin Tankersley; with Bryant taking the lead transfer in the evenings' 12 lap B Feature.
The weekend of Griffith Truck & Equipment ASCS Gulf South Region action concludes with a Saturday night finale at Killeen's Texas Thunder Speedway that features the first ever ASCS event at the Killeen's ¼ mile battleground.
Griffith Truck & Equipment ASCS Gulf South Region
April 27th, 2012 / Event 7 of 26
Heart O' Texas Speedway / Waco, Texas
A Feature (25 Laps): 1. 10-George White[1]; 2. 31-Brandon Berryman[2]; 3. 74x-Joshua Hodges[9]; 4. 51-Beau Smith[7]; 5. 0-Channin Tankersley[4]; 6. 14-Michael Lang[3]; 7. 28-Tommy Bryant[15]; 8. 2-Wes Miller[8]; 9. 21T-Ray Allen Kulhanek[13]; 10. 74E-Claud Estes III[10]; 11. 45-Martin Edwards[17]; 12. 54-Evan Pardo[12]; 13. 66-J.J. Simmons[6]; 14. 15T-Travis Elliott[5]; 15. 69-Larry Howery[18]; 16. 19-Klint Angelette[16]; 17. 52-Roger Oakes[19]; 18. 15-Andrew VanBlarcum[20]; 19. 3-Gary Watson[14]; 20. 25M-Michael McNeil[11]
*Lap Leaders: George White 1-25
B Feature (12 Laps): 1. 28-Tommy Bryant; 2. 19-Klint Angelette; 3. 45-Martin Edwards; 4. 69-Larry Howery; 5. 52-Roger Oakes; 6. 15-Andrew VanBlarcum; 7. 4x-Shawn Petersen; 8. 35-Greg Rilat; 9. 24-Brandie Jass; 10. 93-Chris Sweeney; DNS 79-Charlie McDonald; DNS 02-Harry Yarrington; DNS 02x-Wayne Brown
*Top 6 advance to A Feature
Heat 1 (8 Laps): 1. 51-Beau Smith; 2. 74x-Joshua Hodges; 3. 21T-Ray Allen Kulhanek; 4. 19-Klint Angelette; 5. 28-Tommy Bryant; 6. 45-Martin Edwards; 7. 93-Chris Sweeney
Heat 2 (8 Laps): 1. 31-Brandon Berryman; 2. 66-J.J. Simmons; 3. 2-Wes Miller; 4. 24-Brandie Jass; 5. 52-Roger Oakes; 6. 4x-Shawn Petersen; 7. 02-Harry Yarrington
Heat 3 (8 Laps): 1. 15T-Travis Elliott; 2. 10-George White; 3. 74E-Claud Estes III; 4. 3-Gary Watson; 5. 35-Greg Rilat; 6. 02x-Wayne Brown; 7. 79-Charlie McDonald
Heat 4 (8 Laps): 1. 0-Channin Tankersley; 2. 14-Michael Lang; 3. 25M-Michael McNeil; 4. 54-Evan Pardo; 5. 69-Larry Howery; 6. 15-Andrew VanBlarcum
Current 2012 Griffith Truck & Equipment ASCS Gulf South point standings:
Ray Allen Kulhanek 864; 2. Brandon Berryman 828; 3. Michael McNeil 778; 4. Travis Elliott 766; 5. Beau Smith 748; 6. Wes Miller 734; 7. Greg Rilat 705; 8. Klint Angelette 697; 9. Larry Howery 694; 10. Gary Watson 645
---
Submitted By: Cody Morris
Back to News