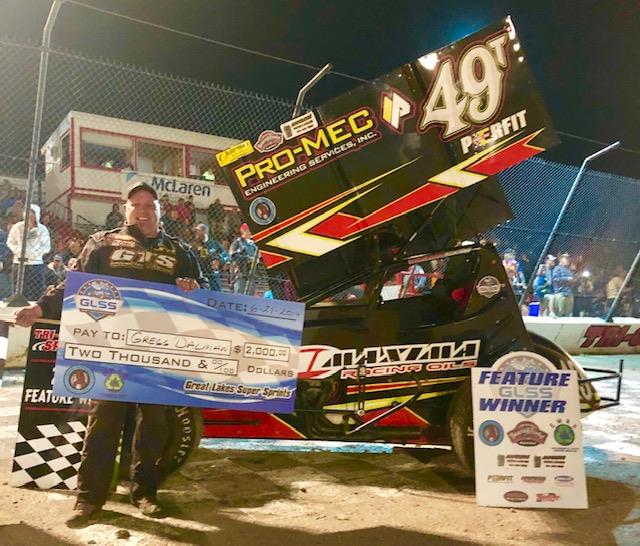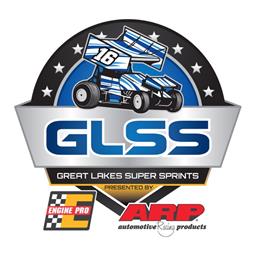 6/21/2019
Great Lakes Super Sprints
---
DALMAN GETS FIRST WIN OF SEASON
Auburn, MI - With a strong start this season and sitting 3rd in points, Gregg Dalman (Bellevue, MI) secured his first feature win tonight at Tri-City Motor Speedway. Last year Dalman came on strong at the end of the season, winning his first feature with only 5 races to go in the season and finished 2nd overall. This year things appear to be coming together a lot earlier.
Our luck with good weather continued tonight at Tri-City Motor Speedway, where we got in our 10th race of the season. When much of Southern Michigan received 1-3 inches of rain yesterday, TCMS only received about a 1/2". It was a clear sunny day here with 27 cars present to put on a show for a standing room only crowd!
Rolling out for 3 car group qualifying, our drivers realized that we had a tricky track tonight, with the winds out of the East and the sun high overhead. Danny Sams III (Northport, FL) made the best of his early qualifying spot and set fast time with a 12.439 second lap for an average speed of 108.5 miles per hour! Brad Lamberson (Parma, MI), Dan McCarron (Britton, MI), Jared Horstman (Cloverdale, OH) and Phil Gressman (Helena, OH) rounded out the top 5 qualifiers, with only 1.4 mph.
Leading out the cars in the Kistler Engines & Racing Products Heat 1, Dalman brings the field of 9 cars to the start line. Chase Ridenour (Parma, MI) quickly got out front and just stayed out of Dalman's reach for the Heat Race win, Dalman finished 2nd, while Clio, MI native Trevor Berry finishes 3rd and Horstman and Conner Morrell (Bradenton, FL) round out the top five transfer spots
The Campbell Performance Heat race is lead out by Garrett Saunders (Lakeville, IN). As the cars complete the first lap, Kyle Poortenga (Woodland, MI) in his borrowed car, pulls out and takes the early lead. Holding the field at bay for 5 laps, Brad Lamberson gets by Poortenga in the 6th lap. Lamberson and Poortenga finished 1 and 2, while Gressman, Brandon Moore (Clyde, OH) and Ayrton Olsen (Indianapolis, IN) rounded out the top 5 transfer spots. *Saunders finished 4th unofficially, but had been called for a jump in a single file restart, penalizing him 2 spots, moving Olsen up into a transfer spot after finishing 6th.
Jared Lamberson (Parma, MI) led out the final group in the Perfit/Engine Pro Heat 3. Jumping out to the early lead and winning the heat, Josh Shantz (Waterloo, ONT) got his 2nd heat race win in 2 races. Last week Shantz experienced engine trouble after winning last weeks heat race. This week he won with his older engine. After running second for 7 laps, Jared Lamberson just could not hold off Daggett, who got by Lamberson at the flag stand. McCarron and Justin Adams (Gibsonburg, OH0 rounded out the top five trasnfer spots.
Justin Ward (Bensonia, MI) leads out the Addvanced Heating & Cooling B-Main. Going green flag to checker, Shawn Dancer (Delphos, OH) led the whole way for the win with Saunders, Mike Burkin (Clyde, OH), Sams and Michael Summers making the transfer. With no provisionals used, Andrew Scheid (Sparta, MI) and Ward made the feature starting 21st and 22nd respectively.
With the redraw on the front stretch, Dalman and Shantz were the benefactors of a great redraw starting on the front row. Ridenour and Brad Lamberson would start 3rd and 4th and Poortenga and Daggett would start 5th and 6th.
As the green flag flew, Dalman quickly moved to the bottom of the track and started pulling away from the field. With the field of 22 cars making it through the first lap, Horstman and Berry went over the top of turn one and spun out in lap 2. This reset the field in a single file restart. This time as the green flag dropped, the field went 24 straight laps.
At the end, Dalman took the checkered flag with an average speed for the race of 103.85 mph and finishing just 1.65 seconds ahead of the second place finisher, Brad Lamberson and 4.54 seconds ahead of third place finisher Shantz. Also with strong finishe and rounding out the top 5 were Ridenour and Poortenga.
Our next race is Saturday, June 22nd at Crystal Motor Speedway in Crystal, MI.
Thank you to our marketing sponsors, Beacon and Bridge Markets, Addvance Heating & Cooling, Specialty Fuels and Logistics and Hoosier Midwest. Also to our race sponsors, Kistler Engines and Racing Products, Campbell Performance, Perfit/Engine Pro and Engler Machine and Tool.
Be sure to follow us on Facebook, Twitter and Instagram for all the current pictures and activities. For our schedule, points and results go to our website at www.greatlakessupersprints.com.
---
Article Credit: Barry M. Marlow
Submitted By: Barry Marlow
Article Media
Back to News