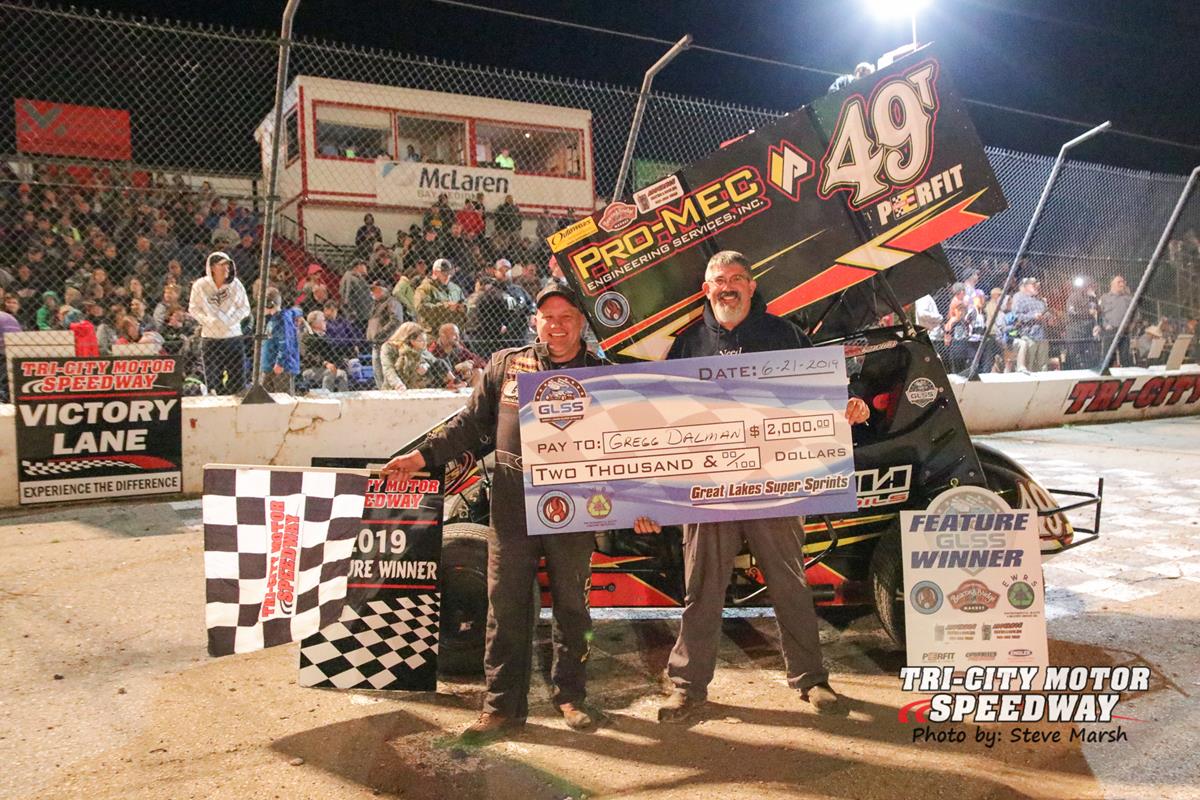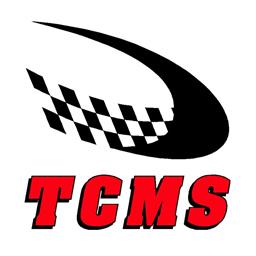 6/23/2019
Tri-City Motor Speedway
---
6/21/2019 Race Results
06/21/2019 Maple Lane Ag and Iron/ Great Lakes Super Sprints
ARP Late Models: #6 Dona Marcoullier
Suspension MAXX Street Stocks: #02 Will Stanley
Great Lakes Super Sprints: #49t Gregg Dalman
Members First Credit Union Pro Stocks: #3 Loren Short
Thornton Brothers Sewer and Septic Service Bomber Stocks: #7 John Staszak
Walker's Ideal Trophies Mini Wedge: #28 Kyron DeShano (Jr Division)
Walker's Ideal Trophies Mini Wedge: #99 Brayden Buehrly (Sr. Division)
Greg Dalman Captures Great Lakes Super Sprints Main Event at Tri-City Motor Speedway
06/21/2019 (Auburn MI) The summer racing season is in full swing at Tri-City Motor Speedway in Auburn. Along with the regular weekly racing divisions, the Great Lakes Super Sprints were on hand to entertain the capacity crowd this past Friday night. In all, one hundred twenty two drivers checked in to take their shot at visiting victory lane at the end of the evening.
The Great Lakes Super Sprint Series made their second visit to TCMS last Friday Night. Twenty-seven of the best 360 sprint car drivers in Michigan and Midwest made the tow to put on their high horse power show. Preliminary heats were won by fan favorite #11r Chase Ridenour, #27 Brad Lamberson, and Ontario's #18 Josh Shantz. The B-Main victor was #49 Shawn Dancer rounding out the 22 that would start the 25-lap main event. #49T Greg Dalman and Shantz brought the field to the initial green flag for the feature. #17 Jared Horstman brought out the first caution on lap one as he spun off the track in turn one. Dalman pulled away on the restart having as big as a full straightaway advantage on the rest of the sprint car field. #27 Brad Lamberson was able to cut that lead in half by the halfway point in the race as they battled within lapped traffic. The race went the next 24 laps caution free with Dalmann leading all of the laps for his first TCMS feature win of 2019. Lamberson settled for a runner-up finish and was followed by Shantz, Ridenour, and #10 Kyle Poortenga.
The Members First Credit Union Pro Stocks ran two heats to decide the line up for their feature race. #50 Chad Bennett and #3 Loren Short were heat race victors. Bennett started off strong once again by leading the first half of the 20-lap feature. Short, who started back in the tenth spot, tracked Bennett down as the handling went away on Bennett's car. With five laps remaining, it was a two car race between Short and point leader #69 Nate Murphy. Short was able to hold off the hard-charging Murphy for his second win in a row. Behind Short and Murphy was #28 Jared Rizer, #36x Erik Kukulski, and #99 Kyle Hunt.
The Thornton Brother Sewer and Septic Service Bomber Stocks had nineteen participants make their way to the feature race. Heat races were ran clock-wise instead of the tradition counter clockwise. Winners of those heat races were #7 John Staszak, point leader #03 Josh Charbonneau, and #9 Kyle Whaler. These three would be ones to watch in the main event. #25 Don Frohm, who has picked up a couple of feature wins in 2019, had a great start and took the lead on lap one from his second row starting position. He had the field covered for the first eighteen laps as he held off a hard charging Staszak. Staszak kept in Frohm's tire tracks until Frohm missed his mark in turn two opening the door for Staszak to take advantage. Staszak made the winning pass with two laps remaining and grabbed his second feature win of the year. Frohm suffered a broken left front wheel to finish behind #01TK Brad Treichel. #00c Mike Currier and Charbonneau completed the top five finishers. Whaler suffered damage from an early incident that sent him home with a fifteenth place finish.
The SuspensionMAXX Street Stocks narrowed their field of 34 down to 20 with #84 Eric Watz, #02 Will Stanley, #98 Rick Smith, and #72 Bobby Kosha winning their qualifiers earning their spots in the feature. The two B-Mains were just as hard fought as the feature with #37 Ethan Champagne and #85 Al Spiekerman held off tough competition to make the big dance. Watz led early in the 20-lap feature before contact with another car sent him out early and ending his night. This gave the lead to #8 Aaron Spearling. Spearling looked to be on his way to a feature win until Stanley came from his tenth place starting position taking the lead by lap ten. #18 Nick Putnam had another strong run besting Spearling for the second spot at the finish. Kosha and #11 Jimmy Jaenicke took the remaining spots in the top five.
Walker's Ideal Trophies Mini Wedge kids had #28 Kyron DeShano and #12 Morgan Bujarski win preliminary heat races. K. DeShano would made a mid race pass of #27 Pierson DeShano in the ten lap main event and cruised to his second Junior Division feature win of the season. #99 Brayden Buehrly survived his first ever race to collect the win in the Senior Division.
The ARP Late Models saw point leader #24 Alex Hupert, Houghton Lake's #6m Dona Marcoullier, and three time defending Champion #4t Andrew Terrill survive carnage filled heat races as winners. In the 30-lap feature, rookie #77m Chris Malek took advantage of his front row starting spot to lead the initial twelve laps of the 30- lap main event. Twelfth place starter Marcoullier took over the lead on lap twelve with a pass in the low groove of turn four. He had pulled a sizeable lead before a late race caution bunched the field. Midland driver #19 Derrick Hilliker had his car set up for the slick track and had fought his way up to second right before the final caution flag flew. Hilliker gave it all he had but it wasn't enough to take the lead from Marcoullier, who would take yet another TCMS feature win. Hilliker took home a close second place and was followed by #113 Kyle Roberts, Terrill, and Hupert. Malek would end up with an eight place finish.
Next week at TCMS is Selfie Night and Fireworks! If taking a selfie isn't your style come on out and have a cartoon caricature drawing of yourself! Join in on the fun and take pictures with selfie frames, win prizes, and enjoy a fireworks show! Only 50 spots open for caricature drawing. Sign up today at www.shopTCMS.com/products/caricature. It is also Auburn night! 16+ that live in Auburn and bring ID get in for just $10! The Late Models, IMCA Modifieds, Pro Stocks, Street Stocks, Bomber Stocks, Mini Wedge (6-9 yr), Mini Wedge (10-14 yr) will all be back on the track! Purchase your tickets online early at www.tricityracetrack.com and get here early to claim your seat! For contact information, directions, and instantaneous race results visit www.tricityracetrack.com.
---
Article Credit: Roger Williams
Article Media
Back to News