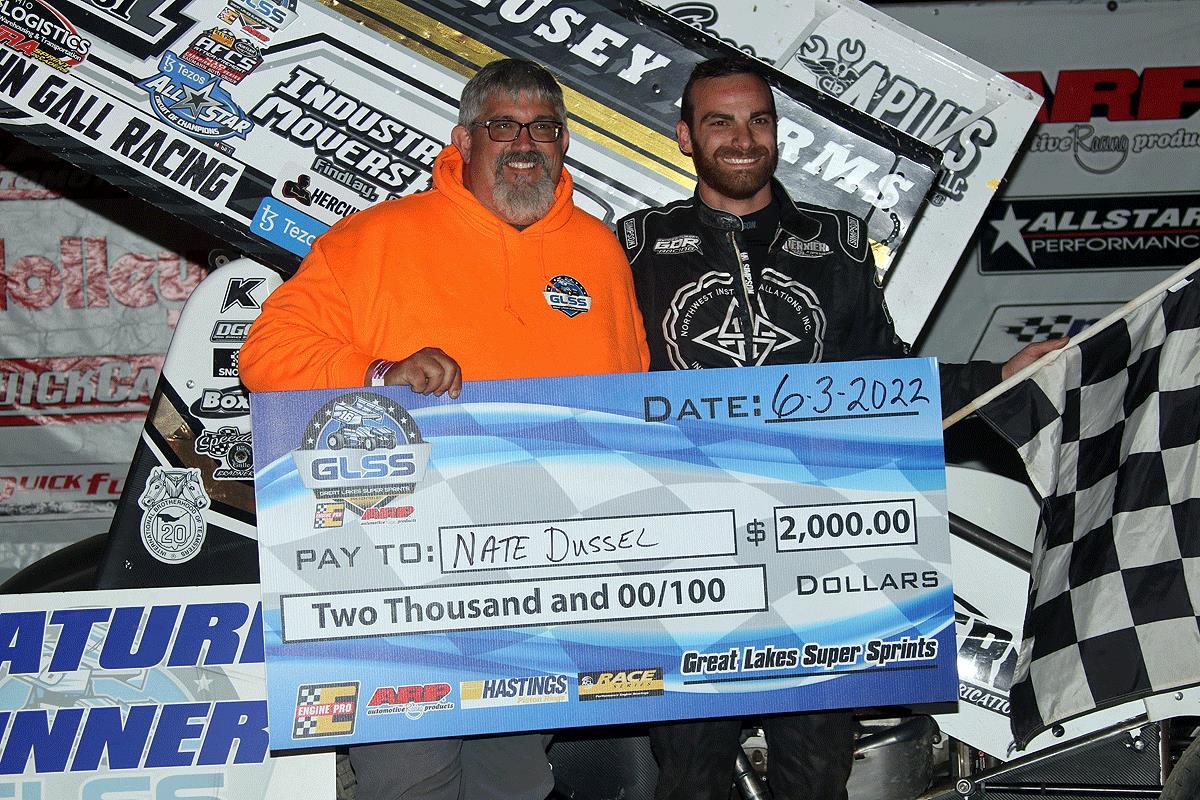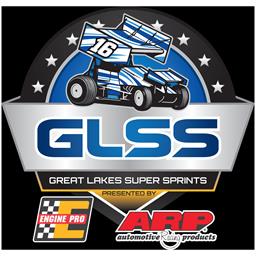 6/3/2022
GLSS-Great Lakes Super Sprints
---
DUSSEL WINS OPENING NIGHT
Lake Odessa, MI - Making his first visit to I-96 Speedway, Nate Dussel (Bradner, OH) was able to make his way through a field of 34 Great Lakes Super Sprints presented by Engine Pro/ARP to take the checkered and his first win at this Michigan track.
Kicking off the night, Brad Lamberson (Parma, MI) was the Ti II Performance Fast Qualifier by setting fast time in Flight 1 as well as fast time over all with a 14.26 second average lap. Phil Gressman (Fremont, OH) set fast time in the 2nd Qualifier as well as second over all. Tylar Rankin (Coldwater, MI), Devon Dobie (Wapakoneta, OH) and 5th overall was Dustin Daggett (Portland, MI)
In the Engler Machine & Tool Heat 1, Ricky Peterson, Jr takes the win with Dobie and Lamberson rounding out the top 3.
Daggett cruises to the win of the Jim Coffey & Sons Plumbing Heat 2. Rankin and Shawn Valenti rounded out the podium.
In the Beacon & Bridge Markets Heat 3, local driver Gregg Dalman (Bellevue, MI) holds off Dussel and Gressman for the win.
Danny Sams III (North Port, FL) wins the Specialty Fuels & Logistics Heat 4, out pacing Ryan Coniam (Burlington, ON) and Zane Devault (Plymouth, IN).
In the Addvance Heating & Cooling Last Chance Feature, past GLSS Champion Chase Ridenour (Perry, MI), in his first race this year, wins, with Max Stambaugh (Elida, OH) and Chase Dunham (Leipsic, OH) rounding out the podium.
Dalman led the cars out for the A-Main. After leading for the first 8 laps, Dalman was able to stay close after getting passed by Dussel. Stambaugh was charging hard, moving up 12 spots from 18th. Sams and Daggett rounded out the podium
For current events and picutes, follow us on Facebook and Twitter (@GLSprints). For a complete listing of our schedule and points go to www.greatlakessprints.com and check out the news and our drivers.
Great Lakes Super Sprints
Full Throttle Nationals
I-96 Speedway
Lake Odessa, Michigan
Friday, June 3, 2022
Qualifying
27-Brad Lamberson, 14.267[5]
16C-Tyler Rankin, 14.519[2]
23-Devon Dobie, 14.573[13]
85-Dustin Daggett, 14.593[17]
84-Kyle Poortenga, 14.655[9]
28-Shawn Valenti, 14.691[8]
2-Ricky Peterson, 14.801[6]
70-Eli Lakin, 14.873[12]
66-Chase Dunham, 14.935[15]
19-Jett Mann, 14.962[11]
10S-Jay Steinebach, 15.190[3]
0-Brayton Phillips, 15.980[7]
07-Shane Simmons, 16.062[4]
8-Justin Ward, 16.223[16]
1-Levi Poortenga, 17.140[10]
11-Joe Conway, 17.254[14]
DNS: 55-Matt Cogley, 17.254
Qualifying 2
7C-Phil Gressman, 14.464[14]
71H-Max Stambaugh, 14.603[10]
1D-Nate Dussel, 14.621[16]
24D-Danny Sams III, 14.622[13]
49T-Gregg Dalman, 14.656[8]
14H-Zane Devault, 14.925[7]
87-Logan Easterday, 14.994[15]
46-Ryan Coniam, 15.008[11]
17-Jared Horstman, 15.060[2]
3A-Mike Astrauskas, 15.202[1]
13-Andy Teunessen, 15.243[3]
86-Keith Sheffer Jr, 15.246[4]
16B-Chase Ridenour, 15.350[6]
21-Linden Jones, 15.414[9]
20I-Kelsey Ivy, 15.808[12]
38-Max Frank, 16.475[5]
27K-Zac Broughman, 16.959[17]
Heat Race #1 (8 Laps)
2-Ricky Peterson[1]
23-Devon Dobie[3]
27-Brad Lamberson[4]
84-Kyle Poortenga[2]
10S-Jay Steinebach[6]
66-Chase Dunham[5]
07-Shane Simmons[7]
55-Matt Cogley[9]
1-Levi Poortenga[8]
Heat Race #2 (8 Laps)
85-Dustin Daggett[3]
16C-Tyler Rankin[4]
28-Shawn Valenti[2]
70-Eli Lakin[1]
0-Brayton Phillips[6]
8-Justin Ward[7]
19-Jett Mann[5]
11-Joe Conway[8]
Heat Race #3 (8 Laps)
49T-Gregg Dalman[2]
1D-Nate Dussel[3]
7C-Phil Gressman[4]
87-Logan Easterday[1]
16B-Chase Ridenour[7]
13-Andy Teunessen[6]
20I-Kelsey Ivy[8]
27K-Zac Broughman[9]
17-Jared Horstman[5]
Heat Race #4 (8 Laps)
24D-Danny Sams III[3]
46-Ryan Coniam[1]
14H-Zane Devault[2]
21-Linden Jones[7]
71H-Max Stambaugh[4]
86-Keith Sheffer Jr[6]
3A-Mike Astrauskas[5]
38-Max Frank[8]
B-Main (12 Laps)
16B-Chase Ridenour[3]
71H-Max Stambaugh[4]
66-Chase Dunham[5]
86-Keith Sheffer Jr[8]
10S-Jay Steinebach[1]
13-Andy Teunessen[7]
20I-Kelsey Ivy[11]
0-Brayton Phillips[2]
8-Justin Ward[6]
3A-Mike Astrauskas[12]
55-Matt Cogley[13]
38-Max Frank[16]
19-Jett Mann[10]
07-Shane Simmons[9]
11-Joe Conway[14]
1-Levi Poortenga[17]
DNS: 27K-Zac Broughman
DNS: 17-Jared Horstman
A-Main (25 Laps)
1D-Nate Dussel[3]
24D-Danny Sams III[6]
85-Dustin Daggett[7]
27-Brad Lamberson[9]
14H-Zane Devault[12]
71H-Max Stambaugh[18]
16C-Tyler Rankin[4]
23-Devon Dobie[2]
2-Ricky Peterson[8]
28-Shawn Valenti[11]
16B-Chase Ridenour[17]
66-Chase Dunham[19]
7C-Phil Gressman[10]
86-Keith Sheffer Jr[20]
87-Logan Easterday[15]
13-Andy Teunessen[22]
10S-Jay Steinebach[21]
21-Linden Jones[16]
49T-Gregg Dalman[1]
46-Ryan Coniam[5]
70-Eli Lakin[14]
84-Kyle Poortenga[13]
---
Article Credit: Barry M. Marlow
Submitted By: Barry Marlow
Article Media
Back to News