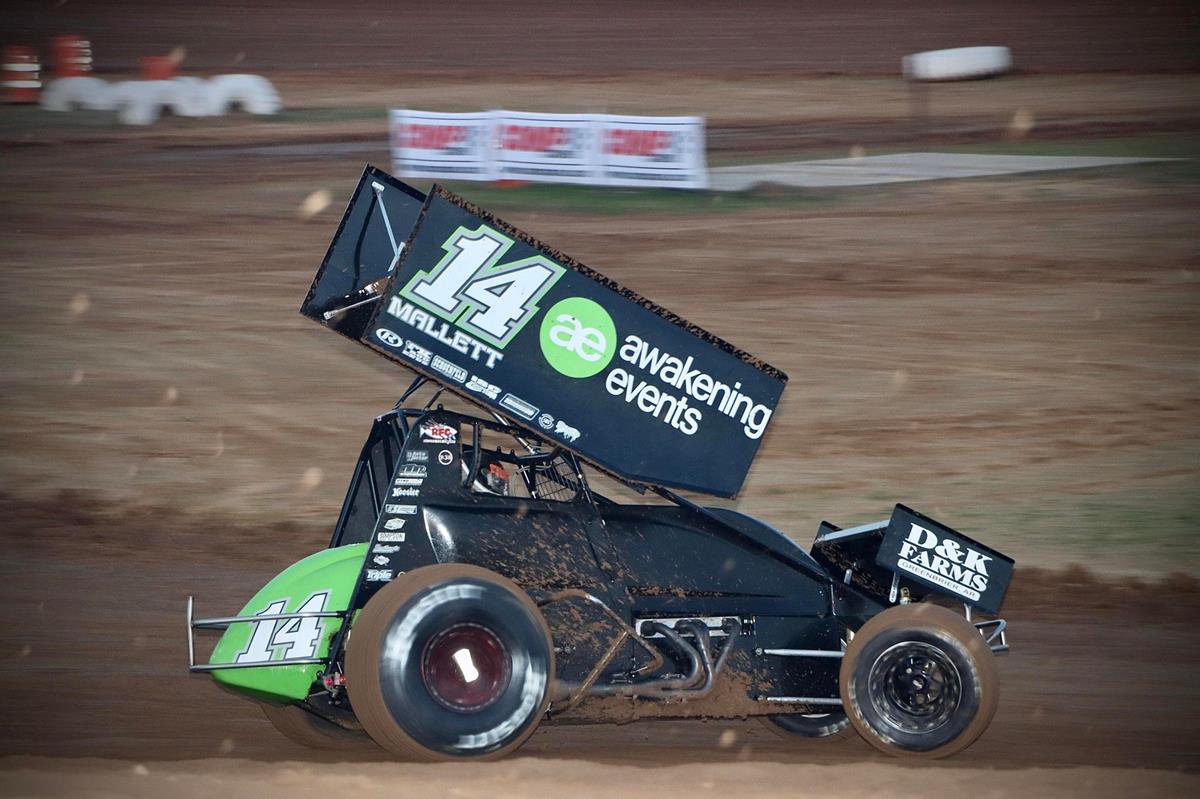 5/30/2022
Inside Line Promotions
---
Mallett Records Two Top 10s to Kick Off USCS Series Speedweek
(Photo by B Young Photography)
Inside Line Promotions – HARRISBURG, Ark. (May 30, 2022) – Jordon Mallett earned two top-10 finishes last weekend during the opening two nights of the USCS Series Speedweek.
Mallett advanced from eighth to seventh place on Saturday at Riverside International Speedway in West Memphis, Ark., before he hustled from 16th to 10th on Sunday at Old No. 1 Speedway.
"It was a solid weekend, but not what we aimed for," he said. "I felt like Saturday was just a rough and tumble night. It was certainly a night of survival. That track was a pretty mean ole girl. I was too bound up to feel I could go forward on the rough, choppy track. We spent more time off the ground than on the ground. Luckily the car is in one piece and we regrouped for Sunday."
Mallett finished where he started – fifth – in a heat race at Old No. 1 Speedway. He then gained a position to end second in the B Main and transfer into the main event.
"I got bottled up in the heat race and that forced us into the B Main," he said. "We made it through that and rolled pretty good early in the feature until about halfway when we had a caution. I think when it came out it strung us out enough I couldn't keep marching forward as good as I could before the caution. The bottom was equally as fast as the top. It was a fun place like it normally is, but it just gets hard to pass when everybody gets strung out.
"I had a couple of cars in front of me I needed to get around. I cleared them and then sure enough that mid-race caution came out and it put me back behind those cars. From then on it seemed like someone was always on the bottom and someone was always on the top. I just couldn't get around them. I was biding time, waiting for their mistakes and I just couldn't get around them so we finished 10th."
Mallett ranks seventh in the USCS Series Speedweek championship standings.
The remaining Speedweek races are Thursday at North Alabama Speedway in Tuscumbia, Ala.; Friday at Hattiesburg Speedway in Hattiesburg, Miss.; and Saturday at Jackson Motor Speedway in Byram, Miss.
"We've normally run pretty well at those joints," he said. "We'll keep tuning on our car. We tried some stuff on Sunday. The car seemed to like it early on, but then we were about as good as everybody else the second half of the race. We'll look at that in the shop this week to try to find a happy balance between the two and go from there."
QUICK RESULTS –
May 28 – Riverside International Speedway in West Memphis, Ark. – Heat race: 2 (3); Feature: 7 (8).
May 29 – Old No. 1 Speedway in Harrisburg, Ark. – Heat race: 5 (5); B Main: 2 (3); Feature: 10 (16).
SEASON STATS –
7 races, 0 wins, 2 top fives, 5 top 10s, 6 top 15s, 7 top 20s
UP NEXT –
Thursday at North Alabama Speedway in Tuscumbia, Ala.; Friday at Hattiesburg Speedway in Hattiesburg, Miss.; and Saturday at Jackson Motor Speedway in Byram, Miss., with the USCS Series
MEDIA LINKS –
Website: http://jordonmallett.myracepass.com
Twitter: https://twitter.com/jmmotorsports14
Facebook: https://www.facebook.com/jordonmallettmotorsports
SPONSOR SPOTLIGHT – Awakening Events
Awakening Events is a nationwide, full service, live event company that is based in Nashville, Tenn., and Conway, Ark. For more information, http://www.AwakeningEvents.com.
"It's super exciting to have them back," Mallett said. "With the pandemic, just like in racing, it slowed all of the live events down. We pressed pause and let everything settle back down. We're thrilled to welcome them back as the primary partner for our team. I look forward to having a lot of success together. They've been a great supporter of us and we're excited to welcome them back bigger and better than ever."
Mallett would like to thank Awakening Events, Porter Commercial Refrigeration, Water for Christ, Red River Rack Co., D&K Farms, DHR Suspension, Racing Optics, Triple X Race Co., KSE Racing Products, FK Rod Ends, Brown & Miller Racing Solutions, Sinco, Inc., Autometer, Callies Racing Products, Dynotech Race Engines, Hero Graphics, Hilborn Fuel Injection, ISC Racers Tape, K&N Engineering, Lone Star Super Gas (Sunoco), HRP Wings, Schoenfeld Headers, Simpson Race Products, Smiley's Racing Products, MetTec Titanium, MotorState Distributing, DMI and Superior Bearing and Supply for their continued support.
INSIDE LINE PROMOTIONS –
Inside Line Promotions specializes in affordable public relations and media management for motor sports drivers, teams, sponsors, tracks, series, events, organizations and manufacturers. ILP Founder Shawn Miller leverages professional journalism with new media technologies and social networking to improve your exposure and the return on investment for your sponsors.
To meet the media relations needs of your program by joining Team ILP, contact Shawn at 541-510-3663 or Shawn@InsideLinePromotions.com. For more information on Inside Line Promotions, visit http://www.InsideLinePromotions.com.
---
Article Credit: Inside Line Promotions
Submitted By: Shawn Miller
Back to News