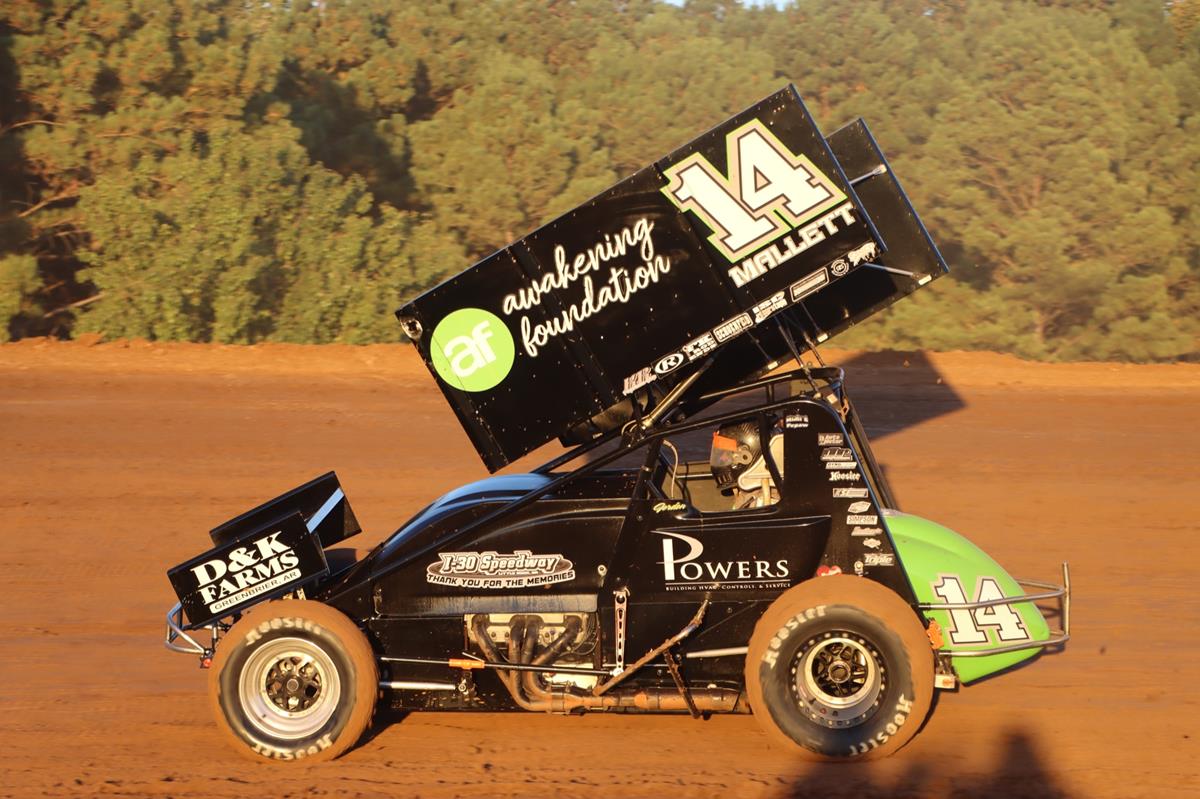 10/4/2022
Inside Line Promotions
---
Mallett Rallies for Podium During Ralph Henson Memorial and Top 15 at Short Track Nationals
(Photo by B Young Photography)
Inside Line Promotions – LITTLE ROCK, Ark. (Oct. 4, 2022) – Jordon Mallett highlighted the final weekend at I-30 Speedway by posting a third-place result during the Ralph Henson Memorial before overcoming adversity early at the 35th annual COMP Cams Short Track Nationals presented by Hoosier Tires.
"You almost wish you wouldn't have went so you didn't have to process the part that it was the last event there," he said. "That part was hard. That's where I grew up going and first set foot in a race car. That side of it was mentally tough throughout the weekend. The beautiful part of it all was the record crowds and the support was awesome. We have a lot of great memories from the track and we wish the Clay Family nothing but the best."
The three-race weekend began on Thursday with an ASCS Mid-South Region event featuring more than 70 drivers. Mallett won a heat race after starting on the outside of the front row. He then gained a trio of positions in the feature, including two on the final lap, for a third-place result.
"I really felt good going into the Ralph Henson Memorial," he said. "I expected it to be the toughest night for us because you're racing the whole field of 70-plus drivers. It felt good to get a good draw and be in a good position. To start sixth and make it on the podium is good. Obviously we'd have liked to win that deal. We've won it before and I'd have liked to win it for the last time they had it there, but to run third out of that quantity and quality of cars started us on a good note for the weekend."
Misfortune cramped the team on Friday during the opening round of the Lucas Oil ASCS National Tour's Short Track Nationals, which showcased more than 80 drivers.
"We were pretty comfortable because we knew the speed we had in the car, but Friday was so aggravating," he said. "We started in hot laps with no brakes. I couldn't even get them pumped up down the straightaways. I couldn't control the attitude of the car like I wanted. We started changing up things and we were not better if not a little worse in qualifying so it really put us in a hole. The heat race was a mixture of the same thing, trying to rule out what the issue was."
Mallett qualified seventh quickest in his group and finished where he started – seventh – in a heat race. He then charged from fifth to second place in a B Main to transfer into the back of the feature. Mallett capped the night by hustling from 19th to 12th, which was the second-most positions gained.
"Before the B Main we literally changed out the entire brake system," he said. "We had our brakes back and came to life. We were able to get ourselves into a transfer and charge up through there in the A Main. Thankfully we were able to turn a bad night into a decent night, but it really put us in a hole for the remainder of the weekend."
Mallett advanced from seventh to third in a heat race and from sixth to second in a B Main on Saturday to move into the A Main. The event concluded with a run from 18th to 14th in the feature.
"We passed cars every time we got on the track throughout the weekend other than in the heat race on Friday," he said. "When I looked back at how many cars we passed, I think it was almost 30 cars during the weekend, I was proud of how we battled. We were in a bad spot, but were able to dig ourselves out against some good race car drivers. I think for everything we overcame we had a good weekend.
"We had a few local sponsors – Powers HVAC, The Humble Crumb and Andrews Brothers Construction – who came on board for the weekend. We really appreciate all of our sponsors throughout the year as well as those who jumped on board for the Short Track Nationals."
QUICK RESULTS –
Sept. 29 – I-30 Speedway in Little Rock, Ark. – Heat race: 1 (2); Feature: 3 (6).
Sept. 30 – I-30 Speedway in Little Rock, Ark. – Qualifying: 7; Heat race: 7 (7); B Main: 2 (5); Feature: 12 (19).
Oct. 1 – I-30 Speedway in Little Rock, Ark. – Heat race: 3 (7); B Main: 2 (6); Feature: 14 (18).
SEASON STATS –
25 races, 4 wins, 12 top fives, 16 top 10s, 21 top 15s, 23 top 20s
UP NEXT –
TBD
MEDIA LINKS –
Website: http://jordonmallett.myracepass.com
Twitter: https://twitter.com/jmmotorsports14
Facebook: https://www.facebook.com/jordonmallettmotorsports
SPONSOR SPOTLIGHT – Awakening Events
Awakening Events is a nationwide, full service, live event company that is based in Nashville, Tenn., and Conway, Ark. For more information, http://www.AwakeningEvents.com.
"It's super exciting to have them back," Mallett said. "With the pandemic, just like in racing, it slowed all of the live events down. We pressed pause and let everything settle back down. We're thrilled to welcome them back as the primary partner for our team. I look forward to having a lot of success together. They've been a great supporter of us and we're excited to welcome them back bigger and better than ever."
Mallett would like to thank Awakening Events, Porter Commercial Refrigeration, Water for Christ, Red River Rack Co., D&K Farms, DHR Suspension, Racing Optics, Triple X Race Co., KSE Racing Products, FK Rod Ends, Brown & Miller Racing Solutions, Sinco, Inc., Autometer, Callies Racing Products, DynoTech Race Engines, Hero Graphics, Hilborn Fuel Injection, ISC Racers Tape, K&N Engineering, Lone Star Super Gas (Sunoco), HRP Wings, Schoenfeld Headers, Simpson Race Products, Smiley's Racing Products, MetTec Titanium, MotorState Distributing, DMI and Superior Bearing and Supply for their continued support.
INSIDE LINE PROMOTIONS –
Inside Line Promotions specializes in affordable public relations and media management for motor sports drivers, teams, sponsors, tracks, series, events, organizations and manufacturers. ILP Founder Shawn Miller leverages professional journalism with new media technologies and social networking to improve your exposure and the return on investment for your sponsors.
To meet the media relations needs of your program by joining Team ILP, contact Shawn at 541-510-3663 or Shawn@InsideLinePromotions.com. For more information on Inside Line Promotions, visit http://www.InsideLinePromotions.com.
---
Article Credit: Inside Line Promotions
Submitted By: Shawn Miller
Back to News