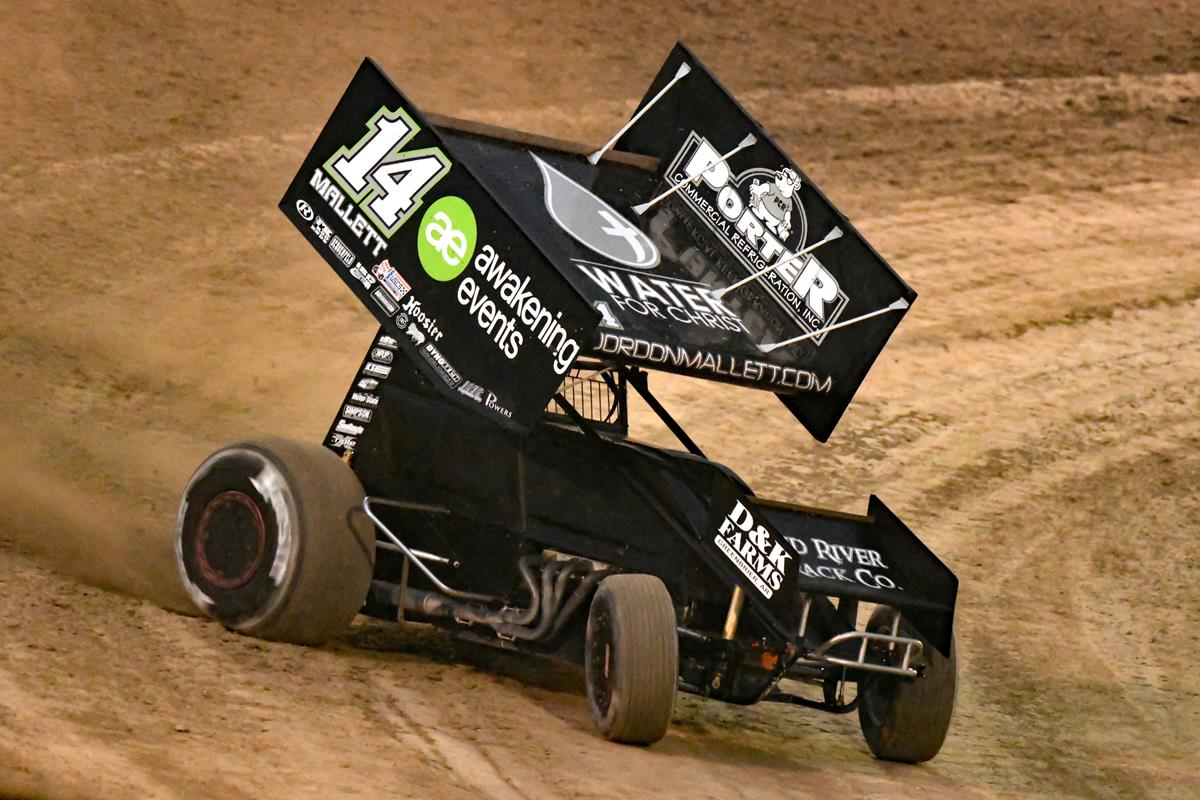 2/20/2023
Inside Line Promotions
---
Mallett Moving Forward After Challenging Ronald Laney Memorial King of the 360s
(Photo by Paul Arch)
Inside Line Promotions – TAMPA, Fla. (Feb. 20, 2023) – Jordon Mallett has flipped the page following a frustrating weekend at the Ronald Laney Memorial King of the 360s.
Mallett plans to invade Southern Raceway in Milton, Fla., this Friday and Saturday with the USCS Series. He was last victorious at the track in May 2021.
"We'll roll into Milton with a perspective that every night is a new night," he said. "We're ready for this weekend to start fresh again. We've won some races there and ran well. We will try to capitalize on it. You're still down here in the sand so Milton is a place that can be really good and racy or one lane. It normally does okay and we enjoy racing there."
The doubleheader will provide the next opportunity to compete on the heels of a disappointing weekend at East Bay Raceway Park, where Mallett made his debut last Thursday through Saturday.
"It was top dominant all weekend and we were so frustrated with the draw," he said. "We started on the back row of about everything. I didn't have high expectations there, but I wasn't concerned about being able to race my way in. We felt really good after Wednesday's practice. We got our baseline stuff in order."
Unfortunately, Mallett drew a high number during the pill draw each night at the tricky track. He started in the fourth row of a heat race on Thursday and Saturday and in the third row on Friday.
"This was not the weekend to be drawing bad and that was the most frustrating part," he said. "We had a really good car. I didn't have any complaints with the car. It was 100 percent about track position. You had more than 50 really good race cars in the pits and that format was luck of the draw. When you don't have luck and start on the back you're not even a field filler at that point.
"The track was phenomenal both nights during the All Star shows (earlier last week). There was a lot of frustrated people with the track last weekend. We were in a no-win situation with that track and format."
Passing was at a premium throughout the event. Mallett gained a position in a heat race on Thursday, but he finished where he started in a heat race on Friday and Saturday. He narrowly missed making the A Main through his B Main on Thursday before finishing three spots out on Friday and five out on Saturday.
"We played the cards we were dealt and that's part of racing," he said. "We're looking forward to getting back to racing this weekend at a track where we've had success."
QUICK RESULTS –
Feb. 16 – East Bay Raceway Park near Tampa, Fla. – Heat race: 7 (8); B Main: 3 (6).
Feb. 17 – East Bay Raceway Park near Tampa, Fla. – Heat race: 6 (6); B Main: 5 (4).
Feb. 18 – East Bay Raceway Park near Tampa, Fla. – Heat race: 8 (8); B Main: 8 (9).
SEASON STATS –
7 races, 0 wins, 0 top fives, 2 top 10s, 2 top 15s, 3 top 20s
UP NEXT –
Friday and Saturday at Southern Raceway in Milton, Fla., with the USCS Series
MEDIA LINKS –
Website: http://jordonmallett.myracepass.com
Twitter: https://twitter.com/jmmotorsports14
Facebook: https://www.facebook.com/jordonmallettmotorsports
SPONSOR SPOTLIGHT – Porter Commercial Refrigeration
Porter Commercial Refrigeration, which was created in 1992 and is based in Greenbrier, Ark., provides the finest refrigeration equipment sales, quality service and installation for supermarkets, c-stores, restaurants, warehouses, processing plants and ice machines. For more information, visit http://www.PorterRefrigeration.com.
"Porter Commercial Refrigeration is a huge supporter of our team," Mallett said. "They are always stepping up to help us however they can and we really appreciate the partnership."
Mallett would like to thank Awakening Events, Awakening Foundation, Water for Christ, Porter Commercial Refrigeration, Red River Rack Co., D&K Farms, Powers HVAC, DHR Suspension, Racing Optics, Triple X Race Co., KSE Racing Products, FK Rod Ends, Brown & Miller Racing Solutions, Sinco, Inc., Autometer, Callies Racing Products, DynoTech Race Engines, Hero Graphics, Hilborn Fuel Injection, ISC Racers Tape, K&N Engineering, Lone Star Super Gas (Sunoco), HRP Wings, Schoenfeld Headers, Simpson Race Products, Smiley's Racing Products, MetTec Titanium, MotorState Distributing, DMI, Fast 5 Solutions and Superior Bearing and Supply for their continued support.
INSIDE LINE PROMOTIONS –
Inside Line Promotions specializes in affordable public relations and media management for motor sports drivers, teams, sponsors, tracks, series, events, organizations and manufacturers. ILP Founder Shawn Miller leverages professional journalism with new media technologies and social networking to improve your exposure and the return on investment for your sponsors.
To meet the media relations needs of your program by joining Team ILP, contact Shawn at 541-510-3663 or Shawn@InsideLinePromotions.com. For more information on Inside Line Promotions, visit http://www.InsideLinePromotions.com.
---
Article Credit: Inside Line Promotions
Submitted By: Shawn Miller
Back to News