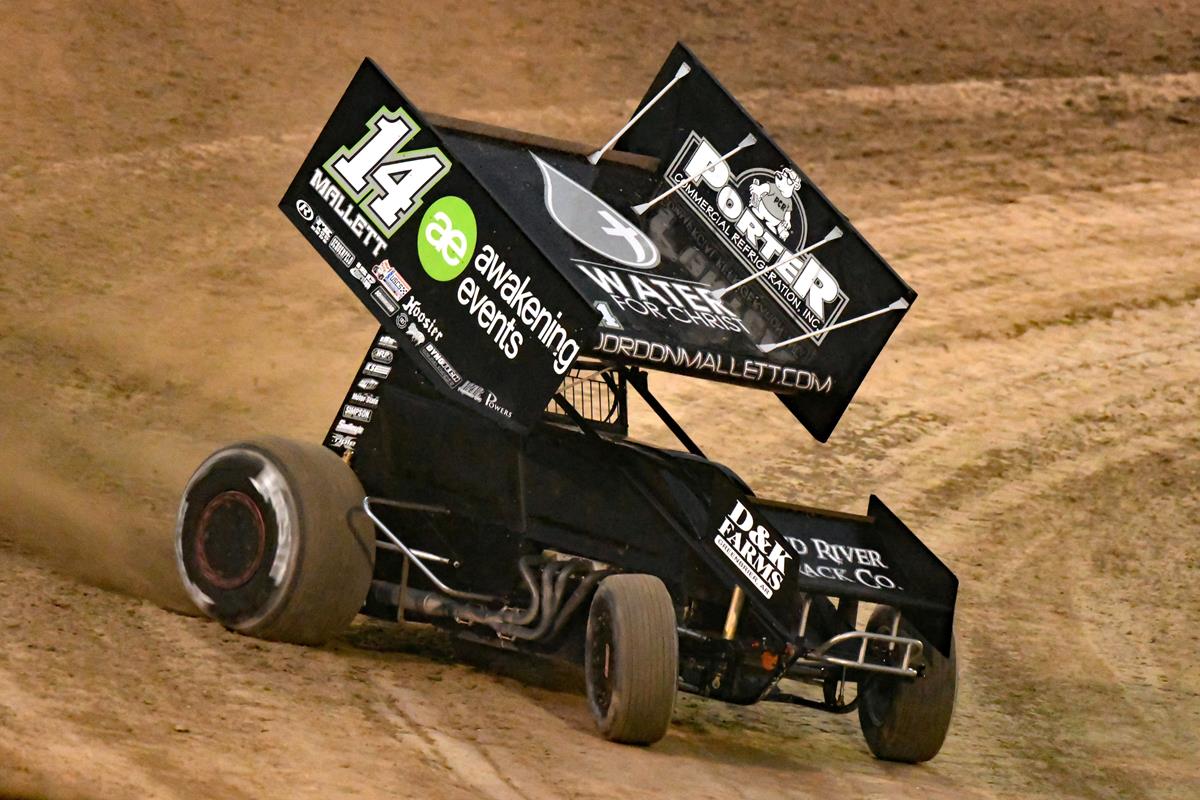 5/30/2023
Inside Line Promotions
---
Mallett Caps ASCS National Tour Tripleheader With Run From 21st to Fifth at Lake Ozark Speedway
(Photo by Paul Arch)
Inside Line Promotions – ELDON, Mo. (May 30, 2023) – Jordon Mallett hustled to his first top five of the season with the ASCS National Tour on Sunday evening during the finale of a weekend tripleheader.
Mallett's run from 21st to fifth at Lake Ozark Speedway garnered the Hard Charger Award for passing the most cars.
"It's about time," he quipped. "It was one of those weekends. We killed a car on Saturday so we had the parking lot party on Saturday night. The spare car is one we've turned some laps in and knew what it liked. When we resorted back to our old car it was like a sign it was meant to be. Maybe it was enough determination that I was going to the front regardless, too. It was game on and I wanted to pay the team back for all the work we had to do that weekend."
It was a great rally following an up-and-down Memorial Day Weekend, which began on Friday at Lakeside Speedway in Kansas City, Kan. Mallett qualified ninth quickest in his group before he advanced from ninth to fifth place in a heat race, which garnered enough points to start 12th in the A Main.
"We qualified terrible, but we raced good," he said. "That put us into the A Main and we were able to recover from there. We weren't as good early on in the feature, but as the track progressed it got a little more technical and our car got a little better. We raced our way up to around seventh and had a late-race restart. The car didn't take off quite as good when we were running green-flag laps so we lost a couple of spots there at the end."
Mallett's ninth-place effort was his eighth top 10 of the season and fourth with the ASCS National Tour.
The team headed to Lake Ozark Speedway on Saturday for the opening round of a doubleheader. Mallett timed in fourth quickest in his group and he finished second in a heat race to rank 16th in overall points, starting him on the outside of the eighth row in the main event.
"We were okay early on," he said. "I like that track and we're normally pretty decent there. We raced our way into the show. As the feature progressed we found where we needed to run and how to manipulate a couple of lines. We got into the top 10 around Lap 8 or Lap 9. Then a car broke down the back straightaway up against the outside wall. I was coming off the bottom of turn two and passing them. They turned 90 degrees, just turned left straight to the infield. I was there and couldn't do anything about it. It killed the frame and we had to pull down the spare car for the next night."
Sunday began with Mallett once again qualifying fourth quickest in his group. However, he was unable to start on the pole of his heat race because of an ignition problem and he was relegated toward the back of the B Main. Mallett maneuvered from ninth to fifth place in the consolation race to earn a spot into the back of the feature. He continued to gain positions throughout the main event by cracking the top five by the time the checkered flag was waved.
"The track was narrow and really hard to pass in the feature," he said. "We were able to go really well and where we needed to and make gains. I ran the bottom and was clicking off cars. I watched the race track and was watching the top to see if it was cleaning off. It wound up rubbering up up there. We were still free enough to run in the rubber and not have any problems or be too hard on our equipment.
"After the previous 24 hours, even up to that B Main, it was frustrating. That's part of racing. The highs are high and the lows are low. You continue to push through and do your job. That was a sigh of relief we were able to go forward."
Up next will be the Mickey Walker Classic this Friday at Outlaw Motor Speedway in Oktaha, Okla., and Saturday at Caney Valley Speedway in Caney, Kan.
QUICK RESULTS –
May 26 – Lakeside Speedway in Kansas City, Kan. – Qualifying: 9; Heat race: 5 (9); Feature: 9 (12).
May 27 – Lake Ozark Speedway in Eldon, Mo. – Qualifying: 4; Heat race: 2 (1); Feature: 19 (16).
May 28 – Lake Ozark Speedway in Eldon, Mo. – Qualifying: 4; Heat race: DNS (1); B Main: 5 (9); Feature: 5 (21).
SEASON STATS –
17 races, 0 wins, 2 top fives, 9 top 10s, 11 top 15s, 13 top 20s
UP NEXT –
Friday at Outlaw Motor Speedway in Oktaha, Okla., and Saturday at Caney Valley Speedway in Caney, Kan., for the Mickey Walker Classic with the ASCS National Tour
MEDIA LINKS –
Website: http://jordonmallett.myracepass.com
Twitter: https://twitter.com/jmmotorsports14
Facebook: https://www.facebook.com/jordonmallettmotorsports
SPONSOR SPOTLIGHT – Water for Christ
Water for Christ was established from the joint passions of sharing the Gospel of Christ and supplying clean water to villages in developing countries. For more information, visit http://www.WaterForChrist.com.
"Water for Christ goes to Africa and other third-world countries to drill fresh-water wells where there is no access to fresh or clean water," Mallett said. "We're trying to raise awareness so they can continue to do what they do and hopefully on a larger scale."
Mallett would like to thank Awakening Events, Awakening Foundation, Water for Christ, Porter Commercial Refrigeration, Red River Rack Co., D&K Farms, Powers HVAC, DHR Suspension, Racing Optics, Triple X Race Co., KSE Racing Products, FK Rod Ends, Brown & Miller Racing Solutions, Sinco, Inc., Autometer, Callies Racing Products, DynoTech Race Engines, Hero Graphics, Hilborn Fuel Injection, ISC Racers Tape, K&N Engineering, Lone Star Super Gas (Sunoco), HRP Wings, Schoenfeld Headers, Simpson Race Products, Smiley's Racing Products, MetTec Titanium, MotorState Distributing, DMI, Fast 5 Solutions and Superior Bearing and Supply for their continued support.
INSIDE LINE PROMOTIONS –
Inside Line Promotions specializes in affordable public relations and media management for motor sports drivers, teams, sponsors, tracks, series, events, organizations and manufacturers. ILP Founder Shawn Miller leverages professional journalism with new media technologies and social networking to improve your exposure and the return on investment for your sponsors.
To meet the media relations needs of your program by joining Team ILP, contact Shawn at 541-510-3663 or Shawn@InsideLinePromotions.com. For more information on Inside Line Promotions, visit http://www.InsideLinePromotions.com.
---
Article Credit: Inside Line Promotions
Submitted By: Shawn Miller
Back to News