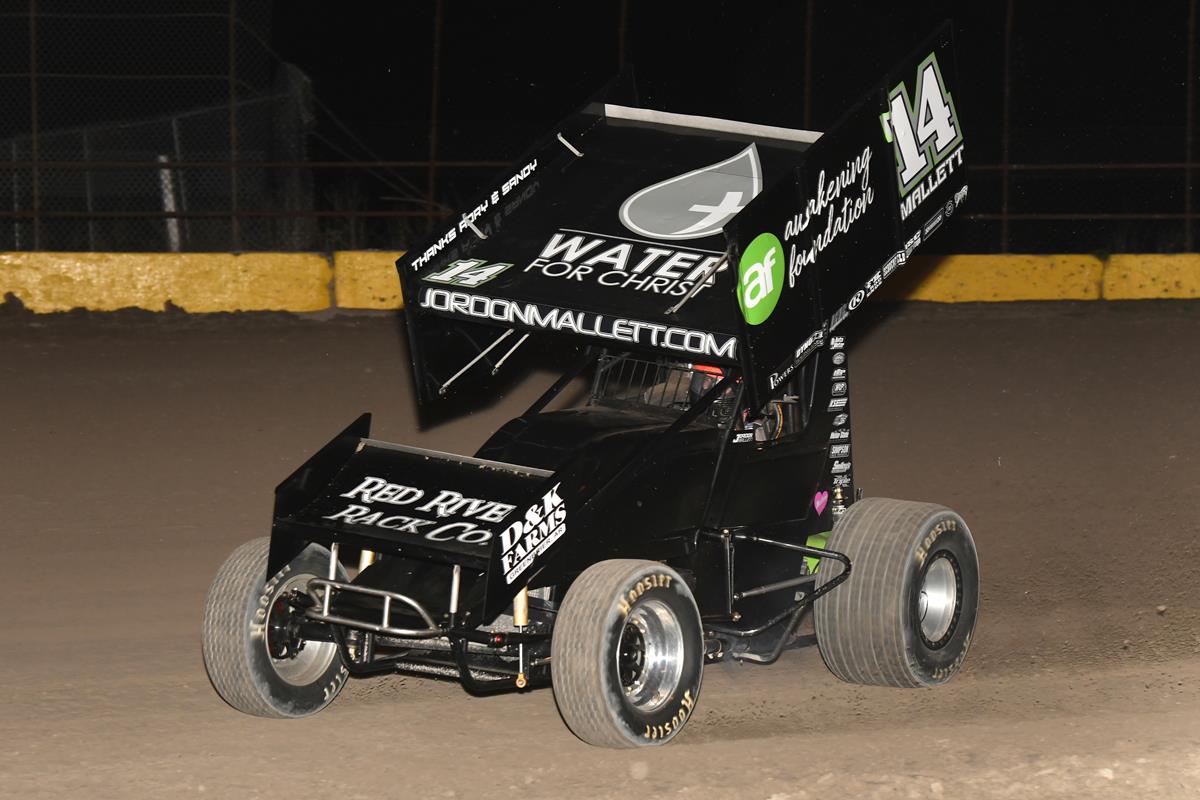 8/28/2023
Inside Line Promotions
---
Mallett Records Podium at Salina Highbanks Speedway and Top Five at Lakeside Speedway
(Photo by Paul Arch)
Inside Line Promotions – SALINA, Okla. (Aug. 28, 2023) – Jordon Mallett tied a season-best result during a stout weekend with the ASCS National Tour.
Mallett posted a second-place showing during his debut at Salina Highbanks Speedway on Saturday a night after earning a fifth-place finish at Lakeside Speedway in Kansas City, Kan.
"It was a good weekend," he said. "I wanted to win, but the cards didn't fall in our favor like they needed to. This group of racers is so good that you can be in position, but the cards still have to fall your way to win."
The weekend started with Mallett setting quick time in his qualifying group at Lakeside Speedway. He then advanced from fourth to second place in a heat race to garner the second starting position in the A Main.
"We went back to Lakeside wanting to make sure we qualified better and we qualified really well," he said. "We were fine in the heat race and that put us in a good spot for the feature. We were really good and I felt like a contender the first five laps or so. Then we realized the direction we had went for the gear was the wrong direction. We just started to separate and the track got really locked down and fast after the first few laps. Toward the end, with about five laps to go, we got to some traffic and it cost me a couple of spots. Once in traffic I got bottled up behind a car that switched its line and then on a restart I tried to protect and didn't get a good restart. It didn't work out and we got passed there."
The fifth-place outing was Mallett's eighth top five with the ASCS National Tour this season.
The weekend wrapped up on Saturday with another strong performance at Salina Highbanks Speedway, where Mallett was third quickest in his qualifying group.
"We weren't where I wish we'd have been in qualifying, but we were close," he said. "We heat raced fine and ran second. That got us a good starting spot for the feature, which is half the battle.
"In the feature we were pretty good early on. I felt like if we could get out front and set the pace we'd be okay. I didn't know the characteristics of that track. I was watching all night and kept thinking if this place is going to clean off and take rubber it's going to ripping the fence. As soon as we took the green I went straight to the top. I passed for the lead and led three or four laps running a somewhat conservative pace because of the concern of some tire wear. I got slid for the lead coming out of turn four and thought we'd need to pick up the pace. I went back into turns one and two on the curb and noticed when I did that the guy that was leading pulled off and ran through the middle and came off the back straightaway low. As soon as I did that I realized the track had already cleaned off. I chased from then on. By the time I got moved down in line it was too little too late and I was sitting third."
Mallett finished third, but was credited with a second-place result when a competitor was disqualified. It was his fifth podium of the season.
Next up is an ASCS National Tour weekend on Friday at Arrowhead Speedway in Colcord, Okla., and Saturday at Longdale Speedway in Longdale, Okla. It will mark Mallett's debut at Arrowhead Speedway. He finished sixth and 10th, respectively, during a doubleheader at Longdale Speedway earlier this season.
QUICK RESULTS –
Aug. 25 – Lakeside Speedway in Kansas City, Kan. – Qualifying: 1; Heat race: 2 (4); Feature: 5 (2).
Aug. 26 – Salina Highbanks Speedway in Salina, Okla. – Qualifying: 3; Heat race: 2 (2); Feature: 2 (2).
SEASON STATS –
31 races, 0 wins, 10 top fives, 21 top 10s, 24 top 15s, 26 top 20s
UP NEXT –
Friday at Arrowhead Speedway in Colcord, Okla., and Saturday at Longdale Speedway in Longdale, Okla., with the ASCS National Tour
MEDIA LINKS –
Website: http://jordonmallett.myracepass.com
Twitter: https://twitter.com/jmmotorsports14
Facebook: https://www.facebook.com/jordonmallettmotorsports
SPONSOR SPOTLIGHT – Porter Commercial Refrigeration
Porter Commercial Refrigeration, which was created in 1992 and is based in Greenbrier, Ark., provides the finest refrigeration equipment sales, quality service and installation for supermarkets, c-stores, restaurants, warehouses, processing plants and ice machines. For more information, visit http://www.PorterRefrigeration.com.
"Porter Commercial Refrigeration is a huge supporter of our team," Mallett said. "They are always stepping up to help us however they can and we really appreciate the partnership."
Mallett would like to thank Awakening Events, Awakening Foundation, Water for Christ, Porter Commercial Refrigeration, Red River Rack Co., D&K Farms, Powers HVAC, DHR Suspension, Racing Optics, Triple X Race Co., KSE Racing Products, FK Rod Ends, Brown & Miller Racing Solutions, Sinco, Inc., Autometer, Callies Racing Products, DynoTech Race Engines, Hero Graphics, Hilborn Fuel Injection, ISC Racers Tape, K&N Engineering, Lone Star Super Gas (Sunoco), HRP Wings, Schoenfeld Headers, Simpson Race Products, Smiley's Racing Products, MetTec Titanium, MotorState Distributing, DMI, Fast 5 Solutions and Superior Bearing and Supply for their continued support.
INSIDE LINE PROMOTIONS –
Inside Line Promotions specializes in affordable public relations and media management for motor sports drivers, teams, sponsors, tracks, series, events, organizations and manufacturers. ILP Founder Shawn Miller leverages professional journalism with new media technologies and social networking to improve your exposure and the return on investment for your sponsors.
To meet the media relations needs of your program by joining Team ILP, contact Shawn at 541-510-3663 or Shawn@InsideLinePromotions.com. For more information on Inside Line Promotions, visit http://www.InsideLinePromotions.com.
---
Article Credit: Inside Line Promotions
Submitted By: Shawn Miller
Back to News