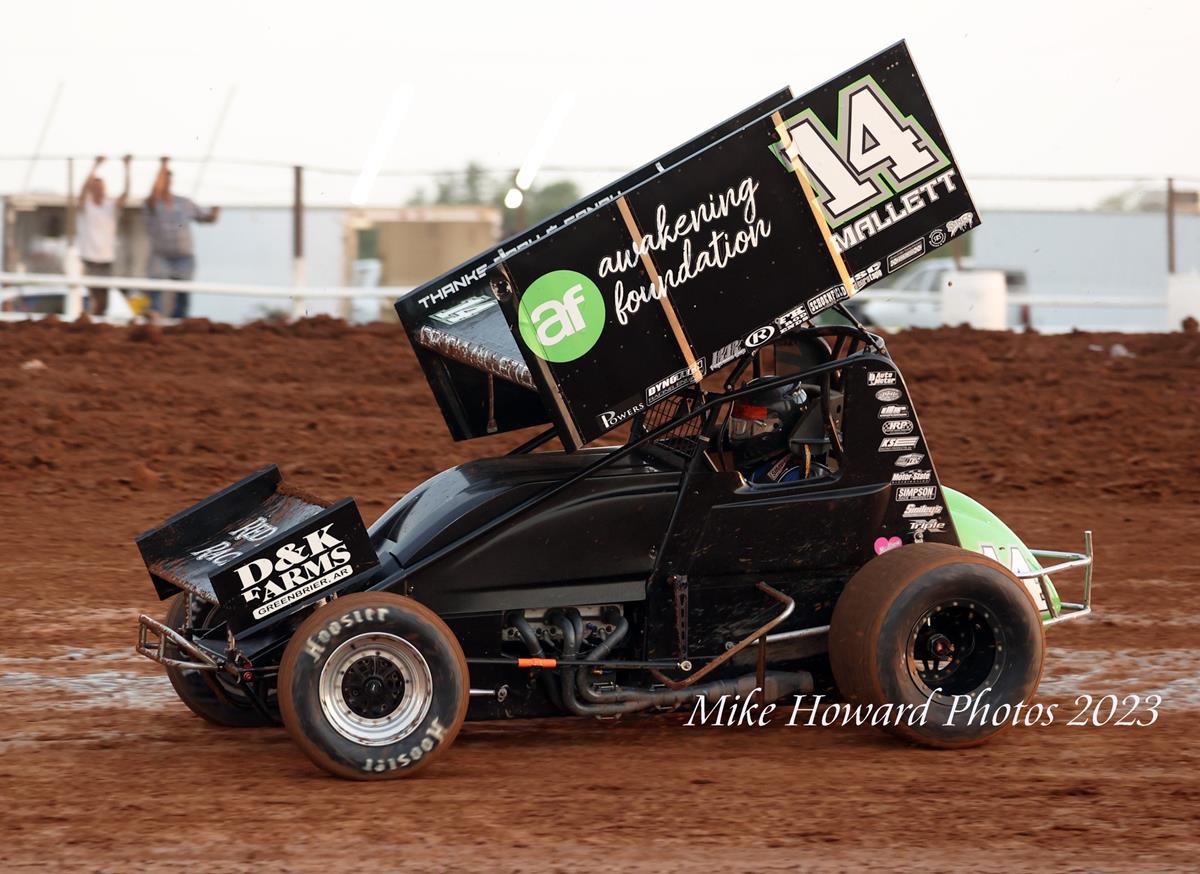 9/18/2023
Inside Line Promotions
---
Mallett Makes Hockett/McMillin Memorial Main Event During Tough Week
(Photo by Mike Howard Photos)
Inside Line Promotions – WHEATLAND, Mo. (Sept. 18, 2023) – Jordon Mallett is taking the positive from a frustrating week in the Midwest as he prepares for the fall run of the 2023 season with the ASCS National Tour.
Mallett posted a 17th-place result during his debut at Clay County Fair Speedway in Spencer, Iowa, last Tuesday before he capped the Jesse Hockett/Daniel McMillin Memorial with an 18th-place outing on Sunday at Lucas Oil Speedway.
Mallett remains third in the ASCS National Tour championship standings with a half dozen races remaining this season.
"It was a rough night at Clay County Fair Speedway," he said. "We showed up feeling pretty good and thought we'd be all right. The track wasn't very good and we were a little off in hot laps. I tried to make it better for qualifying and didn't qualify well."
Mallett was fifth quickest in his qualifying group. He advanced a position from fifth to fourth place in a heat race to lock into the 15th starting spot in the A Main.
"We heat raced a little better," he said. "I thought we'd made it better in the heat race so we kept going more for the feature. It reminded me of some places and we got into our old notebook. At the end of the feature the car was way out of balance and didn't work with the new tires. I don't know if it was just a matter of we hadn't done that old setup stuff with the new tire package, but it didn't react well at all. It really buried us and was a disappointing run there. The car was driving well, but we just didn't have any speed in the car."
Three days later, Mallett ventured to Lucas Oil Speedway for his preliminary night of the Hockett/McMillin Memorial. He qualified fourth quickest in his group and ended fourth in a heat race.
"We were okay on our qualifying night early on as we qualified okay," he said. "In the heat race we had a really good start and something happened to cause a caution so we had to restart again. The second one wasn't as phenomenal and the track was top dominant. I slipped to fifth by the first corner it seemed. We raced our way back to fourth, but that buried us. We were pretty good in the B Main and finished second to transfer. After the checkered I had pretty hard contact with another car that had lost brakes and ran through me. Thankfully we didn't get upside down. We got back to the pits and assessed the damage. We rolled out for the feature, but coming to the green flag the car came out of gear. The impact after the B Main had broken the shifter so that resulted in a DNF there."
The event finale was postponed from Saturday to Sunday afternoon because of wet weather. Mallett maneuvered from sixth to third place in a Last Chance Qualifier before he won a B Main to transfer into the back of the main event.
"We clawed through the LCQ and through the B Main and into the A Main," he said. "We ran where we started most of the race. I take fault on only making it to 18th. There wasn't a lot of setting the world on fire at that point. The track had been really abusive on tires all day long. I was aggressive with our feature setup because we were starting at the tail. I told the crew, 'We're going to risk it. We're already at the back so let's see if it works.' I was counting on it rubbering up and it didn't. So that left us where our car didn't have a chance to shine. I was too free and not quite good enough.
"I felt like every time we rolled on the track we were clawing all weekend. We had a shovel in our hand the whole weekend trying to dig ourselves out of the situation. We worked hard at it and with 80-plus cars there we still punched our way into the A Main on Sunday so that's a positive."
Mallett will take the next couple of weekends off before resuming ASCS National Tour action Oct. 6-7 at Texarkana 67 Speedway in Texarkana, Ark., during the 36th annual COMP CAMS Short Track Nationals presented by Hoosier.
QUICK RESULTS –
Sept. 12 – Clay County Fair Speedway in Spencer, Iowa – Qualifying: 5; Heat race: 4 (5); Feature: 17 (15).
Sept. 15 – Lucas Oil Speedway in Wheatland, Mo. – Qualifying: 4; Heat race: 4 (1); B Main: 2 (4); Feature: 22 (20).
Sept. 17 – Lucas Oil Speedway in Wheatland, Mo. – Last Chance Qualifier: 3 (6); B Main: 1 (1); Feature: 18 (20).
SEASON STATS –
36 races, 0 wins, 10 top fives, 23 top 10s, 26 top 15s, 30 top 20s
UP NEXT –
Oct. 6-7 at Texarkana 67 Speedway in Texarkana, Ark., for the 36th annual COMP CAMS Short Track Nationals presented by Hoosier with the ASCS National Tour
MEDIA LINKS –
Website: http://jordonmallett.myracepass.com
Twitter: https://twitter.com/jmmotorsports14
Facebook: https://www.facebook.com/jordonmallettmotorsports
SPONSOR SPOTLIGHT – Awakening Events
Awakening Events is a nationwide, full service, live event company that is based in Nashville, Tenn., and Conway, Ark. For more information, http://www.AwakeningEvents.com.
"We're excited to represent Awakening Events on the ASCS National Tour again in 2023," Mallett said. "The pandemic hampered all of us so we're thrilled to have Awakening Events back as a major part of our time as we return to the road full time this year. Awakening Events puts on some of the best shows in the entertainment industry so we encourage everyone to check out their website for events in your area."
Mallett would like to thank Awakening Events, Awakening Foundation, Water for Christ, Porter Commercial Refrigeration, Red River Rack Co., D&K Farms, Powers HVAC, DHR Suspension, Racing Optics, Triple X Race Co., KSE Racing Products, FK Rod Ends, Brown & Miller Racing Solutions, Sinco, Inc., Autometer, Callies Racing Products, DynoTech Race Engines, Hero Graphics, Hilborn Fuel Injection, ISC Racers Tape, K&N Engineering, Lone Star Super Gas (Sunoco), HRP Wings, Schoenfeld Headers, Simpson Race Products, Smiley's Racing Products, MetTec Titanium, MotorState Distributing, DMI, Fast 5 Solutions and Superior Bearing and Supply for their continued support.
INSIDE LINE PROMOTIONS –
Inside Line Promotions specializes in affordable public relations and media management for motor sports drivers, teams, sponsors, tracks, series, events, organizations and manufacturers. ILP Founder Shawn Miller leverages professional journalism with new media technologies and social networking to improve your exposure and the return on investment for your sponsors.
To meet the media relations needs of your program by joining Team ILP, contact Shawn at 541-510-3663 or Shawn@InsideLinePromotions.com. For more information on Inside Line Promotions, visit http://www.InsideLinePromotions.com.
---
Article Credit: Inside Line Promotions
Submitted By: Shawn Miller
Back to News