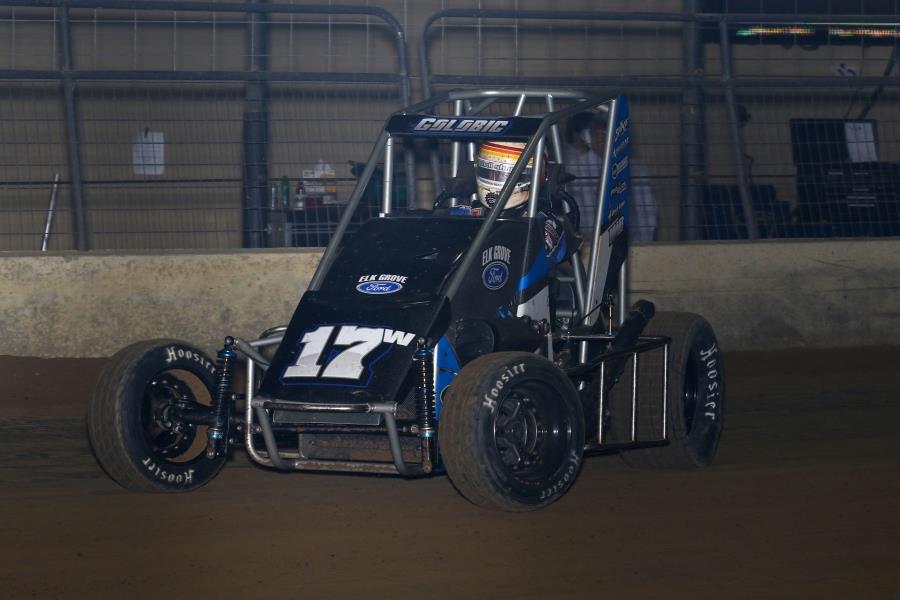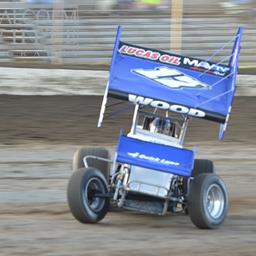 ---
MWR/Shane Golobic – "Shamrock Classic" Brings Pot of Gold!
MWR/Shane Golobic – "Shamrock Classic" Brings Pot of Gold!
(Bill W) March 22, 2016 – With 54 midgets assembled at the "Shamrock Classic" last Saturday at the Southern Illinois Center in DuQuoin, Shane Golobic and the Matt Wood Racing/Elk Grove Ford #17w were just hoping for a solid night. What they got in the end, was a win. The Fremont, California driver battled to his first career USAC National Midget Series win.
Shane would start third in his heat. "We were able to get the lead in the first corner, and really we never looked back," he says. "There was some pressure from Tony Roney on the bottom, but we were good up top. I think that put us fourth in points going into the Qualifiers."
He would start sixth in the Qualifier. "I was able to pick one guy off on the start," says Shane. "We were then able to get by Spencer Bayston for fourth. I think that was the move of the night for us. That one spot was the difference between starting fifth and starting twelfth in the feature."
Shane would settle in after starting inside row three. "(Bryan) Clauson was leading early," he says. :I don't know if he made contact with a lapped car that spun out or what, but he hurt his motor and dropped out. At that point, we were running third behind (Shane) Cottle and Zach Daum."
Shane's focus was on the leaders. "We were able to get Daum about halfway through the race," he says. "We were kind of following Cottle on the bottom. I felt like we were faster, but he is so good running the bottom. It was going to be tough to get around him. He was going to have to make a mistake and that's rare for him."
When a caution came out, crew chief, Tim Clauson and Matt got the attention of their driver. "I kind of watched Brady (Bacon) coming through there," says Tim. "He was the first to try it, but he was kind of buried back there. He started making some pretty big gains. The caution came out and we went down to the fence and told Shane to try the top on the one end. It was key to get up there when we did."
Shane would heed the advice. "I got a signal from Tim and Matt in the stands," he says. "They said the top may be coming in three and four, and we took a shot at it. We were able to pull alongside Cottle on the front straightaway. We were able to stay with him in one and two and then make our move on the other end."
Clauson knows it was no small feat to win the race. "(Shane) did a fantastic job. Fifty-lappers, no matter where you race, whether it's a bullring or a half-mile, you have to manage the race a little bit. If you're good at the end, usually you aren't so good at the beginning. He did a phenomenal job with that."
This goes up high on the all-time win list for Shane. "This is probably the second biggest win we've had," he says. "Obviously, the win with the World of Outlaws at Antioch is the biggest and probably always will be. That was pretty awesome, but to say that we've won an Outlaw show and a national USAC show is a pretty good feeling. The list of drivers to do that I'm sure isn't too long, and there are some good drivers on that list, I'm sure."
Clauson knew this day would come, but maybe not this soon! "Shane is 25 and he's ran non-wing sprints, a little bit of pavement midgets, dirt midgets, and obviously, the wing sprints," says Tim. "It didn't surprise me a lot that he adapted so quick. Winning it may have surprised all of us a little bit, but we knew we could be competitive. He made the Chili Bowl, and you don't do that without being efficient in it."
Shane and the #17w team will be back in action at Kokomo Speedway April 8 and 9.
Matt Wood Racing would like to thank: Elk Grove Ford, Cancer Treatment Centers of America, Jonathan Byrd's Hospitality and Restaurant Group, America's Best Value Inn, Quick Lane and Impact Signs, Awnings & Wraps!
To follow the Matt Wood Racing's progress online, visit www.ColeWoodRacing.com!
Photo: Shane races to a win in the "Shamrock Classic" in DuQuoin (Neil Cavanah/USAC Photo)
Bill W Media
sprntcar@hotmail.com
Twitter: @BillWMedia
Monroe, IA USA
Back to News