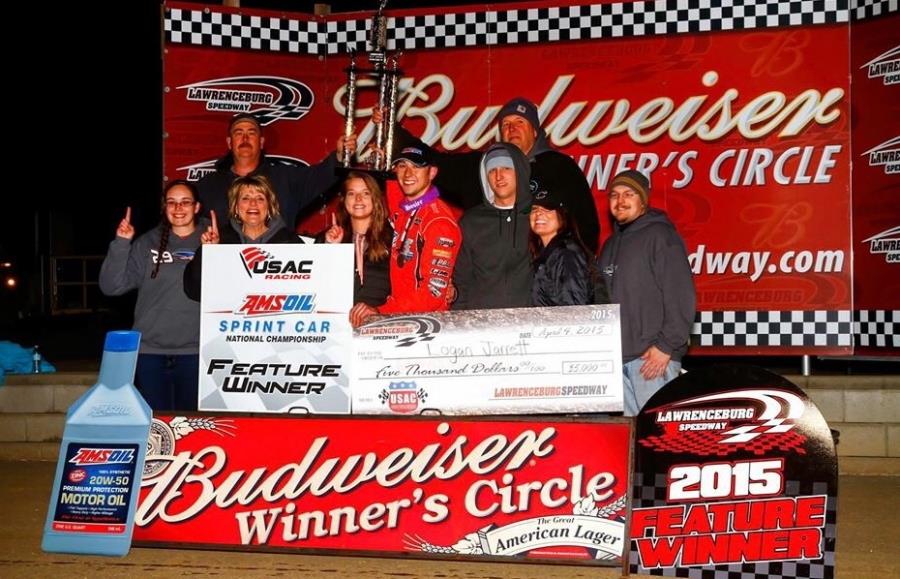 ---
Jarrett Knocks Off First USAC Win in Lawrenceburg Upset
Lawrenceburg, Indiana…….Youth prevailed on Saturday night at Lawrenceburg Speedway as Kokomo, Indiana's Logan Jarrett led all 30 laps to score a big AMSOIL National Sprint Car upset! The 21-year old survived a trio of late-race cautions after racing out to a huge lead over the first twenty laps, winning by 2.173-seconds in the J&J Trucking – Doak Trucking #29 DRC/Claxton.
"Man…I've never felt anything like it. I've grown up at sprint car races and watched my dad race and kept getting better and better – it's just an incredible feeling to win a USAC race. I knew I had so many great guys behind me, with so many wins, it made me pretty nervous to see those yellows. I just thought that race would never end. Joe Devin and Scotty Weir have helped us a lot with getting our car better, and it's exciting to see the results of that. I'm just beyond excited right now," Jarrett said.
While Jarrett led throughout, the race was a frenzy for second on back. Robert Ballou moved past Kyle Robbins to take second, but Dave Darland was right there to challenge Ballou. Meanwhile, C.J. Leary was on the move from 17th using the far outer reaches of the high banks, finally moving into the top-five on an all-green run with ten laps to go.
With a caution at lap 21, Jarrett led Darland, Ballou, Stockon, and Leary, but it took a few attempts to complete more than another lap. With 8 to go, Jarrett took off with the lead, but Ballou pressured Darland to take second. Leary was right behind him, finally diamonding off turn-two to take a full head of steam into the second spot with just four laps left. Leary was visibly closing on Jarrett in the final laps, but ran out of time. The 18-year old Greenfield, Indiana driver matched his best career finish in the Leary Construction Company – Green Tech Lubricants #30 DRC/Claxton Mopar.
"Our racing is called 'ruts and guts' for a reason and the track delivered tonight. We got the car set up to run up in the thick stuff where nobody else seemed to be running. We got to fifth before we got to some guys who are just smart and put their cars in positions that make it tough to get around them. It was just a ball to run up through there, though. I'm really proud of Logan – we both are out there looking for our first USAC win and running hard. I just would have loved to see a caution at the end to give me a chance," Leary said.
Ballou rounded out the podium in the Blakesley Auto – MPHG Promotions #12 Maxim/Ott.
"I'm just really happy for Logan Jarrett and his family. They are a good bunch of people, and it's cool to see him get his first big win," Ballou said.
Kevin Thomas, Jr. came out on top of a huge battle in the closing laps to finish fourth but failed to report to post-race technical inspection as he left the track, thus being re-positioned to the tail of the field.
Darland assumed the fourth spot in the final rundown aboard the Phillips/Curb-Agajanian Motorsports – Trench Shoring #71P DRC/Foxco, while ProSource "Fast Qualifier" Jon Stanbrough came home fifth in the MP Environmental Services – AED Motorsports Products #81 Spike/J&D.
AMSOIL USAC SPRINT CAR NATIONAL CHAMPIONSHIP RACE RESULTS: April 4, 2015 – Lawrenceburg, Indiana – Lawrenceburg Speedway
QUALIFYING: 1. Jon Stanbrough, 81, JSR-14.061; 2. Chase Stockon, 32, 32/TBI-14.096; 3. Bryan Clauson, 7, Clauson-14.147; 4. Travis Hery, 21H, Hery-14.220; 5. Tracy Hines, 4, THR-14.246; 6. Dave Darland, 71P, Phillips/Curb-Agajanian-14.257; 7. Landon Simon, 24, LSR-14.276; 8. Ted Hines, 12H, Hines-14.303; 9. Casey Shuman, 2x, Barnhill/Dodd-14.344; 10. Robert Ballou, 12, Ballou-14.372; 11. Logan Jarrett, 29, Jarrett-14.383; 12. Kyle Robbins, 17R, Robbins-14.400; 13. Kevin Thomas, Jr., 17RW, Dutcher-14.422; 14. Brady Bacon, 69, Dynamics-14.427; 15. Chad Boespflug, 5, Baldwin-14.445; 16. Garrett Abrams, 32a, Abrams-14.455; 17. Aaron Farney, 15F, Farney-14.502; 18. Justin Grant, 40, Hery-14.533; 19. Logan Hupp, 94, Hupp-14.537; 20. Jeff Bland Jr., 04, Burton-14.598; 21. C.J. Leary, 30, Leary-14.606; 22. Kyle Cummins, 3R, Byram-14.647; 23. Jerry Coons Jr., 10E, Edison-14.649; 24. Daron Clayton, 2E, Epperson-14.712; 25. Dallas Hewitt, 69R, Pearson-14.792; 26. Isaac Chapple, 7G, Goacher-14.812; 27. Max McGhee, 17, McGhee-14.828; 28. Jarett Andretti, 18, Andretti-14.989; 29. Tyler Courtney, 21x, Pollock-14.990; 30. Michael Fischesser, 4F, Fischesser-15.043; 31. J.J. Hughes, 76, Hughes-15.121; 32. Chris Windom, 2, Lein-15.200; 33. Scott Hampton, 4J, Ottinger-15.246; 34. Adam Cruea, 83c, Cruea-15.624; 35. Todd Gnat, 51G, Gnat-15.630; 36. Robert Bell, 71, Bell-16.120.
FIRST HEAT: (8 laps) 1. Thomas, 2. Farney, 3. Leary, 4. Courtney, 5. Stanbrough, 6. Hewitt, 7. Shuman, 8. Tracy Hines, 9. Hampton. NT
SECOND HEAT: (8 laps) 1. Grant, 2. Ballou, 3. Bacon, 4. Darland, 5. Stockon, 6. Cummins, 7. Chapple, 8. Cruea, 9. Fischesser. 1:56.84
THIRD HEAT: (8 laps) 1. Jarrett 2. Coons, 3. Simon, 4. Hupp, 5. Clauson, 6. Boespflug, 7. McGhee, 8. Hughes, 9. Gnat. 2:01.36
FOURTH HEAT: (8 laps) 1. Clayton, 2. Robbins, 3. Andretti, 4. Hery, 5. Abrams, 6. Windom, 7. Ted Hines, 8. Bell, 9. Bland. NT
SEMI: (12 laps) 1. Stockon, 2. Stanbrough, 3. Shuman, 4. Clauson, 5. Boespflug, 6. Cummins, 7. Ted Hines, 8. Abrams, 9. Tracy Hines, 10. Bland, 11. Chapple, 12. Hewitt, 13. McGhee, 14. Fischesser, 15. Hughes, 16. Windom, 17. Cruea, 18. Gnat, 19. Bell. 3:02.89
FEATURE: (30 laps) 1. Logan Jarrett, 2. C.J. Leary, 3. Robert Ballou, 4. Dave Darland, 5. Jon Stanbrough, 6. Chase Stockon, 7. Brady Bacon, 8. Tracy Hines, 9. Justin Grant, 10. Jerry Coons Jr., 11. Kyle Cummins, 12. Aaron Farney, 13. Jarett Andretti, 14. Tyler Courtney, 15. Chad Boespflug, 16. Kyle Robbins, 17. Landon Simon, 18. Daron Clayton, 19. Travis Hery, 20. Logan Hupp, 21. Bryan Clauson, 22. Chris Windom, 23. Casey Shuman, 24. Kevin Thomas Jr. NT
**Shuman and Tracy Hines flipped during the first heat.
FEATURE LAP LEADERS: Laps 1-30 Jarrett.
NEW AMSOIL USAC NATIONAL SPRINT POINTS: 1-Stockon-352, 2-Ballou-341, 3-Darland-328, 4-Bacon-305, 5-Thomas-305, 6-Stanbrough-286, 7-Leary-284, 8-Grant-267, 9-Windom-237, 10-Tracy Hines-234.
NEXT AMSOIL NATIONAL SPRINT RACE: April 17 – Bloomington, Indiana – Bloomington Speedway (co-sanctioned by Midwest Sprint Car Series)
Back to News