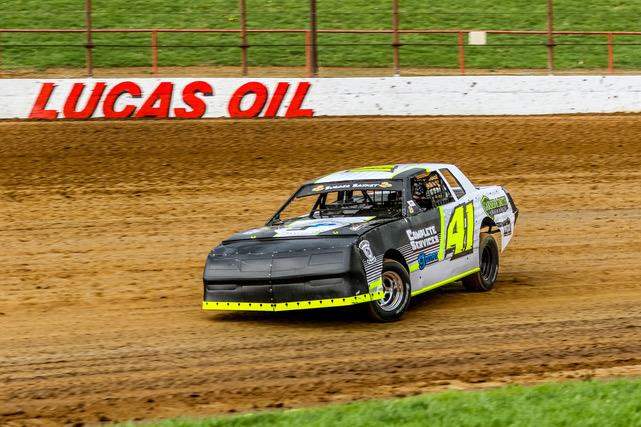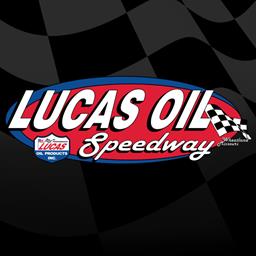 8/24/2022
Lucas Oil Speedway
---
Lucas Oil Speedway Spotlight: Bryan White takes aim at USRA Stock Cars track championship
WHEATLAND, MO. (Aug. 24, 2022) - Bryan White looks to complete his first full season of racing at Lucas Oil Speedway in style on Saturday by nailing down the O'Reilly Auto Parts USRA Stock Cars track championship.
The 21-year-old from Lebanon takes a two-point lead over 19-year-old Mason Beck of Urbana into Rempfer Memorial Championship Night. Asked if the battle of young guns is fun or stressful, White laughed and said "kind of both."
"I'd like to be about 20 points ahead of Mason, but sometimes that don't happen," White said, adding that he will try to approach the final night of Big Adventure RV Weekly Racing Series action the same as usual - even though it basically comes down to which driver finishes ahead of the other.
"You just have to go out and race," White said. "Whatever happens, happens. You get to paying attention to where he's at, you'll mess up and he'll end up beating you."
To make things even more interesting, White's dad, Rob White of Lebanon, is just 12 points behind Bryan. So if the youngsters both have a bit of trouble, Rob White is poised to jump ahead of them celebrate a championship.
"It's gonna be one of us three, depending on who beats who," Bryan White said. "We'll see what happens."
No matter what happens, it's already been a banner season for Bryan White with two feature victories at Lucas Oil Speedway with seven top-five finishes. He has won eight features overall in his USRA Stock Car. White drove it only a handful of times at Wheatland in 2021, running primarily at Lebanon Midway Speedway after moving up from the Midwest Mod division.
"It's gone really good; better than I expected, really" Bryan White said. "I bought a new motor over the winter and it's really helped out a lot.
"This division is really fun. Everybody is so close, it's hard to get just one car that's faster than everybody else. They're all really competitive."
White joked that racing with his dad is fun, with some bragging rights involved.
"It's kind of competitive all week long. If one of us beats the other, we get to talk crap all week," he said, with a laugh.
Bryan White got his start in racing six years ago in a Pure Stock at Midway Speedway. By the end of the year, he won two features and a track championship. He moved into the Midwest Mod division the next season before the Stock Cars caught his eye a couple of years ago.
"Scotty (Allen) started them up at Dallas County and that's when I had my Midwest Mod," White said. "I watched them over there and liked them. I sold my (Midwest Mod) over the winter so I could drive a stock car."
He's found the USRA Stock Car division not only has competitive racing, but camaraderie that seems a notch higher as well. The Whites and Will Garner out of Lebanon always pit together and help each other on race nights. Beck isn't far away and, while an on-track rival, also has offered help if needed.
"We're all rivals, but friends at the same time," Bryan White said. "A lot of the other classes, it seems if you're fast and rivals, it doesn't seem like you talk as much in the pits."
While he would be happy for his dad or Beck if they emerged with the championship, Bryan White clearly would like to be the one celebrating on Saturday night.
"It would mean a lot. Not everybody can say they won a track championship at Lucas Oil Speedway," White said.
The Cedar Creek Beef Jerky USRA Modifieds also is hotly contested with Dillon McCowan of Urbana leading Centralia's Dustin Hodges by 17 points. Kris Jackson of Lebanon can clinch his seventh Lucas Oil Speedway championship in the Ozark Golf Cars USRA B-Mods with a solid finish. Jackson is 30 points in front of Springfield's Ryan Gillmore. The Hermitage Lumber Late Model division sees the largest gap as Larry Ferris of Nevada is 93 points in front of Jefferson City's Tucker Cox.
Pit and spectator gates open at 4 p.m. with hot laps at 6:30 and racing at 7:05.
The program is named to honor Harold "Rowdy" Rempfer and his wife, Julia, who were killed in an automobile accident four years ago. Rowdy was the mayor of Wheatland and he and Julia both worked at Lucas Oil Speedway.
Concert before racing: The Old Paths quartet from Atlanta, one of the premier gospel groups in the country, will hold a pre-race concert at 5:30 p.m. The quartet of Tim Rackley, Douglas Roark, Daniel Ashmore and Steve Ladd has multiple No. 1 songs produced and record on the Sonlite/Crossroads label.
They will perform at the speedway as part of a tour that includes a concert at Silver Dollar City in Branson on Tuesday, Aug. 30.
The Old Paths Racing Team, featuring Late Model driver Thomas Langley of Parish, Alabama, is scheduled to compete in the Hermitage Lumber Late Model Division.
Final Kids' Power Wheel races: The final round of Kids' Power Wheel racing is set for Saturday during intermission with a season champion crowned in each class. Races are held on the front stretch as youngsters ages 3-9 can enter their own battery-powered Power Wheel cars by signing up for the Frogs Jr. Fan Club on the south end of the Midway prior to the races.
To purchase tickets for any event on Lucas Oil Speedway's schedule, or to inquire about camping information, contact Admissions Director Nichole McMillan at (417) 295-6043 or via email at nichole@lucasoilspeedway.com.
CONTACT:
Danny Lorton
Lucas Oil Speedway General Manager
Office: (417) 282-5984
DLorton@lucasoilspeedway.com
?
Complete Lucas Oil Speedway event information, archived race recaps, previews and driver features, along with ticket information and schedules can be found by visiting LucasOilSpeedway.com.
Lucas Oil Speedway is located at Highways 83 and 54 in Wheatland, Missouri. A campground with shower and bathroom facilities is also available. With its entrance located just outside the pit gate this sprawling scenic camping facility will continue to enhance the racing experience at the Diamond of Dirt Tracks.
Click LucasOilSpeedway.com for more information and detailed directions to the speedway or call the Track Hotline at (417) 282-5984. The Lucas Oil Speedway EZ Texting number is (417) 804-4141.
In addition, fans can get social with Lucas Oil Speedway by following @LucasSpeedway on Twitter, clicking "Like" at www.facebook.com/LucasOilSpeedway and on www.youtube.com/LucasOilSpeedway
About Lucas Oil Speedway
Lucas Oil Speedway is considered by fans, drivers and industry insiders to be one of the top five racing facilities in the nation. Located in Wheatland, Missouri, approximately an hour from Springfield, Missouri, and just an hour and a half from the Kansas City metro area, the "Diamond of Dirt Tracks" lives up to its title.
Twenty-One VIP Luxury Suites, HD Jumbo-Tron Screen, Stadium Style Musco Sports Lighting, a Bose Sound System, Go-Kart Slick Track, The Diamond Bar, Track Treasures Gift Shop, the best track food in the country and paved pits are a few of the spectacular amenities setting the Diamond of Dirt apart. This year marks the 12th season for the Liquid Quarter Mile Drag Racing Lake, "Lake Lucas." New for 2017 was all-purpose built Off Road facility featuring a host of regional events.
Lucas Oil Speedway's dirt oval track plays host to some of the largest and most-popular events in the Midwest with national and regional touring series appearing frequently including: The Lucas Oil Late Model Dirt Series, POWRi Midget National Series, Lucas Oil Pro Pulling League, United States Modified Touring Series, ASCS Sprint Cars and the Lucas Oil MLRA.
In addition to the special events, the Lucas Oil Speedway Weekly Racing Series features the Late Models, USRA Modifieds, USRA Stock Cars and USRA B-Mods.
2022 Official Lucas Oil Speedway Marketing Partners
Arizona Sport Shirts
"The Official Merchandise Provider" of Lucas Oil Speedway
Bill Roberts Chevrolet-Buick
"The Official Truck" of Lucas Oil Speedway
Dixie Chopper
"The Official Mowers of Lucas Oil Speedway"
General Tire
"The Official Tire" of Lucas Oil Speedway
Lucas Oil Products
"The Official Oil" of Lucas Oil Speedway
MAVTV
"The Official Television Network" of Lucas Oil Speedway
Optima Batteries
"The Official Battery" of Lucas Oil Speedway
Ozarks Coca-Cola/Dr. Pepper
"The Official Soft Drink" of Lucas Oil Speedway
RacingJunk.com
"The Official Classifieds" of Lucas Oil Speedway
Rugged Radios
"The Official 2-Way Communications Provider" of Lucas Oil Speedway
Sunoco Race Fuels
"The Official Fuel" of Lucas Oil Speedway
Super Clean
"The Official Sponsor" of Lucas Oil Speedway
2022 Lucas Oil Speedway Supporters Include:
AM Pyrotechnics, Arizona Sport Shirts, Ash Grove Aggregates, Berry Tractor and Equipment Co., Big Adventure RV, Bill Roberts Chevrolet-Buick, Bolivar Auto Sales & Detailing, Bolivar Farmers Exchange-MFA, Boone's BBQ Barn, Boubin Tire/American Racer, Branstetter & Lightfoot LLC, Bridal Cave, BWI Sanitation, Camden on the Lake Resort, Candlelight Creations-Dick's Wild Root Horseradish, Casey's, Cedar Creek Beef Jerky, Citizens Memorial Healthcare, City Magnet, Clearlight Inn, Comfort Inn-Bolivar, DirtonDirt.com, Dixie Chopper, eBay Motors, Eibach Springs, Evans Pipe & Steel Co., Farmers Insurance Agent Kristy Reynolds, Fast Shafts by Axle Exchange, Foley Equipment-Cat Rental Store, Frog Signs, Golden Valley Memorial Healthcare, Hermitage Lumber, HICKAMO Country Store, Highway 54 RV Park, Hobbytime Motorsports, Hoosier Race Tires, Impact Signs Awnings Wraps, In the Garden of Eden, Kettle Treats, Keyser Manufacturing, Kluhsman Racing Components, Kona Ice, Lucas Cattle Company, Margaritaville Lake Resort, Midwest Sheet Metal, Miller Welding, Missouri Department of Tourism, Missouri Division of Tourism, MyRacePass, Nutrien Ag Solutions, OakStar Bank, O'Bannon Bank, O'Reilly Auto Parts, Ozark Golf Cars, Ozarks Coca-Cola/Dr. Pepper, Ozarks Community Health Center, PEM, Pitts Homes, Pitts Realty, Pitts Cattle, ProThings Apparel, RACEceiver, Racinboys.com, RacinDirt.com, RacingJunk.com, Rains Ice Company, Real Racing Wheels, Rod End Supply, Ron Jenkins Accounting & Tax Service, Rugged Radios, Ryan E. Murphy Law Firm LLC, SBU Athletics, Safety Kleen, Scott Furniture, Simpson Racing Products, Southwest Electric Cooperative, Stillwater Resort, Sunoco Race Fuels, Sunflower Resort, TA/PETRO, US Army Corps of Engineers-Pomme de Terre, Vietti Marketing Group, Wheatland Motel, White's Marine Center, Wild Animal Safari, Woods Supermarkets, Wrisco Industries.
---
Article Credit: By Lyndal Scranton, Lucas Oil Speedway
Back to News