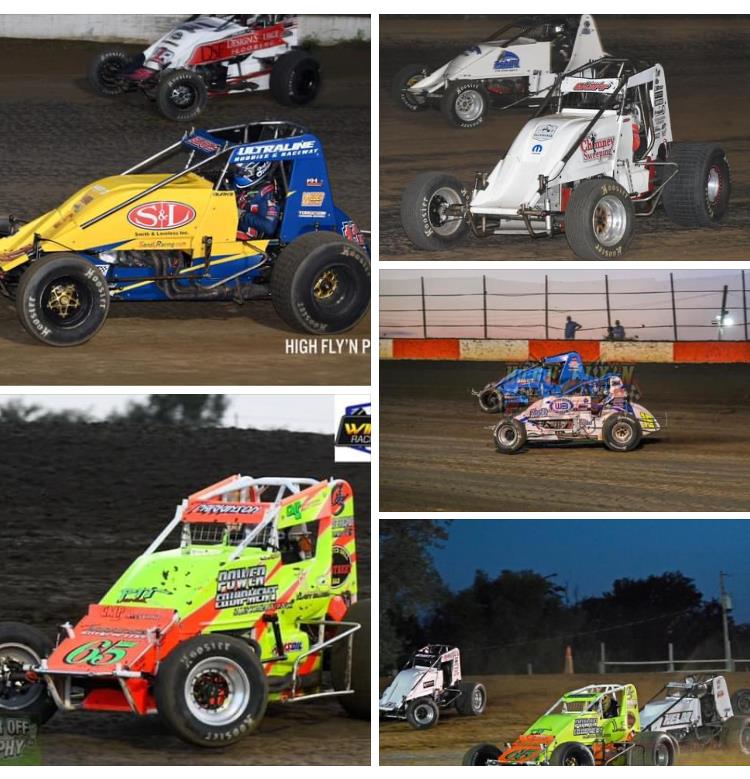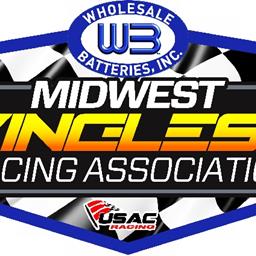 10/30/2022
Midwest Wingless Racing Association
---
Top 20 Countdown for USAC MWRA in 2022. Positions 1-5.
As winter grows closer, and before the USAC MWRA banquet on Saturday November 19th, we salute the top 20 drivers in Midwest Wingless Racing Association points for 2022. Ending now with the positions 1 thru 5.
Number 1
Topeka, Kansas, racer Wyatt Burks is your 2022 USAC MWRA sprint car champion. "The Sheriff" once again shot down the competition to win his second MWRA championship in the last three years driving for the late Don Rumsey in the Burks Racing 11w. And his 3rd championship in the last 4 seasons in non winged sprints after winning the Iowa Sprint League title in 2019. Following non winged sprint titles for Burks in 2019 with the ISL, and 2020 for the MWRA, in its first season of competition, Burks finished 5th place in the MWRA for 2021. This was a bit of a down year for the Jayhawker, who won only 3 features total last year, after back to back seasons with 9 victories each during that two year span. In 2022, the 11w team which includes chief Mechanic Jeff Burks, Wyatt's father, and right hand man, those standards of excellence were once again on display. This year with the MWRA, Burks would finish 4th place or better in every series race both in the regular and post season, which included a 17th to 3rd run at I-35, following a engine change. While winning 5 total races, 2 of which were with this USAC series (81 Speedway & Weld Memorial at Lakeside), to give the Capital City racer 10 victories all-time with the MWRA since 2020, and 26 wins total racing over the last 4 seasons.
Number 2
Chris Parkinson of Gladstone, Missouri, has led the charge for non winged sprint car racing in the Heartland area over the last decade running first with the WAR series where he won the title in 2014, and now with the MWRA since 2020. During this time the third generation driver has added his own history to this great family of speed which includes hall of fame racers, the late Ralph "Pops" Parkinson Sr. and Junior Parkinson, his grandfather, and father respectively. In the MWRA Chris has improved his performances each and every year going from 4th place in 2020, to 3rd place in 2021, and now a career best 2nd place in 2022. This season, driving his 65 machine as a teammate to rookie Chad Winfrey, Chris showed no signs of slowing down after turning 50 years of age this year, and the results showed. Parkinson was a model of consistency with 2 podiums, 5 top 5's, 8 top 10's, and a 18th to 5Th place run at 81 Speedway in Wichita after borrowing the Weld & Parkinson 93 to race when his mount was sidelined.
Number 3
Another pavement chauffeur originally from Michigan, Spring Hill, Kansas, racer Chad Goff like fellow competitor Brad Wyatt has adapted nicely to the dirt tracks of Kansas and Missouri racing with the MWRA. In 2022, Goff would parlay all of his racing experience, and perseverance, to finish 3rd place in this USAC series for his best result so far with the MWRA after finishing tied for 8th in 2020, and 4th place in 2021 driving his 9x. Results for Goff with the Midwest Wingless Series in 2022 included 4 top 5's, and 6 top 10's in 8 feature starts. Which included 3 top 5's in a row at the end of the season. And a podium in the last points paying race at Valley Speedway, to leap from 6th place to 3rd in the final standings, after making up a 15 and 10 point deficit over the three drivers ahead of him entering championship night at the Helm Memorial.
Number 4.
Independence, Missouri, driver Dakota Earls has literally grown up with the USAC MWRA Series over the last 3 seasons. Starting in sprint cars at age 15 in 2020 with the MWRA, Earls, who races with the number 15e as well, has carried on the tradition and history of this Missouri racing clan which has included grandpa Earl Earls, father Jason Earls, and Uncle Chad Tye. In 2022 Dakota would have his finest season with the MWRA so far racing to a career best 4th place in the final standings, after finishing 7th place in 2020 to win most improved driver honors, and 9th place in 2021 with this USAC series. Dakota let it be known in race number one of 2022 at U.S. 36 in Osborn that he would be a force to be reckoned with this season. On that night after digging himself a hole to start 18th in the feature, Earls would rebound to finish 9th in the 25 lapper to win the JDL Media Hard Charger Award. Other superlatives for Earls in 2022 would include 5 top 10 finishes, 2 heat race wins, a Semi Feature win, and winning high point honors at I-35 Speedway. While also finishing 5th place at U.S. 36 for the special season ending non points Missouri Nationals.
Number 5
The diversity in age of the drivers competing in the MWRA for 2022 included racers in their teens, all the way up to their 70's, while 46 year-old veteran chauffeur Chad Winfrey of Gladstone, Missouri, would win Rookie of the Year honors driving the Chris Parkinson Racing 65w. Over the last year Chad Winfrey has been on a emotional roller coaster ride. It started with losing his brother, and best friend Delty. Delty Winfrey had been a fixture in the pits and in the shop with Chad over the years as they competed successfully in quads, micros, and midgets, among other classes. While winning a national championship in quads, and local midget racing titles during the last decade. After losing Delty, Chad would team up with fellow Gladstone resident Chris Parkinson to race his 65w, and the results were both challenging at times but ultimately fruitful. It started off well when Chad finished 2nd at Valley early in the season running in a non sanctioned race. But that euphoria was short lived when Winfrey flipped at the first MWRA show at U.S. 36 to end up 23rd. The following night at Valley racing with the MWRA Winfrey would once again rebound coming from 11th to 6th. While finishing 4th in race number 3 at 81 Speedway. As the season wound down Winfrey found himself in danger of losing ROY honors to rival A.J. Gilbert following another 23rd place finish at U.S. 36. But, as he had throughout this last year Chad rebounded again to outscore Gilbert in the last two programs to win Rookie of the Year honors for 2022 in the MWRA.
---
Article Credit: Ray Cunningham
Back to News