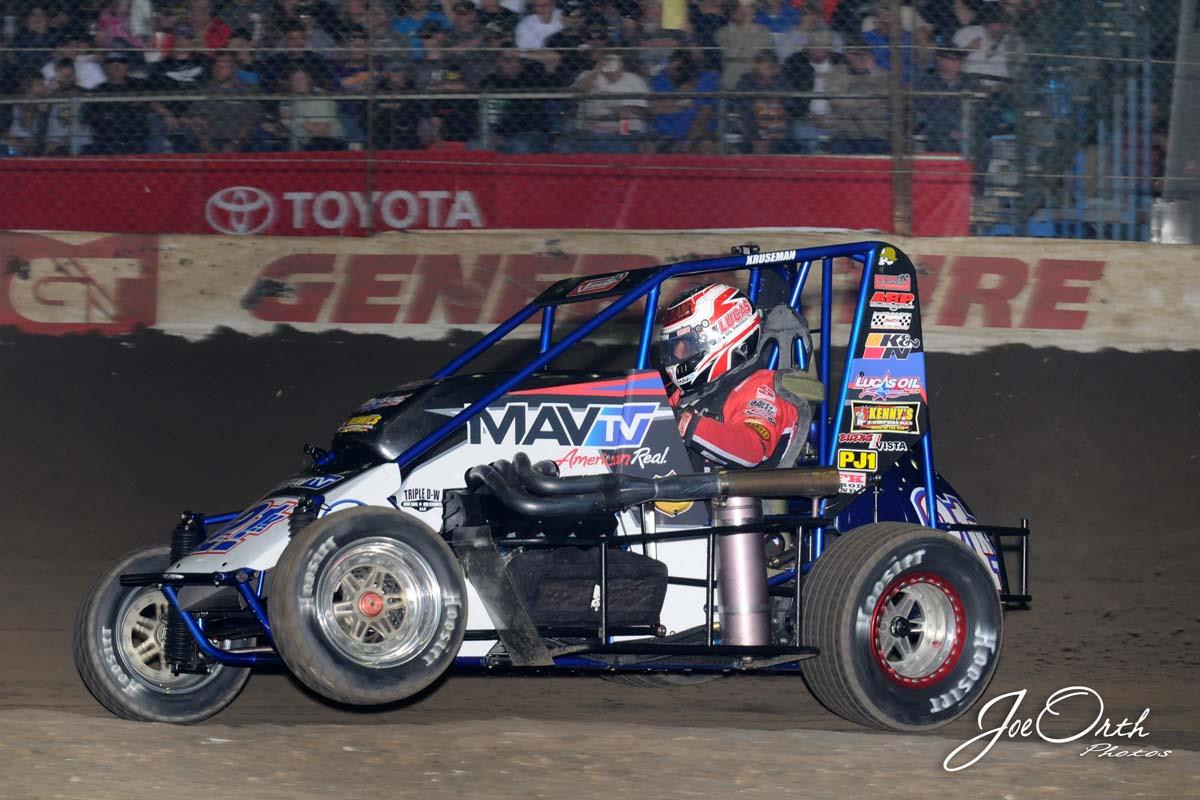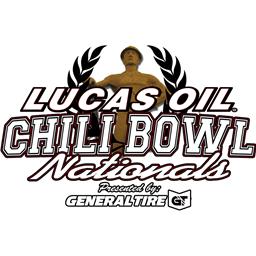 12/15/2013
Lucas Oil Chili Bowl Nationals
---
Kruseman Motorsports among latest teams to enter the Chili Bowl
Bryan Hulbert - TULSA, Okla. (December 15, 2013) Every year the list of drivers that make up the Lucas Oil Chili Bowl Nationals presented by General Tire becomes more diverse. Whether dirt, asphalt, or a mixture of the two, drivers that make their way to the clay of the Tulsa Expo Raceway each carry a back story unlike any other event in modern-day motorsports.
With just under a month until the first green flag falls, entries for the 28th running of the world's largest indoor Midget Sprint Car race are closing in on the 200 mark with 177 between 119 owners confirming their run at the Golden Driller.
Increasing to 37 past feature starters, Cory Kruseman is among the latest Champions to add his name to the roster. Twice a Lucas Oil Chili Bowl winner in 2000 and 2004, Kruseman's first Chili Bowl "A" Feature start came in 1998. Second only to Sammy Swindell in terms of best average finish in the Chili Bowl's championship event, Kruseman's record includes six podium appearances and just as many top fives' to go along with nine top tens'. Kruseman also has seven preliminary night victories to his credit. Kruseman's 2013 season included 5 victories.
In addition to his own Lucas Oil No. 21k, Cory's name will be attached to a total of five entries, including a trio of Chili Bowl Rookies, and one seat still open for business.
Making his mark in the NASCAR development system in 2013, Stonington, Conn. driver David Garbo, Jr. is among the Kruseman Motorsports rookie contenders. Two wins in the NASCAR K&N Pro Series coming on Hickory Motor Speedway in 2013, including four podiums, six top fives', and 10 top tens' in fifteen events puts a lot of star-power behind the 17 year old driver.
Working out of Karts, Bradley Morris is the second Rookie in the Kruseman stable. A regular with the Lucas Oil Off-Road Series in Pro-Lite and Pro-Buggy during the 2013 season, 17 year old Morris placed second in season standings for Pro-Buggy and fifth in Pro-Lite competition with three wins to his credit.
The final Kruseman Motorsports rookie is Steve Brown. A regular in the Non-Wing ranks of southern California, 47 year old Brown's season revolved around Perris Auto Speedway and Ventura Raceway, Brown capped off his season sixth in points in 360cid Non-Wing Sprints at Perris Auto Speedway and third at Ventura.
The addition of the three Kruseman Motorsports' Rookies brings the count to 37 with driver's coming from 15 United States as well as three first timers from Australia and one from Canada.
The complete list of entries for the 2014 Lucas Oil Chili Bowl Nationals presented by General Tire can be found at http://www.chilibowl.com/entries/manual.aspx
The 28th Lucas Oil Chili Bowl Nationals presented by General Tire will begin moving teams in on Sunday, January 12, 2014.
Practice is scheduled for Monday, January 13 with the first night of competition getting underway with Tuesday's Warren CAT Qualifying night as well as the sixth annual Vacuworx Invitational Race of Champions.
Competition continues with Wednesday's River Spirit Casino Qualifier, Thursday's John Christner Trucking Qualifier, and Friday Vacuworx Global Qualifier with everything culminating on Saturday's Lucas Oil Chili Bowl Championship.
The top three in each Qualifying Night A-Feature will transfer directly into the Saturday championship event with the remainder of Saturday's features lined up according to the Qualifying night finishes.
General Admission seating is available along the back straight-a-way and can be accessed with the purchase of a Pit Pass. Additional information regarding the Lucas Oil Chili Bowl presented by General Tire can be found online at http://www.chilibowl.com. For more updates follow the Chili Bowl on Facebook and on Twitter.
Lucas Oil Chili Bowl presented by General Tire - Quick Facts:
What: 28th annual Lucas Oil Chili Bowl presented by General Tire
Where: Tulsa Expo Raceway – quarter-mile clay oval inside the River Spirit Expo Center at Tulsa's Expo Square
When: January 14-18, 2014
Tuesday – Warren CAT Qualifying Night plus Vacuworx Invitational Race of Champions
Wednesday – River Spirit Casino Qualifying Night
Thursday – John Christner Trucking Qualifying Night
Friday – Vacuworx Global Qualifying Night
Saturday – Lucas Oil Championship Feature Events
Times:
Races Tuesday-Friday begin at 6:00 P.M.. Grandstands open at 3:00 P.M. (CT)
Saturday begins at Noon. Opening Ceremonies following qualifiers is at 6:00 P.M. Grandstands open at 9:00 A.M.
Chili Bowl Champions: Kevin Swindell (2013, 2012, 2011, and 2010), Sammy Swindell (2009, 1998, 1996, 1992 and 1989), Damion Gardner (2008), Tony Stewart (2007 and 2002), Tim McCreadie (2006), Tracy Hines (2005), Cory Kruseman (2004 and 2000), Dan Boorse (2003 and 1999), Jay Drake (2001), Billy Boat (1997), Donnie Beechler (1995), Andy Hillenburg (1994), Dave Blaney (1993), Lealand McSpadden (1991), John Heydenreich (1990), Scott Hatton (1988), Rich Vogler (1987).
VIROC Champions: Kevin Swindell (2013), Sammy Swindell (2012, 2011, and 2009), Brad Loyet (2010)
Past "A" Feature Starters: Dave Darland 13, Tracy Hines 12, Cory Kruseman 12, Brad Kuhn 8, J.J. Yeley 7, P.J Jones 6, Bobby East 5, Matt Westfall 5, Steve Buckwalter 5, Casey Shuman 4, Bryan Clauson 4, Davey Ray 4, Michael Pickens 4, Chris Windom 3, Thomas Meseraull 3, Daryn Pittman 3, Shane Golobic 3, Jac Haudenschild 3, Mike Hess 3, Zach Daum 2, Jonathan Beason 2, Billy Wease 2, A.J. Fike 2, Brady Bacon 2, Tony Roney, Andrew Felker, Brandon Waelti, Daniel Adler, Shane Hollingsworth, Paul White, Kevin Thomas, Jr., David Gough, Caleb Armstrong, Richard Vander Weerd, Mike Goodman
Counties Represented: Australia, Canada, New Zealand, United States
United State Count: Oklahoma 34, Indiana 24, California 20, Illinois 18, Pennsylvania 10, Missouri 8, Texas 7, Kansas 6, Ohio 5, Arizona 3, Arkansas 3, Colorado 3, Iowa 3, Wyoming 3, Nebraska 2, North Carolina 2, South Dakota 2, Wisconsin 2, Alabama, Connecticut, Florida, Idaho, Michigan, New Jersey, Washington
Trade Show: A long standing tradition at the Chili Bowl, the Trade Show, which is open to the public each day (Tuesday through Saturday), is free of charge. All variety of racing products, apparel and more is available with well over 100 vendors. The Trade Show still has space available. Anyone looking to be a part of the Trade Show can contact the Chili Bowl office at 918-838-3777. The Trade Show covers approximately 20,000 square feet.
Chili Bowl Online: All official news regarding the 28th annual Lucas Oil Chili Bowl National presented by General Tire can be found at http://www.chilibowl.com. Updates throughout the Chili Bowl can be found via Facebook and Twitter at http://www.facebook.com/chilibowlnationals and http://www.twitter.com/cbnationals.
Event Coverage: For the first time, the Chili Bowl will be show online on http://www.racinboys.com. The online PPV experience will run from Tuesday through Saturday's qualifiers. At time of opening ceremonies on Saturday, Racinboys PPV coverage will cease as final features will be shown live on MAVTV American Real for the first time. For a complete listing of channels, and to request MAVTV, log onto http://www.mavtv.com.
Lucas Oil Products is the title sponsor of the Chili Bowl Midget Nationals. More information about the products available from Lucas Oil can be found at www.lucasoil.com. General Tire is the presenting sponsor of the Chili Bowl. A complete inventory of tires offered by General Tire can be found at www.generaltire.com.
Vacuworx Global is the title sponsor of the VIROC which brings past Chili Bowl Champions as well as champions from around the world together for a single 20 lap race to see who is the best of the best. For more information about Vacuworx log onto www.vacuworx.com. For more information on past champions of the VIROC, log onto www.theviroc.com.
For more information on the Chili Bowl log onto http://www.chilibowl.com or call 918-838-3777.
Photo Credit: Joe Orth
---
Submitted By: Bryan Hulbert
Back to News