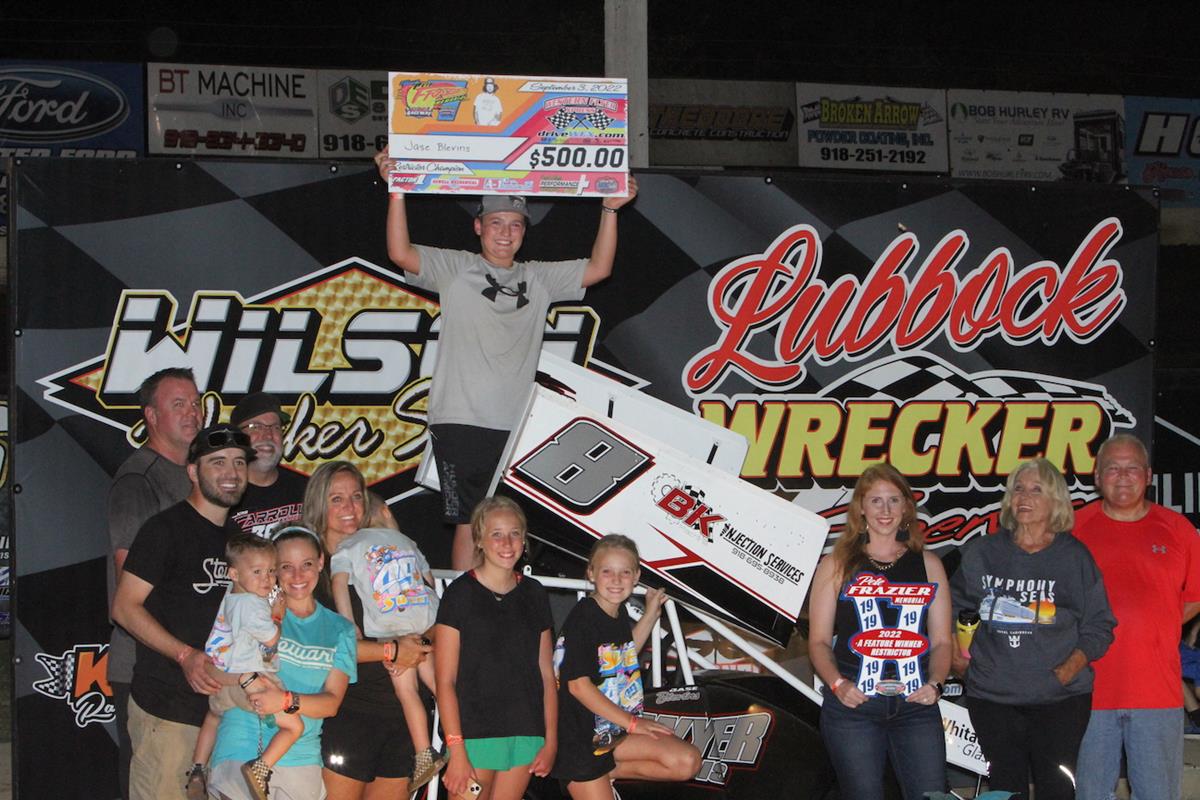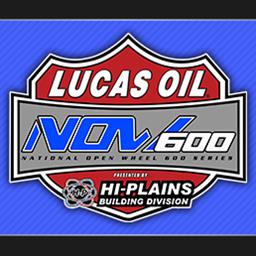 9/4/2022
NOW600 National Micros
---
Flud, Cochran, And Blevins Complete 23rd Pete Frazier Memorial Sweep
(Image Credit: Richard Bales)
Bryan Hulbert – TULSA, Okla. (September 3, 2022) Making their weekends perfect at the 23rd annual Pete Frazier Memorial, Frank Flud, Chris Cochran, and Jase Blevins returned to Victory Lane with the Lucas Oil National Open Wheel 600 Series presented by Hi-Plains Building Division.
Continuing the trend of repeat winners, Mattix McBride topped Junior Sprints, while Darren Stewart won Sportsman. The only new winner on the weekend was in Outlaw, with Cam Sorrels taking the win. Saturday's field consisted of 213 overall entries. The three core classes of NOW600 stood at 143 of those entries.
Flud's 68th A-Class triumph, the Rujo No. 81, led from start to finish. Cole Roberts made it to second with Garrett Benson in third. Jett Hays was fourth, with Baron Silva moving from 13th to fifth. Getting the lead with three laps to run, Chris Cochran made it Non-Wing win No. 7 in NOW600 national competition. Baron Silva in second was followed by Jett Hays, who led from Lap 2 to 22. Jake Rosario and Frank Flud completed the top five.
Winning Restricted by 0.358-second, Jase Blevins was out front from the start. Chase McDougal again had to settle for the silver, with Lathe Griggs third. Jett Nunley and Nicholas Harris made up the top five. Cam Sorrels in Victory Lane for the third time in Outlaw competition did so from the sixth starting spot. Garret Benson followed from seventh for second, with Peter Smith continuing the trend from eighth. Brock Berreth went 10th to fourth, with Jonathan Beason rolling 16th to fifth.
Just like Friday, Darren Stewart was chased to the line by Brad Best. Third went to Justin Simpson, with Brian Potter in fourth. Bobby McIntosh was fifth. For Junior Sprints, Mattix McBride won over JJ Beason. Third from ninth was Brody Stewart, while Oakley Fuller and Ryker Jones made up the top five.
The next outing for the Lucas Oil National Open Wheel 600 Series presented by Hi-Plains Building Division is Friday, October 7 and Saturday, October 8 at Caney Valley Speedway in Caney, Kan.
Fans not able to attend can see every lap live on https://www.now600.tv. Saturday will also be shown at http://www.floracing.com.
To keep up on everything happening with the National Open Wheel 600 Series, from the National Tour to Regional and Weekly racing lineups, log onto http://www.now600series.com and make sure to follow the tour on Facebook and Twitter (@NOW600Series).
Race Results:
Lucas Oil NOW600
Port City Raceway (Tulsa, Okla.)
23rd Pete Frazier Memorial – Night 2
Saturday, September 3, 2022
Entry Count: 143
JUNIOR SPRINTS
A Feature 1 (20 Laps): 1. 11-Mattix McBride[1]; 2. 36-JJ Beason[4]; 3. 27-Brody Stewart[9]; 4. 12F-Oakley Fuller[3]; 5. 22-Ryker Jones[6]; 6. 22G-Gavin McDonald[2]; 7. 19J-JT Daniel[13]; 8. 17C-Caleb Johannesen[8]; 9. 9S-Braxton Stewart[12]; 10. 18$-Nolan Medlock[14]; 11. 75-Masyn Truitt[5]; 12. 12P-Collin Pruitt[18]; 13. 14JR-Jaxon Nail[17]; 14. 10E-Eli Potter[15]; 15. 11S-Sawyer McBride[7]; 16. 29C-Clayton Jenkins[11]; 17. 92-Lathan Knott[10]; 18. 4-Ryker Griggs[16]
B Feature 1 (10 Laps): 1. 19J-JT Daniel[1]; 2. 18$-Nolan Medlock[2]; 3. 10E-Eli Potter[7]; 4. 4-Ryker Griggs[5]; 5. 14JR-Jaxon Nail[6]; 6. 12P-Collin Pruitt[13]; 7. 2-Luke Booher[3]; 8. 55K-Kayden Anderson[9]; 9. 66-Jack Loss[4]; 10. 37K-Kacie Pittman[12]; 11. 16-Berkley Reese[14]; 12. 26N-Nate Daniel[8]; 13. 10CC-Charmayne Cary[10]; 14. 71-Oren Basham[11]
Heat 1 (8 Laps): 1. 17C-Caleb Johannesen[2]; 2. 2-Luke Booher[1]; 3. 18$-Nolan Medlock[5]; 4. 19J-JT Daniel[4]; 5. 26N-Nate Daniel[7]; 6. 37K-Kacie Pittman[6]; 7. 12P-Collin Pruitt[3]
Heat 2 (8 Laps): 1. 92-Lathan Knott[1]; 2. 27-Brody Stewart[3]; 3. 4-Ryker Griggs[2]; 4. 9S-Braxton Stewart[4]; 5. 55K-Kayden Anderson[5]; 6. 71-Oren Basham[6]; 7. 16-Berkley Reese[7]
Heat 3 (8 Laps): 1. 11S-Sawyer McBride[3]; 2. 66-Jack Loss[1]; 3. 29C-Clayton Jenkins[6]; 4. 14JR-Jaxon Nail[2]; 5. 10CC-Charmayne Cary[5]; 6. 10E-Eli Potter[4]
Qualifying 1 (2 Laps): 1. 19J-JT Daniel, 11.622[3]; 2. 12P-Collin Pruitt, 11.650[5]; 3. 17C-Caleb Johannesen, 11.650[2]; 4. 2-Luke Booher, 11.733[7]; 5. 18$-Nolan Medlock, 12.074[1]; 6. 37K-Kacie Pittman, 12.503[6]; 7. 26N-Nate Daniel, 12.507[4]
Qualifying 2 (2 Laps): 1. 9S-Braxton Stewart, 11.423[1]; 2. 27-Brody Stewart, 11.453[7]; 3. 4-Ryker Griggs, 11.631[5]; 4. 92-Lathan Knott, 11.775[6]; 5. 55K-Kayden Anderson, 11.910[4]; 6. 71-Oren Basham, 12.253[3]; 7. 16-Berkley Reese, 15.000[2]
Qualifying 3 (2 Laps): 1. 10E-Eli Potter, 11.379[4]; 2. 11S-Sawyer McBride, 11.535[2]; 3. 14JR-Jaxon Nail, 11.659[3]; 4. 66-Jack Loss, 11.887[1]; 5. 10CC-Charmayne Cary, 12.379[6]; 6. 29C-Clayton Jenkins, 15.000[5]
A-CLASS
A Feature 1 (25 Laps): 1. 81-Frank Flud[1]; 2. 3-Cole Roberts[5]; 3. 2B-Garrett Benson[3]; 4. 11J-Jett Hays[2]; 5. 17S-Baron Silva[13]; 6. 11K-Shawn Mahaffey[4]; 7. 8K-Tyler Kuykendall[6]; 8. 11-Laydon Pearson[10]; 9. 22RL-Gage Laney[11]; 10. 67J-JJ Loss[8]; 11. 91K-Kevin Bayer[12]; 12. 7W-Brendon Wiseley[15]; 13. 1H-Connor Lee[18]; 14. 08-Jace McIntosh[16]; 15. 52-Hayden Mabe[17]; 16. 78-Ethan Ayars[20]; 17. 59-Brody Mclaughlin[14]; 18. 36-Kris Carroll[7]; 19. 3Z-Trey Zorn[19]
B Feature 1 (12 Laps): 1. 7W-Brendon Wiseley[1]; 2. 1H-Connor Lee[3]; 3. 20Q-Brecken Reese[2]; 4. 81AU-Dekota Gay[7]; 5. 13C-William Conner[5]; 6. 13-Elijah Gile[6]; 7. 92-Jake Rosario[11]; 8. 96-Jayson Campbell[4]; 9. 27-Kaden Weger[12]; 10. 66-Jayden Clay[9]; 11. 11D-Dominic White[10]
B Feature 2 (12 Laps): 1. 08-Jace McIntosh[1]; 2. 3Z-Trey Zorn[5]; 3. 9T-Tanner Holwerda[4]; 4. 68-Landon Ellis[6]; 5. 23L-Tyler LaPointe[3]; 6. 20B-Chase Bolf[8]; 7. 38-Riley Osantowski[11]; 8. 17E-Kaylee Esgar[7]; 9. 72-Alex Karpowicz[2]; 10. 83-Shane Weeks[12]
B Feature 3 (12 Laps): 1. 52-Hayden Mabe[1]; 2. 78-Ethan Ayars[2]; 3. 33B-Cody Barnes[10]; 4. 21-Keegan Osantowski[4]; 5. 7A-Aaron Jesina[3]; 6. 14G-Madelyn Gjerness[5]; 7. 45-Megan Thomas[6]; 8. 5G-Landon Graham[9]
Heat 1 (8 Laps): 1. 91K-Kevin Bayer[2]; 2. 23L-Tyler LaPointe[1]; 3. 78-Ethan Ayars[3]; 4. 21-Keegan Osantowski[6]; 5. 13-Elijah Gile[4]; 6. 5A-Ava Gropp[5]; 7. 11D-Dominic White[8]; 8. 55X-Connor Chamberlain[7]
Heat 2 (8 Laps): 1. 59-Brody Mclaughlin[1]; 2. 11-Laydon Pearson[4]; 3. 20Q-Brecken Reese[5]; 4. 68-Landon Ellis[2]; 5. 17E-Kaylee Esgar[3]; 6. 19J-Justin Robison[8]; 7. 38-Riley Osantowski[6]; 8. 27-Kaden Weger[7]
Heat 3 (8 Laps): 1. 67J-JJ Loss[3]; 2. 1H-Connor Lee[1]; 3. 96-Jayson Campbell[2]; 4. 3Z-Trey Zorn[5]; 5. 26-Corbin Rueschenberg[6]; 6. 99-Brett Osborn[4]; 7. 33B-Cody Barnes[7]
Heat 4 (8 Laps): 1. 22RL-Gage Laney[2]; 2. 17S-Baron Silva[3]; 3. 52-Hayden Mabe[5]; 4. 7A-Aaron Jesina[4]; 5. 45-Megan Thomas[7]; 6. 57P-Peter Walker[1]; 7. 92-Jake Rosario[6]
Heat 5 (8 Laps): 1. 36-Kris Carroll[6]; 2. 08-Jace McIntosh[1]; 3. 72-Alex Karpowicz[5]; 4. 81AU-Dekota Gay[3]; 5. 14G-Madelyn Gjerness[4]; 6. 5G-Landon Graham[2]
Heat 6 (8 Laps): 1. 7W-Brendon Wiseley[1]; 2. 14X-Braxston Wilson[4]; 3. 9T-Tanner Holwerda[2]; 4. 13C-William Conner[3]; 5. 20B-Chase Bolf[5]; 6. 66-Jayden Clay[6]
Qualifying 1 (2 Laps): 1. 13-Elijah Gile, 10.089[8]; 2. 78-Ethan Ayars, 10.193[2]; 3. 91K-Kevin Bayer, 10.367[6]; 4. 23L-Tyler LaPointe, 10.375[5]; 5. 5A-Ava Gropp, 10.437[7]; 6. 21-Keegan Osantowski, 10.452[3]; 7. 55X-Connor Chamberlain, 10.468[4]; 8. 11D-Dominic White, 10.583[1]
Qualifying 2 (2 Laps): 1. 11-Laydon Pearson, 10.170[7]; 2. 17E-Kaylee Esgar, 10.226[8]; 3. 68-Landon Ellis, 10.227[3]; 4. 59-Brody Mclaughlin, 10.330[6]; 5. 20Q-Brecken Reese, 10.363[2]; 6. 38-Riley Osantowski, 10.564[1]; 7. 27-Kaden Weger, 10.567[4]; 8. 19J-Justin Robison, 10.580[5]
Qualifying 3 (2 Laps): 1. 99-Brett Osborn, 10.015[5]; 2. 67J-JJ Loss, 10.068[1]; 3. 96-Jayson Campbell, 10.223[4]; 4. 1H-Connor Lee, 10.352[7]; 5. 3Z-Trey Zorn, 10.370[6]; 6. 26-Corbin Rueschenberg, 10.470[2]; 7. 33B-Cody Barnes, 10.491[3]
Qualifying 4 (2 Laps): 1. 7A-Aaron Jesina, 10.176[5]; 2. 17S-Baron Silva, 10.228[7]; 3. 22RL-Gage Laney, 10.277[3]; 4. 57P-Peter Walker, 10.298[6]; 5. 52-Hayden Mabe, 10.336[1]; 6. 92-Jake Rosario, 10.385[4]; 7. 45-Megan Thomas, 10.546[2]
Qualifying 5 (2 Laps): 1. 14G-Madelyn Gjerness, 10.024[7]; 2. 08-Jace McIntosh, 10.130[4]; 3. 5G-Landon Graham, 10.249[2]; 4. 83-Shane Weeks, 10.277[1]; 5. 81AU-Dekota Gay, 10.341[5]; 6. 36-Kris Carroll, 10.361[6]; 7. 72-Alex Karpowicz, 10.506[3]
Qualifying 6 (2 Laps): 1. 14X-Braxston Wilson, 10.032[1]; 2. 13C-William Conner, 10.208[6]; 3. 9T-Tanner Holwerda, 10.251[5]; 4. 7W-Brendon Wiseley, 10.383[7]; 5. 20B-Chase Bolf, 10.573[4]; 6. 66-Jayden Clay, 10.725[3]; 7. 33C-Chris Crawford, 15.000[2]
RESTRICTED
A Feature 1 (25 Laps): 1. 8-Jase Blevins[1]; 2. 73-Chase McDougal[2]; 3. 3-Lathe Griggs[8]; 4. 33-Jett Nunley[4]; 5. 11H-Nicholas Harris[7]; 6. 15-Brody Brown[3]; 7. 88P-Ayden Parrish[9]; 8. 2T-Tyler Crow[12]; 9. 5S-Stone Smith[11]; 10. B2-Carson Bolden[10]; 11. 63-Jack Thomas[16]; 12. 1-Hudsyn Truitt[17]; 13. 11-Mattix McBride[20]; 14. 2C-Lucas Conner[15]; 15. 45-Bradley Cox[18]; 16. 29X-Ayla Morefield[19]; 17. 5C-Cooper Miller[5]; 18. 1P-Mekentzi Potter[6]; 19. 31BW-Braxton Weger[14]; 20. 88K-Bryce Kujath[13]
B Feature 1 (12 Laps): 1. 2C-Lucas Conner[1]; 2. 1-Hudsyn Truitt[5]; 3. 29X-Ayla Morefield[3]; 4. 16-Colton Holland[2]; 5. 116-Landen Adams[9]; 6. GH7-Garyn Howard[8]; 7. 30P-Blake Pittman[7]; 8. 00T-TJ Stark[4]; 9. 28-Hunter Lewis[11]; 10. KB3-Kermit Burnam Jr[6]; 11. 00-Michael Harris[10]
B Feature 2 (12 Laps): 1. 63-Jack Thomas[1]; 2. 45-Bradley Cox[2]; 3. 11-Mattix McBride[4]; 4. 5L-Landon Jesina[5]; 5. 77-Chase Wright[7]; 6. 95-Ryker Morrow[8]; 7. P24-Aiden Howard[9]; 8. 57S-Ella Simpson[6]; 9. 87C-Callan Hill[3]; 10. 7W-Andrew Weathers[10]
Heat 1 (8 Laps): 1. B2-Carson Bolden[2]; 2. 3-Lathe Griggs[4]; 3. 2C-Lucas Conner[3]; 4. KB3-Kermit Burnam Jr[1]; 5. 57S-Ella Simpson[5]; 6. 30P-Blake Pittman[7]; 7. 7W-Andrew Weathers[6]
Heat 2 (8 Laps): 1. 11H-Nicholas Harris[3]; 2. 2T-Tyler Crow[5]; 3. 88K-Bryce Kujath[4]; 4. 00T-TJ Stark[2]; 5. 5L-Landon Jesina[6]; 6. 95-Ryker Morrow[1]; 7. 116-Landen Adams[7]; 8. 28-Hunter Lewis[8]
Heat 3 (8 Laps): 1. 31BW-Braxton Weger[1]; 2. 88P-Ayden Parrish[4]; 3. 29X-Ayla Morefield[2]; 4. 87C-Callan Hill[3]; 5. 11-Mattix McBride[7]; 6. 77-Chase Wright[5]; 7. P24-Aiden Howard[6]
Heat 4 (8 Laps): 1. 5S-Stone Smith[2]; 2. 16-Colton Holland[1]; 3. 63-Jack Thomas[3]; 4. 45-Bradley Cox[4]; 5. 1-Hudsyn Truitt[7]; 6. GH7-Garyn Howard[5]; 7. 00-Michael Harris[6]
Qualifying 1 (2 Laps): 1. 3-Lathe Griggs, 10.221[3]; 2. 2C-Lucas Conner, 10.383[2]; 3. B2-Carson Bolden, 10.533[5]; 4. KB3-Kermit Burnam Jr, 10.773[8]; 5. 57S-Ella Simpson, 11.297[1]; 6. 7W-Andrew Weathers, 12.698[6]; 7. 10S-Scout Spraggins, 15.000[7]; 8. 30P-Blake Pittman, 15.000[4]
Qualifying 2 (2 Laps): 1. 88K-Bryce Kujath, 10.330[5]; 2. 11H-Nicholas Harris, 10.437[8]; 3. 00T-TJ Stark, 10.522[1]; 4. 95-Ryker Morrow, 10.534[4]; 5. 2T-Tyler Crow, 10.668[3]; 6. 5L-Landon Jesina, 10.735[6]; 7. 116-Landen Adams, 10.741[2]; 8. 28-Hunter Lewis, 11.005[7]
Qualifying 3 (2 Laps): 1. 88P-Ayden Parrish, 10.336[5]; 2. 87C-Callan Hill, 10.337[3]; 3. 29X-Ayla Morefield, 10.447[2]; 4. 31BW-Braxton Weger, 10.587[4]; 5. 77-Chase Wright, 10.601[1]; 6. P24-Aiden Howard, 10.791[6]; 7. 11-Mattix McBride, 10.895[7]
Qualifying 4 (2 Laps): 1. 45-Bradley Cox, 10.513[6]; 2. 63-Jack Thomas, 10.602[3]; 3. 5S-Stone Smith, 10.726[2]; 4. 16-Colton Holland, 10.741[4]; 5. GH7-Garyn Howard, 10.849[5]; 6. 00-Michael Harris, 11.094[7]; 7. 1-Hudsyn Truitt, 11.352[1]
NON-WING
A Feature 1 (25 Laps): 1. 3W-Chris Cochran[1]; 2. 17S-Baron Silva[6]; 3. 11J-Jett Hays[2]; 4. 92-Jake Rosario[4]; 5. 81-Frank Flud[7]; 6. 67J-JJ Loss[11]; 7. 5K-Kris Carroll[3]; 8. 08-Peter Smith[15]; 9. 26-Corbin Rueschenberg[12]; 10. 96-Jayson Campbell[9]; 11. 20Q-Brecken Reese[20]; 12. 13C-William Conner[19]; 13. 59-Brody Mclaughlin[18]; 14. 11-Laydon Pearson[13]; 15. 77E-Cole Esgar[17]; 16. 57T-Kyle Thompson[10]; 17. 14-Blake Battles[5]; 18. 26A-Ava Gropp[16]; 19. 19J-Justin Robison[8]; 20. 24T-Glenn James Bratti[14]
B Feature 1 (12 Laps): 1. 08-Peter Smith[2]; 2. 59-Brody Mclaughlin[3]; 3. 08J-Jace McIntosh[1]; 4. 26K-Kale Drake[4]; 5. 7C-Phillip Cordova[6]; 6. 1H-Connor Lee[5]; 7. 15-Jase Randolph[10]; 8. 38-Riley Osantowski[7]; 9. 10D-Devon Debrick[15]; 10. 95-Deuce Chamberlain[12]; 11. 78C-Chance Cody[13]; 12. 83-Shane Weeks[11]; 13. 21-Keegan Osantowski[8]
B Feature 2 (12 Laps): 1. 26A-Ava Gropp[2]; 2. 13C-William Conner[4]; 3. 8K-Tyler Kuykendall[5]; 4. 10-Brock Berreth[9]; 5. 9T-Tanner Holwerda[3]; 6. 52-Hayden Mabe[6]; 7. 57P-Peter Walker[1]; 8. 38X-Levi Henderson[13]; 9. 81AU-Dekota Gay[7]; 10. 4DG-Brent Shoemaker[8]; 11. 21W-Will Perdue[10]; 12. 72-Alex Karpowicz[12]; 13. 727-Kaden Weger[11]
B Feature 3 (12 Laps): 1. 77E-Cole Esgar[1]; 2. 20Q-Brecken Reese[10]; 3. 23L-Tyler LaPointe[2]; 4. 1B-Brian Bennett[8]; 5. 5G-Landon Graham[7]; 6. 14G-Madelyn Gjerness[9]; 7. 78-Ethan Ayars[14]; 8. 33-Jett Nunley[4]; 9. 93-Greg Emeterio Jr[12]; 10. 66-Jayden Clay[11]; 11. 7W-Brendon Wiseley[5]; 12. 68-Landon Ellis[6]; 13. 20B-Chase Bolf[3]
Heat 1 (8 Laps): 1. 08J-Jace McIntosh[2]; 2. 9T-Tanner Holwerda[1]; 3. 23L-Tyler LaPointe[6]; 4. 26K-Kale Drake[4]; 5. 10-Brock Berreth[5]; 6. 14G-Madelyn Gjerness[3]
Heat 2 (8 Laps): 1. 96-Jayson Campbell[5]; 2. 57T-Kyle Thompson[8]; 3. 1H-Connor Lee[2]; 4. 8K-Tyler Kuykendall[6]; 5. 21-Keegan Osantowski[3]; 6. 72-Alex Karpowicz[1]; 7. 20Q-Brecken Reese[4]; 8. 77-Cooper Sullivan[7]
Heat 3 (8 Laps): 1. 19J-Justin Robison[6]; 2. 67J-JJ Loss[4]; 3. 33-Jett Nunley[2]; 4. 20B-Chase Bolf[7]; 5. 21W-Will Perdue[1]; 6. 15-Jase Randolph[3]; 7. 24-Ryder Wells[5]
Heat 4 (8 Laps): 1. 81-Frank Flud[4]; 2. 59-Brody Mclaughlin[1]; 3. 13C-William Conner[2]; 4. 52-Hayden Mabe[3]; 5. 4DG-Brent Shoemaker[6]; 6. 727-Kaden Weger[5]; 7. 93-Greg Emeterio Jr[7]
Heat 5 (8 Laps): 1. 08-Peter Smith[1]; 2. 11-Laydon Pearson[4]; 3. 68-Landon Ellis[7]; 4. 81AU-Dekota Gay[2]; 5. 5G-Landon Graham[3]; 6. 66-Jayden Clay[5]; 7. 38X-Levi Henderson[6]
Heat 6 (8 Laps): 1. 24T-Glenn James Bratti[2]; 2. 26-Corbin Rueschenberg[4]; 3. 7C-Phillip Cordova[3]; 4. 38-Riley Osantowski[5]; 5. 1B-Brian Bennett[1]; 6. 83-Shane Weeks[6]
Heat 7 (8 Laps): 1. 26A-Ava Gropp[1]; 2. 57P-Peter Walker[3]; 3. 77E-Cole Esgar[4]; 4. 7W-Brendon Wiseley[6]; 5. 22-Curtis Jones[2]; 6. 95-Deuce Chamberlain[5]; 7. 78C-Chance Cody[7]
Qualifying 1 (2 Laps): 1. 26K-Kale Drake, 10.288[4]; 2. 14G-Madelyn Gjerness, 10.298[6]; 3. 08J-Jace McIntosh, 10.488[8]; 4. 9T-Tanner Holwerda, 10.488[7]; 5. 78-Ethan Ayars, 10.502[1]; 6. 23L-Tyler LaPointe, 10.678[2]; 7. 10-Brock Berreth, 10.774[3]; 8. 10D-Devon Debrick, 10.900[5]
Qualifying 2 (2 Laps): 1. 20Q-Brecken Reese, 10.279[8]; 2. 21-Keegan Osantowski, 10.289[6]; 3. 1H-Connor Lee, 10.337[7]; 4. 72-Alex Karpowicz, 10.353[4]; 5. 96-Jayson Campbell, 10.444[3]; 6. 8K-Tyler Kuykendall, 10.447[1]; 7. 77-Cooper Sullivan, 10.550[2]; 8. 57T-Kyle Thompson, 10.556[5]
Qualifying 3 (2 Laps): 1. 67J-JJ Loss, 09.960[4]; 2. 15-Jase Randolph, 10.304[2]; 3. 33-Jett Nunley, 10.335[7]; 4. 21W-Will Perdue, 10.370[5]; 5. 24-Ryder Wells, 10.441[6]; 6. 19J-Justin Robison, 10.539[3]; 7. 20B-Chase Bolf, 10.540[1]
Qualifying 4 (2 Laps): 1. 81-Frank Flud, 10.187[3]; 2. 52-Hayden Mabe, 10.218[1]; 3. 13C-William Conner, 10.235[4]; 4. 59-Brody Mclaughlin, 10.276[5]; 5. 727-Kaden Weger, 10.411[7]; 6. 4DG-Brent Shoemaker, 10.612[2]; 7. 93-Greg Emeterio Jr, 10.626[6]
Qualifying 5 (2 Laps): 1. 11-Laydon Pearson, 10.253[4]; 2. 5G-Landon Graham, 10.279[7]; 3. 81AU-Dekota Gay, 10.318[1]; 4. 08-Peter Smith, 10.404[3]; 5. 66-Jayden Clay, 10.515[2]; 6. 38X-Levi Henderson, 10.597[6]; 7. 68-Landon Ellis, 15.000[5]
Qualifying 6 (2 Laps): 1. 26-Corbin Rueschenberg, 10.247[5]; 2. 1B-Brian Bennett, 10.296[4]; 3. 24T-Glenn James Bratti, 10.356[3]; 4. 33C-Chris Crawford, 10.359[7]; 5. 7C-Phillip Cordova, 10.517[6]; 6. 83-Shane Weeks, 10.593[1]; 7. 38-Riley Osantowski, 10.641[2]
Qualifying 7 (2 Laps): 1. 77E-Cole Esgar, 10.254[6]; 2. 57P-Peter Walker, 10.335[1]; 3. 22-Curtis Jones, 10.378[5]; 4. 26A-Ava Gropp, 10.455[4]; 5. 95-Deuce Chamberlain, 10.525[3]; 6. 7W-Brendon Wiseley, 10.568[2]; 7. 78C-Chance Cody, 15.000[7]
SPORTSMAN
A Feature 1 (20 Laps): 1. 36S-Darren Stewart[1]; 2. 41-Brad Best[2]; 3. 92-Justin Simpson[4]; 4. 10P-Brian Potter[3]; 5. 08-Bobby McIntosh[8]; 6. 420-Jeff Harris[9]; 7. 4-Danny James[6]; 8. U2-Ryan Cotney[13]; 9. 18-Lexa Turner[11]; 10. 83-Coltin Strickland[14]; 11. 51E-Ethan Ellis[19]; 12. 2-Jeff Griggs[7]; 13. 16-Darrius Myers[15]; 14. 88-Dustin Maxwell[18]; 15. 77-Randall Boren[21]; 16. 00G-Milton Goolsby[20]; 17. 9-Lonnie Fraley[12]; 18. 17-Dave Nicholson[5]; 19. 54-Shane Coughran[17]; 20. 33-Chris Stowe[10]; 21. 71-Cody Coughran[16]
Heat 1 (8 Laps): 1. 33-Chris Stowe[1]; 2. 420-Jeff Harris[3]; 3. 08-Bobby McIntosh[4]; 4. 83-Coltin Strickland[2]; 5. 16-Darrius Myers[6]; 6. 54-Shane Coughran[5]; 7. 51E-Ethan Ellis[8]; 8. 77-Randall Boren[7]
Heat 2 (8 Laps): 1. 2-Jeff Griggs[3]; 2. 18-Lexa Turner[2]; 3. 9-Lonnie Fraley[6]; 4. U2-Ryan Cotney[4]; 5. 71-Cody Coughran[5]; 6. 88-Dustin Maxwell[1]; 7. 00G-Milton Goolsby[7]
Qualifying 1 (2 Laps): 1. 08-Bobby McIntosh, 10.035[5]; 2. 420-Jeff Harris, 10.053[1]; 3. 83-Coltin Strickland, 10.124[6]; 4. 33-Chris Stowe, 10.145[4]; 5. 54-Shane Coughran, 10.268[7]; 6. 16-Darrius Myers, 10.328[2]; 7. 77-Randall Boren, 10.593[8]; 8. 51E-Ethan Ellis, 10.802[3]
Qualifying 2 (2 Laps): 1. U2-Ryan Cotney, 10.023[5]; 2. 2-Jeff Griggs, 10.209[7]; 3. 18-Lexa Turner, 10.213[2]; 4. 88-Dustin Maxwell, 10.246[1]; 5. 71-Cody Coughran, 10.337[4]; 6. 9-Lonnie Fraley, 10.367[3]; 7. 00G-Milton Goolsby, 11.577[6]
OUTLAW
A Feature 1 (25 Laps): 1. 57-Cam Sorrels[6]; 2. 2B-Garrett Benson[7]; 3. 08-Peter Smith[8]; 4. 10-Brock Berreth[10]; 5. 36-Jonathan Beason[16]; 6. 14X-Braxston Wilson[2]; 7. 3Z-Trey Zorn[11]; 8. 8K-Tyler Kuykendall[13]; 9. 59-Brody Mclaughlin[12]; 10. 13-Elijah Gile[3]; 11. 21G-Garth Kasiner[14]; 12. 8B-Cody Barnes[17]; 13. 81-Frank Flud[4]; 14. 36K-Kris Carroll[1]; 15. 43-Megan Thomas[20]; 16. 12-Shane Hacker[15]; 17. 3-Cole Roberts[5]; 18. 51-Paul Henrix[19]; 19. 25J-Delaney Jost[22]; 20. 55X-Connor Chamberlain[18]; 21. 19J-Justin Robison[9]
Heat 1 (8 Laps): 1. 19J-Justin Robison[2]; 2. 59-Brody Mclaughlin[1]; 3. 3Z-Trey Zorn[3]; 4. 8K-Tyler Kuykendall[4]; 5. 21G-Garth Kasiner[6]; 6. 8B-Cody Barnes[8]; 7. 43-Megan Thomas[7]; 8. 25J-Delaney Jost[5]
Heat 2 (8 Laps): 1. 08-Peter Smith[2]; 2. 2B-Garrett Benson[4]; 3. 10-Brock Berreth[3]; 4. 12-Shane Hacker[1]; 5. 36-Jonathan Beason[5]; 6. 55X-Connor Chamberlain[7]; 7. 51-Paul Henrix[6]; 8. 357-Bryce Redenbaugh[8]
Qualifying 1 (2 Laps): 1. 8K-Tyler Kuykendall, 09.817[5]; 2. 3Z-Trey Zorn, 09.867[8]; 3. 19J-Justin Robison, 09.873[1]; 4. 59-Brody Mclaughlin, 09.996[4]; 5. 25J-Delaney Jost, 10.080[3]; 6. 21G-Garth Kasiner, 10.169[2]; 7. 43-Megan Thomas, 10.277[7]; 8. 51-Paul Henrix, 11.726[9]; 9. 357-Bryce Redenbaugh, 15.000[6]
Qualifying 2 (2 Laps): 1. 2B-Garrett Benson, 09.544[2]; 2. 10-Brock Berreth, 09.637[5]; 3. 08-Peter Smith, 09.858[8]; 4. 12-Shane Hacker, 09.904[1]; 5. 36-Jonathan Beason, 10.107[7]; 6. 51-Paul Henrix, 10.205; 7. 55X-Connor Chamberlain, 10.272[4]; 8. 8B-Cody Barnes, 10.461[6]; 9. 83-Shane Weeks, 15.000[3]
---
Submitted By: Bryan Hulbert
Article Media
Back to News