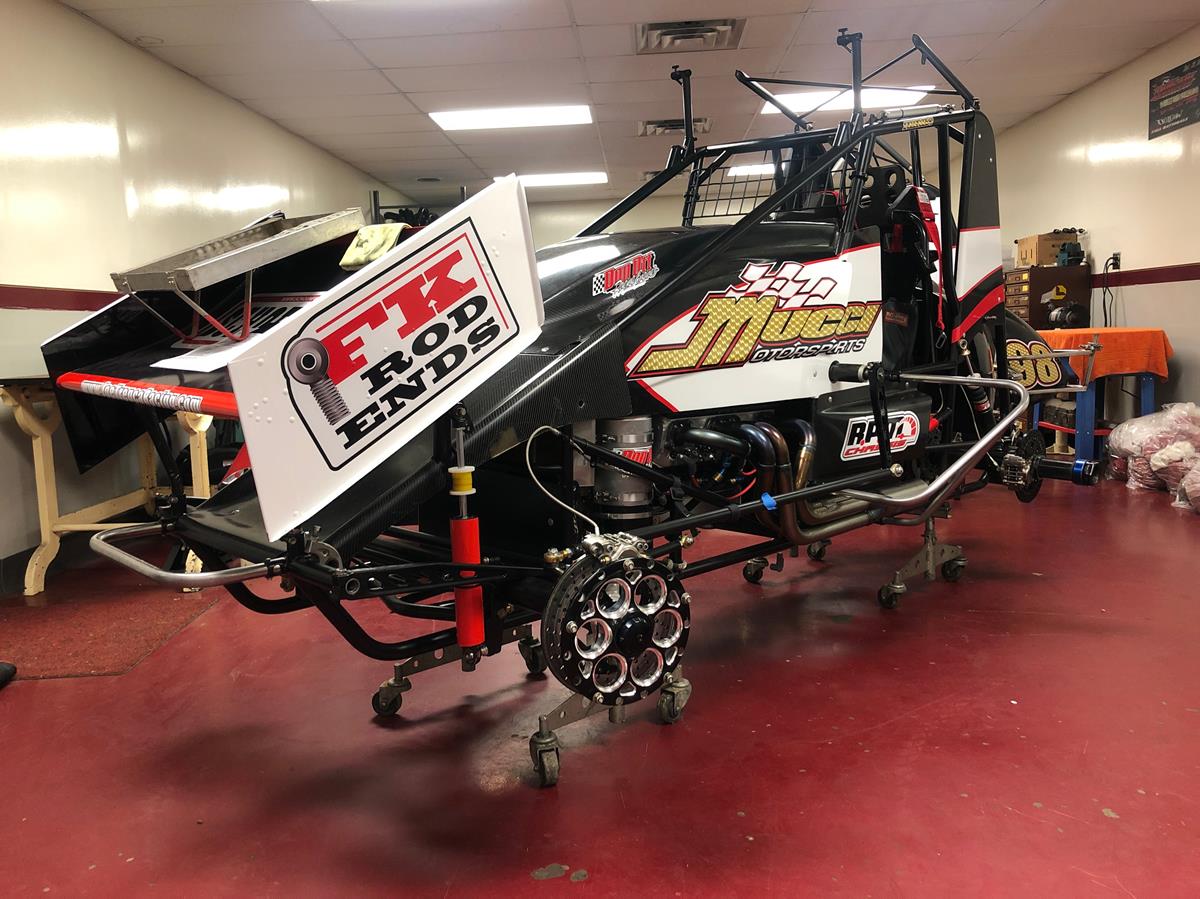 6/16/2020
Inside Line Promotions
---
Trenca Set for Season Debut Wednesday at Land of Legends Raceway
Inside Line Promotions – CLAY, N.Y. (June 16, 2020) – Mucci Motorsports driver Joe Trenca is scheduled to start the 2020 season on Wednesday after COVID-19 has delayed his season opener for a couple of months.
The team plans to head to Land of Legends Raceway in Canandaigua, N.Y., with the Patriot Sprint Tour.
"We're aren't 100 percent sure the race will happen and then after this week we might not race again until the end of July," Trenca said. "This year is really crazy. Unless we travel a lot I don't see us racing much. I got a new job and both my crew guys have new jobs. Us packing up and leaving on a Friday and being back on a Sunday doesn't give us many options."
Trenca has enjoyed recent success at Land of Legends Raceway. He kicked last year off with a career-best fourth-place outing at the track.
"We've always ran okay there," he said. "Last year we started the season with a top five. If we could put it on the podium the first race out this year it'd be a good night. That's what we're hoping to do. We changed some minor things on the car that we dabbled with last year that seemed to work."
Trenca is coming off a career-best season when he set personal bests in feature wins, top fives and top 10s. He picked up two top fives and four top 10s in five starts at Land of Legends Raceway. Trenca scored two top 10s in three starts at the track in 2018.
"I think our program was heavily improved from the middle of last year on," he said. "Hopefully we'll go up from there. We're not trying to change a million things to find that magical edge. We're fine-tuning things and looking for small changes that will make us better."
UP NEXT –
Wednesday at Land of Legends Raceway in Canandaigua, N.Y., with the Patriot Sprint Tour
MEDIA LINKS –
Website: http://www.JoeTrencaRacing.com
Twitter: https://twitter.com/JoeTrencaRacing
Facebook: https://www.facebook.com/JoeTrencaRacing
SPONSOR SPOTLIGHT – FK Rod Ends
From the wilds of Baja, Mexico, to the "Good Ole Boys" of NASCAR, from mowers to fitness equipment, FK Rod Ends is there with an evolving program designed to supply rod end products to users everywhere. For more information, visit http://www.FKRodEnds.com.
"We're really excited to work with FK Rod Ends again this year," Trenca said. "They have an outstanding track record and we look forward to reaching Victory Lane with them."
Trenca would like to thank Mucci Motorsports, Mid County Machinery, National Parts Peddler, Stars and Stripes Tool Inc., Fast Axle, Don Ott Racing Engines, Schoenfeld Headers, Seals-It, Weld Wheels, Wilwood Brakes, Total Seal Piston Rings, Pulse Racing Innovations, Curtis Berleue Photography, Shute's Water Systems, Shell Shock Helmets, MyRacePass and Inside Line Promotions for their continued support.
PARTNERSHIP OPPORTUNITIES –
Trenca is seeking additional marketing partners to get more experience by traveling and taking advantage of opportunities in the 410ci sprint car ranks. To learn more about options to team up with Mucci Motorsports, call Joe at 315-481-6080.
INSIDE LINE PROMOTIONS –
Inside Line Promotions specializes in affordable public relations and media management for motor sports drivers, teams, sponsors, tracks, series, events, organizations and manufacturers. ILP Founder Shawn Miller leverages professional journalism with new media technologies and social networking to improve your exposure and the return on investment for your sponsors.
To meet the media relations needs of your program by joining Team ILP, contact Shawn at 541-510-3663 or Shawn@InsideLinePromotions.com. For more information on Inside Line Promotions, visit http://www.InsideLinePromotions.com.
---
Article Credit: Inside Line Promotions
Submitted By: Shawn Miller
Back to News