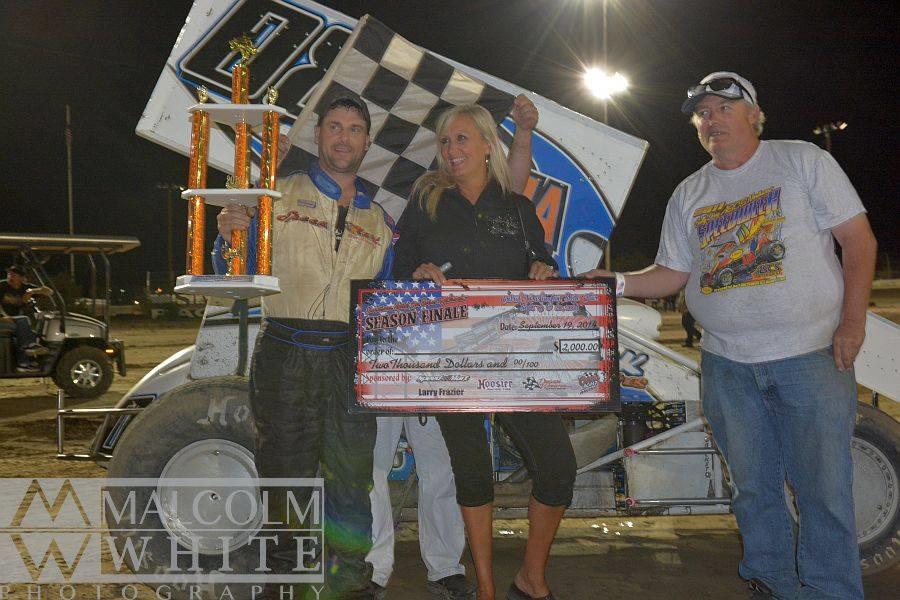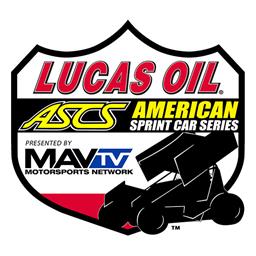 ---
Vague Wins First Career Victory In Night One At Yakima; Baker Extends Point Lead
(Photo Courtesy of Malcolm White Photography)
Ben Deatherage (September 19, 2014) - The American Sprint Car Series-Northwest Region was in action for the first of two nights of championship weekend the at Central Washington State Fair Raceway on Friday September 19th. The series would attract twenty-eight entries to the Yakima 3/8-mile clay oval with teams representing the states of Washington, Oregon, Montana, and Arizona as well as the Canadian provinces of Alberta and British Columbia.
Seizing the lead on the initial start Gold Bar pilot Steve Vague would set a rapid pace. Vague, in his Elma Lanes/Shark Racing Engines #08 Rocket, would negotiate some tricky traffic that almost made him forfeit the lead but each time Vague would be in a position to pull away and reestablish some breathing room.
The biggest challenge of the night would come from the likes of Jared Peterson from Stanwood when he would briefly seize the lead with just a few laps to go while in traffic only for Vague to get back around him and the caution to come out. Vague would master the final pair of restarts to go on and collect his first ever series victory with the ASCS-Northwest Region after several years of tying. He becomes the eleventh different winner in 2014 and the seventh different series winner at Central Washington State Fair Raceway.
Jared Peterson was a respectable second in the Roger Henderson owned Island Muffler and Brake/Cascade Metal Recycling/Bailey Brothers Performance Center #7N KPC followed by Colin Baker from Cottage Grove, Oregon in third piloting the Tim Galloway owned Steelhouse Metal Roofing Supply/Meyers Logging/Team Dirt Dog/Huddle Automotive Repair #83 KPC. The balance of the top five would consist of the Doug Rutz owned Richmond Engines/Firedown Graphics/XXX Race Co./Rutz Racing #8R XXX of Trey Starks from Puyallup in fourth and Snohomish's Reece Goetz in his Great Western Transport/Elma Lanes/Speedmart Inc./Goetz Brothers Racing #9R Eagle was fifth.
The Dave Smith Motorsports/Richmond Engines/DCSigns.ca #8R Maxim of Mill Creek native Cam Smith won the consolation feature. Earlier in the evening four heat races were ran with winners being Steve Vague, Langley, British Columbia's Brady Janson driving for the Doug Rutz owned Richmond Engines/Firedown Graphics/XXX Race Co./Rutz Racing #8J XXX, Colin Baker, and Jared Peterson.
In other news Colin Baker extended his seventy-nine point lead to ninety-two over J.J. Hickle. The ASCS-Northwest Region will return to action on Saturday September 20th at the Central Washington State Fair Raceway for the final round of the 2014 campaign. The latest news and information regarding the ASCS-Northwest Region can be found at www.ascsnorhwest.com.
Race Summary:
ASCS-Northwest Region Race #15
Friday September 20th, 2014
Central Washington State Fair Raceway
Yakima, Washington
A Feature: 1. 08-Steve Vague[1]; 2. 7N-Jared Peterson[5]; 3. 83-Colin Baker[4]; 4. 8R-Trey Starks[11]; 5. 9R-Reece Goetz[13]; 6. 23N-J.J. Hickle[16]; 7. 44H-Eric Fisher[2]; 8. 0J-Jay Cole[9]; 9. 33V-Henry VanDam[15]; 10. 21-Robbie Price[12]; 11. 25-Colton Heath[19]; 12. 98-Matt Jensen[10]; 13. 8J-Brady Janson[6]; 14. 4J-Allison Journey[14]; 15. 2L-Logan Forler[8]; 16. 5-Michael Bollinger[20]; 17. 44W-Austen Wheatley[18]; 18. 5R-Steve Reeves[7]; 19. 97R-Jason Reed[3]; DNS 17-Cameron (Cam) Smith
B Feature: 1. 17-Cameron (Cam) Smith[2]; 2. 44W-Austen Wheatley[6]; 3. 25-Colton Heath[4]; 4. 5-Michael Bollinger[5]; 5. 23L-Rob Lindsey[7]; 6. 11X-Jake Gilman[1]; 7. 81-Darren Smith[3]; 8. 6A-Kady Adelman[10]; 9. 3G-Garret Johnson[11]; DNS 10-Kyle Miller; DNS 22-Garen Linder; DNS 27W-Guy Weedman
Heat 1: 1. 08-Steve Vague[2]; 2. 0J-Jay Cole[1]; 3. 44H-Eric Fisher[5]; 4. 9R-Reece Goetz[6]; 5. 23N-J.J. Hickle[7]; 6. 5-Michael Bollinger[3]; 7. 3G-Garret Johnson[4]
Heat 2: 1. 8J-Brady Janson[1]; 2. 5R-Steve Reeves[6]; 3. 8R-Trey Starks[4]; 4. 2L-Logan Forler[7]; 5. 25-Colton Heath[3]; 6. 23L-Rob Lindsey[2]; 7. 6A-Kady Adelman[5]
Heat 3: 1. 83-Colin Baker[2]; 2. 98-Matt Jensen[1]; 3. 21-Robbie Price[4]; 4. 33V-Henry VanDam[5]; 5. 17-Cameron (Cam) Smith[6]; 6. 44W-Austen Wheatley[3]; 7. 27W-Guy Weedman[7]
Heat 4: 1. 7N-Jared Peterson[7]; 2. 97R-Jason Reed[2]; 3. 4J-Allison Journey[5]; 4. 11X-Jake Gilman[4]; 5. 81-Darren Smith[6]; 6. 10-Kyle Miller[3]; DNS 22-Garen Linder
Current American Sprint Car Series-Northwest Region Point Standings (Top Ten):
83-Colin Baker 1814; 2. 3/23N-J.J. Hickle 1722; 3. 9R-Reece Goetz 1658; 4. 22-Garen Linder 1503; 5. 77-Kyle Hirst 1373; 6. 7N
---
Submitted By: Bryan Hulbert
Back to News