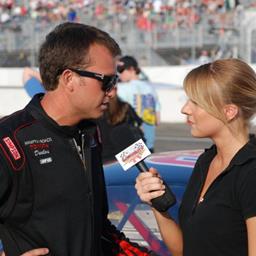 Ce Falk
Virginia Beach, VA
Driver Information
Name: C.E. Falk III
Birth Date: November 5th, 1987
Birth Place: Norfolk, Va
Resides: Virginia Beach, Va
Education:
Received a Bachelors degree in Business Management from the University of North Carolina at Charlotte.
Graduated with Honors from Norfolk Academy.
Interests other than racing:
Family, friends, racing go-karts with friends on friday nights before a race, racing video games and Call of Duty, Lambda Chi Alpha, and any type of music from Led Zeppelin to Lil' Wayne.
The way that C.E. Falk is continuing a family tradition in the motorsports world makes for a tremendous story. Factor in that he is arguably the best young Late Model Stock Car driver in the country, and that story pushes itself over the top.
The son of former Busch series regular Eddie Falk and nephew of former NASCAR Sprint Cup Series car owner Joe Falk, C.E. Falk is the face of Saturday night racing at Langley Speedway (VA) and a consummate contender for the national NASCAR Whelen All-American Series title.
The five-time Virginia state and 2002 national karting champion became a star in the Legends car ranks, racking up over 50 wins in three years of competition and translated that success to Late Models at a variety of race tracks.
CE Falk Career Highlights
4-Time Langley Speedway Track Champion (2009, 2010,2011,2013)

2-Time Hampton Heat Winner

2010 Denny Hamlin Short Track Showdown Winner, 2012 Danville Toyota 300 Winner

49 Career Late Model Stock Car Wins

over 100 Career Late Model Stock Car Top-Five Finishes

2005 Virginia State Legends Car Champion

Over 50 Legends Car Wins

2002 National Karting Champion

5-Time Virginia State Karting Champion
Recommendations
No recommendation information