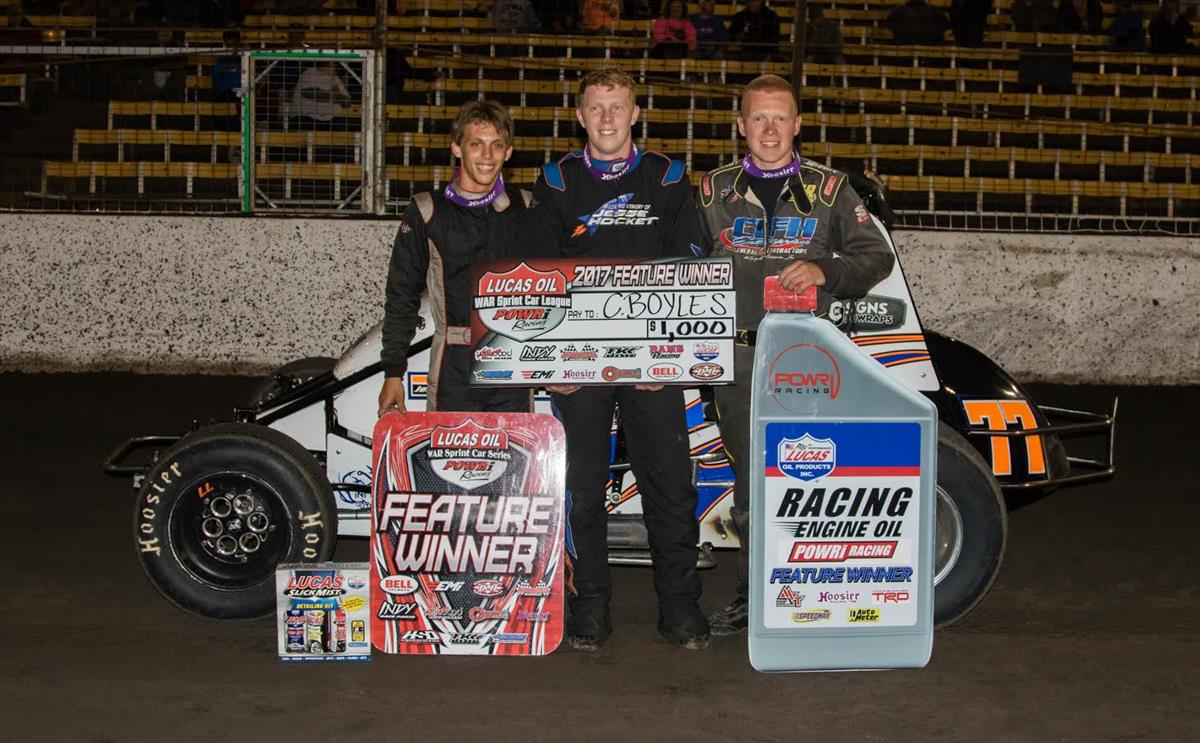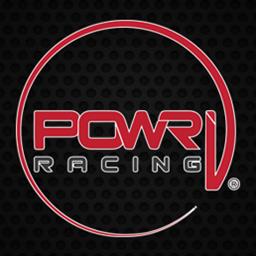 ---
BOYLES CLIMBS TO THE TOP AT LAKESIDE
BOYLES CLIMBS TO THE TOP AT LAKESIDE
Kansas City, KS (May 11, 2017) - After picking up a win during his rookie season with the POWRi Lucas Oil WAR Sprints last May at Lakeside Speedway, Clinton Boyles won for the second year in a row on Thursday night at the same racetrack.
Cody Baker edged Isaac Chapple to lead lap one in the twenty lap feature. Baker set a torrid pace as he ran the high side of the 4/10 mile. Behind him, Boyles moved his way forward from his fifth starting position.
Baker continued to lead as Boyles moved into second past Chapple. Around the halfway point, Boyles started making up ground as lap by lap he cut into Baker's lead.
By lap fourteen, Boyles was applying heavy pressure as Baker continued to lead. The pair ran side by side battling for the lead. Baker narrowly led lap fifteen as Boyles was making the bottom work.
Boyles got a good run on lap sixteen to move into the lead, but Baker wasn't done as the two moved through lapped traffic.
Boyles would hold off Baker in the non-stop 20 event to pick up his fifth career POWRi Lucas Oil WAR Sprints win aboard his Jesse Hockett Racing/Lucas Oil/Rod End Supply Maxim with RMS power. Baker was a strong second in his Ted Hall-owned Ultra Shield/Hinchman Racewear/Bell Helmets XXX with Hall power under the hood. Chapple, making his second career start, would finish third in his CFH Ent/Superior Consulting/S&M Construction Claxton-powered DRC.
Weyant was fourth in his Weeble's Bar and Grill/Ealey Transportation/Tosti's Transmission Eagle with Automotive Machine power. Rounding out the top five was Quinton Benson in the QBR/Midwest Speed Shop/Sea to Sea Transportation XXX with Speed Shack Performance power. Slater Helt was sixth and he was followed by Chris Parkinson. Mitchell Moore, Warren Johnson, and Rob Hockett rounded out the top ten.
The POWRi Lucas Oil WAR Sprints will next be in action on Friday May 19 at US 36 Raceway in Osborn, MO and on Saturday May 20 at I-35 Speedway in Winston, MO.
POWRi Lucas Oil WAR Sprint Cars
5/11/17
Lakeside Speedway - 15 cars
Hinchman Racewear Heat 1 - 8 laps
99-Korey Weyant, Springfield, IL (5); 2. 21-Ryan Kitchen, Lincoln, NE (1); 3. 77-Clinton Boyles, Greenwood, MO (8); 4. 15B-Quinton Benson, Emma, MO(4); 5. 77H-Rob Hockett, Lone Jack, MO (2); 6. 93-Steve Mahannah, Springfield, MO (7); 7. 42-Warren Johnson, Overland Park, KS (6); 8. 93M-Dustin Morgan, Tulsa, OK (8)
Wilwood Disc Brakes Heat 2 - 8 laps
38-Cody Baker, Lone Jack, MO (1); 2. 52-Isaac Chapple, Willow Branch, IN (2); 3. 11W-Wyatt Burks, Topeka, KS (5); 4. 22S-Slater Helt, Harrisonville, MO (4); 5. 65-Chris Parkinson, Gladstone, MO (7); 6. 51-Mitchell Moore, Edgerton, KS (3); 7. 82-Vinny Ward, Warrenton, MO (6)
POWRi Lucas Oil WAR Sprints A-Main - 20 laps
77-Boyles (5); 2. 38-Baker (4); 3. 52-Chapple (2); 4. 99-Weyant (6); 5. 15B-Benson (8); 6. 22S-Helt (9); 7. 65-Parkinson (7); 8. 51-Moore (12); 9. 42-Johnson (13); 10. 77H-Hockett (10); 11. 93-Mahannah (11); 12. 82-Ward (14); 13. 21-Kitchen (1)-DNF; 14. 11W-Burks (3)-DNF; 15. 93M-Morgan (15)-DNF
Photo Credit: Redlined Photography
---
Article Credit: Chad Buford
Article Media
Back to News