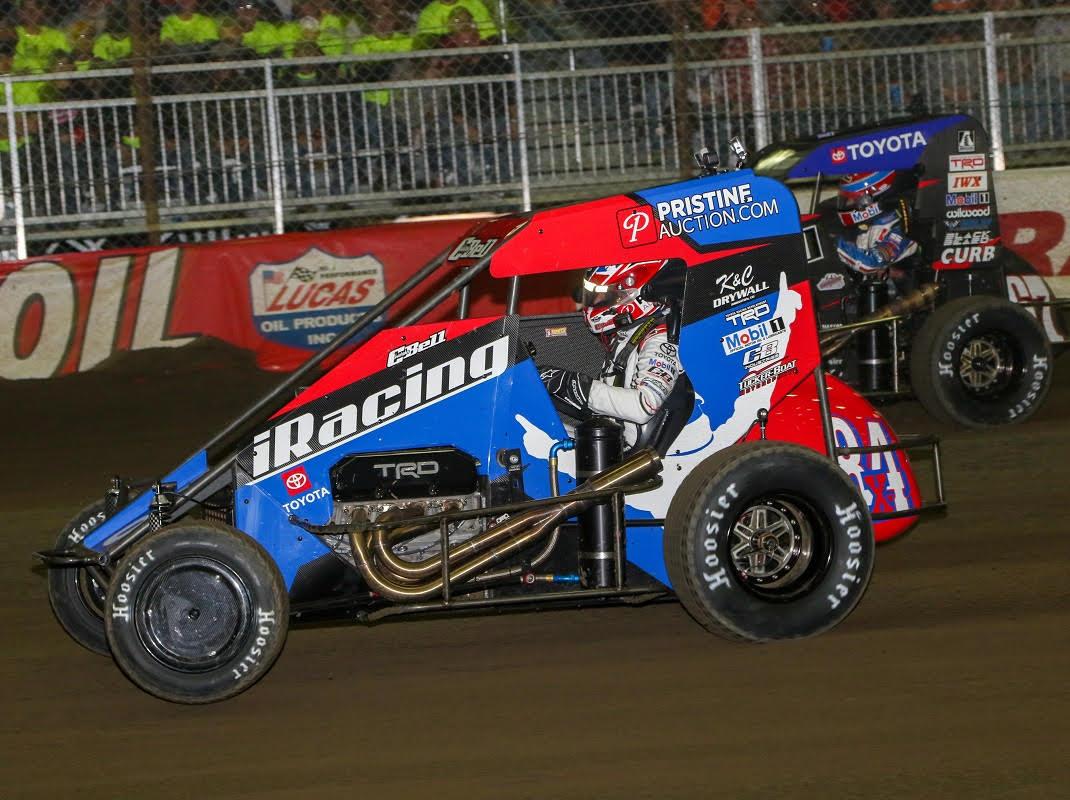 ---
Kofoid Earns Praise From Bell After Podium Finish
Brendon Bauman photo
TULSA, Okla. – Christopher Bell may have won Thursday's John Christner Trucking Qualifying Night feature at the Lucas Oil Chili Bowl Nationals, but the arguable star of the show was Buddy Kofoid.
Fittingly enough, Bell knew it – and pointed it out – after the celebration was over Thursday night.
Making his Chili Bowl debut with Keith Kunz/Curb-Agajanian Motorsports, Kofoid accrued enough passing points to line up second for the 30-lap headliner, starting alongside Shane Golobic.
And when the green flag dropped, Kofoid made sure everyone knew he wasn't just there for looks, racing among the top four all night long and sliding both Bell and Thomas Meseraull at various points during the main event.
While he wasn't ultimately able to shuffle Meseraull out of the second and final lock-in spot at the end of the feature, Kofoid dogged the crafty veteran all the way and ended up on the podium in his Chili Bowl preliminary night debut – an impressive feat for the California teenager.
In fact, Bell was so impressed with Kofoid's performance that he made sure everyone knew it afterward offering plenty of praise to the young upstart during both his victory lane interview and the post-race press conference.
"Man, Buddy Kofoid is an extremely talented race car driver, and I already have a feeling that next year he's not going to be that easy to pass," said Bell. "I literally see me, like, right here. I've been watching his for a while now, and he's actually got a little bit more of a head start on me, as far as experience goes. I think he started in sprint cars a little bit earlier. But when I started at Keith's (team), I was 18 years old, and I promise you I wasn't running third on my first Chili Bowl prelim night.
"I remember talking to Pete (Willoughby) a while ago, telling him that Buddy's it, that he's the next guy … and I'm just so, so glad that Pete and Keith took a chance and got Buddy. I think the sky's the limit for him."
For reference, Bell actually finished last – 24th – during his initial Chili Bowl preliminary night feature in 2011, making Kofoid's run a shining example by a rookie of what's possible in the right situation.
Kofoid also outran Kyle Larson (DNQ) and Kevin Swindell's (seventh) rookie preliminary night performances, matching Spencer Bayston's initial Chili Bowl prelim run from 2015 with KKM, when Bayston finished third as a rookie – locking into the finale that year, as the top three were secured.
It was a run that put a lot of eyes on him, and Kofoid cracked a sheepish smile at hearing the praise from Bell after the race on Thursday night, appreciative of the support and recognition.
"When a guy like Christopher gives you props like that, it definitely means a lot and makes you feel pretty good," Kofoid noted. "Christopher is a Cup (Series) guy now, so to have someone of that caliber fight for you, per se, to get you on a team like this definitely means a lot for me and my career.
"Toyota and Keith Kunz have given me great opportunities so far, the start of (potential) opportunities that I never would have even thought would have been possible a year or two ago," he added. "I'm excited to run USAC full time this year – hopefully we can get some sprint car stuff in with that too – but sitting next to a guy like Christopher in my first Chili Bowl is insane to think about. It means a lot."
With a podium run already in his pocket, Kofoid is even more optimistic now going into the remainder of the weekend than he admitted he might have been before, knowing that he has both a race-winning team – and now a potential race-winning car – behind him as he shoots for the stars.
"This was a tough night, but to be in the front of a B-main is really cool now," Kofoid said. "From my heat race to running third in the main, I feel like I've come a long way myself. It's not a lock-in position, it's not a win like we hope to have, but it puts us in a great spot for Saturday and I'm proud of that."
---
Article Credit: www.SpeedSport.com
Submitted By: Josh Holt
Back to News