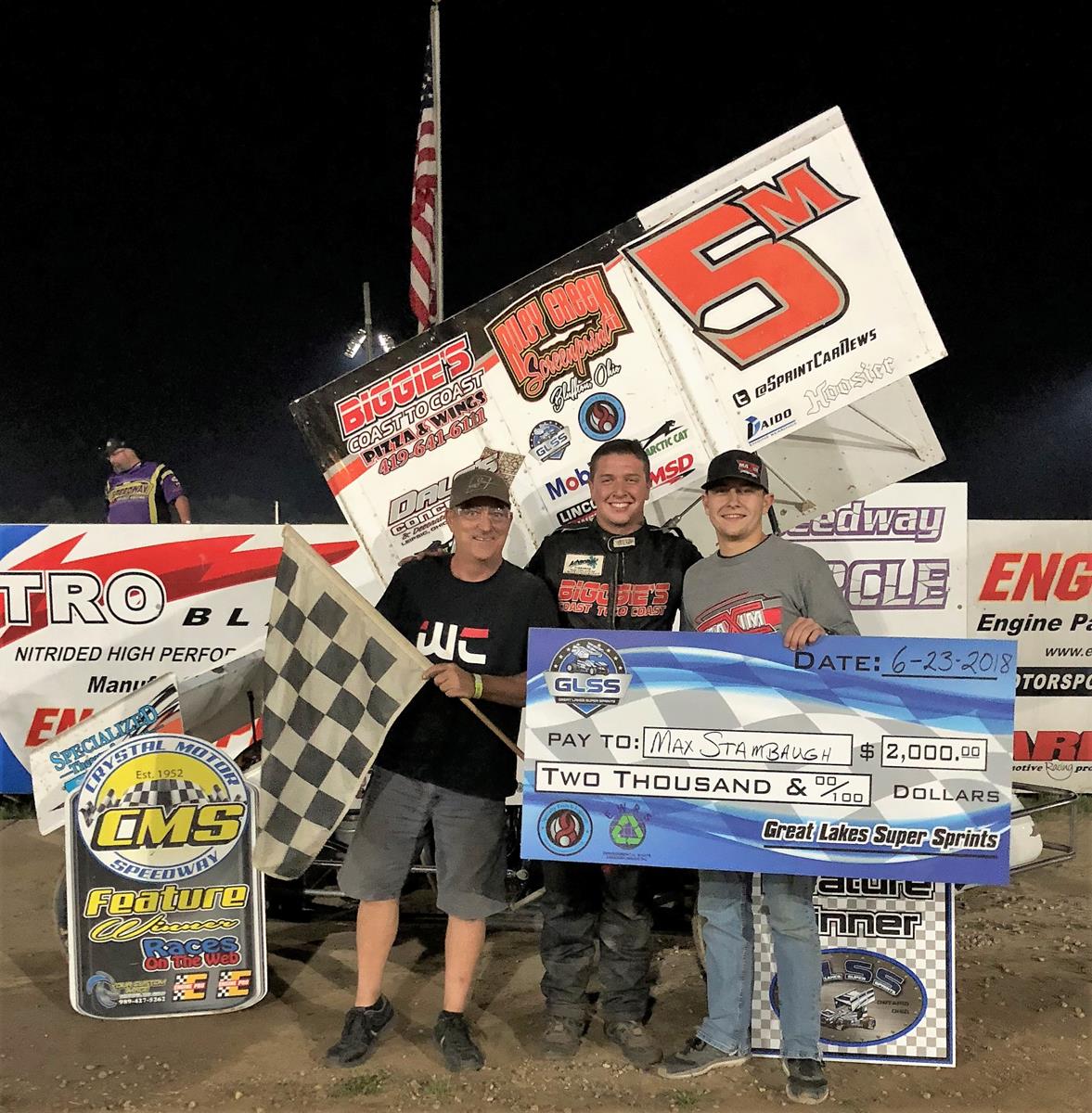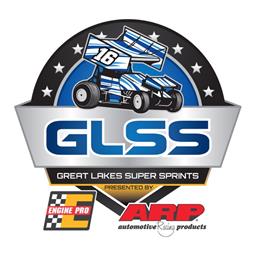 6/23/2018
Great Lakes Super Sprints
---
STAMBAUGH WINS AT CRYSTAL
Crystal, MI – After being fast qualifier tonight, Mad Max Stambaugh (Elida, OH) holds off a strong field of cars to take his 2nd win this season with Great Lakes Super Sprints.
Pretty much everyone counted on tonight's race at Crystal Motor Speedway to be rained out with the forecast that had been predicted all week on the weather channel! Fortunately we only had to deal with clouds which finally cleared allowing us to witness a beautiful sunset and enjoy a perfect evening.
Due to the overcast skies and higher humidity the track did not want to dry up this evening. With Qualifying scheduled for 6:30, our last cars pulled off the track around 8 pm. However, once the show started rolling, we were able to get though the heats, B-Main and A-Main before 10:45. Pretty incredible considering the late start to the evening.
With the track ready to go, Mad Max rolled out in the first group and grabbed what would hold as the fast qualifying time of a 12.756 second lap or an average speed of 105.836 mph! Showing how well the track was holding up, Phil "Gas Man" Gressman (Helena, OH) went out in the sixth group and took 2nd quick, while Dustin "Double D" Daggett went out in the final group and turned a 12.914 second lap, good enough for 3rd quick.
Rolling out in the Kistler Race Engine Heat Race #1, young Danny "D3" Sams sat on the pole with 3 past champions and last years All Star Circuit of Champions Rookie of the Year sitting behind him! As the green flag dropped, Sams beat Jared "Hurricane" Horstman (Cloverdale, OH) into turn 1 for the lead and was able to put a little distance between them. Horstman had his hands full fighting off a challenging Stambaugh. While Sams controlled the lead, Stambaugh was able to get around Horstman with two laps to go to take the 2nd re-draw spot. Horstman settled for 3rd, with the "Hoosier Rocket" Brett Mann (Goshen, IN) and Chase "Kid Rocket" Ridenour (Perry, MI) taking the 4th and 5th transfer spots to the A-Main.
The Campbell Performance Heat Race #2 was led out by Gregg Dalman (Bellevue, MI) and Linden Jones (Edwardsburg, MI). Dalman got out front fast and left the rest of the field to jockey for position behind him. Gressman was taking a high line and was quickly behind Dalman and challenging him for first in the 2nd lap. With great track conditions, Gressman was able to lay down a 12.679 second lap (faster than quick qualifier) and overtake Dalman in the 5th lap for good. Taking the checkered flag, Gressman wins his heat, with Dalman taking the 2nd re-draw spot and Ryan Ruhl (Coldwater, MI), Matt "Black Deuce" Foos (Fremont, OH) and Jones rounding out the top 5 spots.
Andy "Tuna" Teunessen (Kalamazoo, MI) and Andrew Scheid (Sparta, MI) led out the Kistler Racing Products Heat Race #3. As the flag dropped, Scheid was able to take the high side around Teunessen and Daggett was able to go low, making it Scheid, Daggett 1 and 2 after one lap. Daggett gets around Scheid in lap two and at the drop of the checkered flag, it's Daggett and Schied for the 2 re-draw postiitons. Jay Steinbach (Hudsonville, MI), Teunessen and Brad Lamberson (Parma, MI) round out the top 5 finishes.
Scheduled to start on the pole of the B-Main, Jared Lamberson had to scratch from the feature with a broken driveshaft. With 11 cars reporting for the B-Main, Kyle Poortenga (Woodland, MI) and Mike Astrauskas (Pierson, MI) were out front in a hurry and would go on to finish 1 and 2 respectively. Conner Morrell, Joe "Dirt" Geibe (Sturgis, MI) and Ty Williams (Parma, MI) would secure the remaining transfer spots. With Horstman having engine trouble after his heat race, we had a 6th transfer spot to award and that was earned by Ralph "Tank" Brakenberry (Pigeon, MI).
After our popular 4-wide fan salute before the A-Main, Sams and Stambaugh lead the field of cars around to the start line. As the green flag flies, Sams gets out to an early lead and was able to hold Stambaugh off for 5 laps. In lap 6, Stambaugh gets around Sams for good and will go on to take the checkered flag. Stambaugh, Gressman and Sams would finish the race 1, 2, 3!!! Behind these cars there was quite a battle brewing between Dalman and Daggett! Daggett is able to get around Dalman for 4th, but Dalman doesn't give up and challenges Daggett every lap coming out of turn 4, then Daggett moves past and gains some momentum in turns 1 & 2. At the checkered flag, Stambaugh gets the win, followed closely by Gressman, Sams, Daggett and Dalman.
Starting in 12th, Ridenour moved up 6 spots, finishing 6th for the night, winning the Engler Machine & Tool Hard Charger
Our next race will be this Friday, June 29th at I-96 Speedway in a Battle of Speed when we take on the American Ethanol Late Model Tour in a Dual on the Dirt. Then on Saturday, June 30th, we will move up North for our final visit of the season at Merritt Speedway.
For complete results, points information and ticket information, visit our website at www.greatlakessupersprints.com . Don't forget to like us on Facebook and follow us on Twitter!
---
Article Credit: Barry M. Marlow
Submitted By: Barry Marlow
Article Media
Back to News