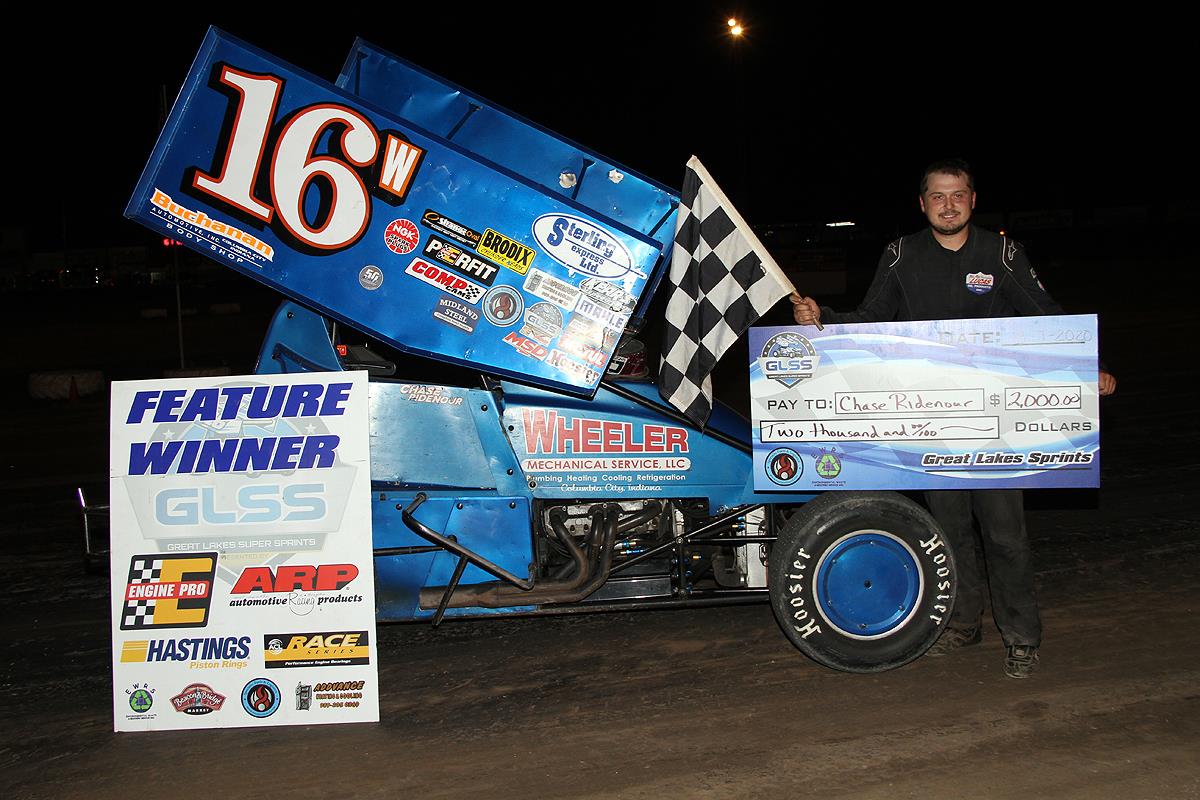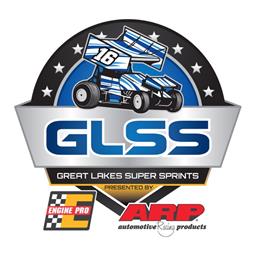 8/7/2020
Great Lakes Super Sprints
---
RIDENOUR HOME AGAIN IN WINNERS CIRCLE
Auburn, MI – Chase Ridenour (Perry, MI) grabs his first win in the Wheeler Mechanical Service 16w and his first win with GLSS since August 2017. With his win Friday at Tri-City Motor Speedway, Ridenour has 7 Great Lakes Super Sprint wins and was happy to be back home in the winners circle! He is hoping he can stay "home" a lot more often!
With all 4 GLSS Champions racing every night, you can be sure the competition up front will be fierce. Friday at Tri-City was no different with all 4 champions sitting in the top 5 after qualifying. 2018 Champion Dustin Daggett (Portland, MI) set fast time with a 11.949 second lap and an average speed of 112.98 mph. Jared Horstman (Cloverdale, OH), our 2017 Champion, was 2nd quick with a 12.412 second lap. Finishing 3rd, was our reigning Champion, Phil Gressman (Helena, OH), while a GLSS Regular, Ryan Ruhl (Coldwater, MI) and Ridenour rounded out the top 5.
Jumping out quick in the Engler Machine & Tool Heat 1, Max Stambaugh (Elida, OH) takes the lead wire to wire to secure the heat race win over Ruhl. Daggett finished 3rd, while Mike Astrauskas (Pierson, MI) and Andrew Scheid (Sparta, MI) round out the top 5 finshers.
In the Kistler Engines & Racing Products Heat 2, Horstman took the win, starting in the 4th position. Ridenour secured the 2nd redraw spot finishing 2nd. Taking 3rd was Conner Morrell (Bradenton, FL), with Frank Neill (Vickery, OH) and Andy Chehowski (Coldwater, MI) rounding out the top 5 in the 2nd Heat Race.
Jay Steinebach (Hudsonville, MI) led all 8 laps of Specialty Fuels & Logistics Heat 3. Starting on the front row, Steinbach was pushed the whole race, but none more then by Gregg Dalman (Bellevue, MI). Steinebach took the checkered flag with a half second lead over Dalman. Gressman secured 3rd while Tyler Gunn (Napoleon, OH) and Hud Horton (German Town, OH) rounding out the top five.
In the Addvance Heating & Cooling Last Chance race, Quentin Blonde (Concord, MI) got by Dan McCarron (Britton, MI) in the 8th lap securing him the checkered flag and the win. McCarron finished 2nd and Gary Fritts (Saline, MI) finished 3rd rounding out the podium. Eli Lakin (Buchanan, MI) and Justin Ward (Benzonia, MI) grabbed the last two transfer spots and moved on to the PERFIT/ENGINE PRO Feature Event.
Steinebach and Ridenour led the field out for the PERFIT/ENGINE PRO Feature Event. After the fan favorite 4 wide salute, the green flag dropped and Ridenour jumped out front and led the field for 25 laps. While Ridenour made it hard for anyone to over take him, 2nd on back were up for grabs and we had guys slowly working their way up.
Horstman and Daggett were the first ones to come knocking and finishing with Ridenour on the podium. Our first 3 spots went to our first champions, Ridenour, Horstman and Daggett. Stambaugh finished 4th and Steinebach finished 5th.
Eli Lakin starting 19th and clawed his way up to a 13th place finish, earning him the Hoosier Hard Charger Award. Hud Horton and Dan McCarron earned honorable mentions by both moving up 5 spots.
Our next race will be Saturday, August 15th at Merritt Speedway. Go to our website, www.greatlakessupersprints.com or www.greatlakessprints.com for the most up to date schedule info and full listings of results and points. Be sure to follow us on Facebook and Twitter (@GLSprints) for live postings and pictures.
Thank you to our series sponsors PERFIT/ENGINE PRO and ARP, along with our marketing partners, Addvance Heating & Cooling, Beacon & Bridge, Midland Steel, Specialty Fuels & Logistics and our Race Partners Engler Machine & Tool, Kistler Engines, Campbell Performance and Environmental Waste & Recovery Service.
---
Article Credit: Barry M. Marlow
Submitted By: Barry Marlow
Article Media
Back to News