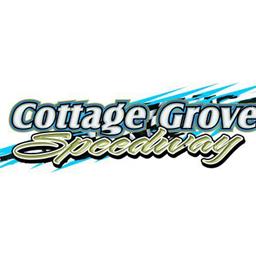 5/8/2016
Cottage Grove Speedway
---
R. Ashley, Cox, Donahoo, And Corley Collect Cottage Grove Wins
R. Ashley, Cox, Donahoo, And Corley Collect Cottage Grove Wins
By Ben Deatherage
Cottage Grove, Oregon- The streak of wonderful racing at Cottage Grove Speedway continued when action resumed at the historic ¼-mile clay oval on Saturday May 7th. Even though there were some other large activities in the vicinity, the Cottage Grove facility was still able to attract a decent car count and a pretty good crowd. Classes competing included the Clark Printing Extreme Sprints, IMCA Modifieds, Late Models, and the Quality RV Repair Hornets.
The Clark Printing Extreme Sprints would start with Roseburg's Don Waddell the car to beat. Waddell, in his Double R Powdercoating/Rocket Designs/BC Motorsports #10 XXX, would put up a phenomenal performance and blazed the trail for the first ten laps. He would be overtaken on lap eleven by Ricky Ashley, from Thurston. Ashley worked consistently on the high side and found himself being chased quickly by some challengers, notably Cottage Grove's Patrick Dills.
Ricky Ashley was able to maintain the top place position for the rest of the distance to collect his first career CGS Sprint Car victory. It was also the first occasion that the Todd's Auto Body/Clark Printing/Fastenal/Double R Powdercoating #85 Maxim had made it to the winner's circle as his two previous Sprint Car wins at Sunset Speedway Park in 2012 were in a car he did not regularly drive.
Patrick Dills would place second, in his Faye Stewart for United States Senate/Cedric Ross Hayden for Oregon State Representative/M.D. Yearous Logging/Jacob Daniels Attorney at Law #5D KPC, followed by the Three Rivers Casino and Resort/Bi-Mart/MSD Ignitions/Puddle Jumper Towing #70 XXX in third, driven by Eugene pilot Raquel Ivie. Medford native Dave Hibbard was fourth, in his Hansen & Sons Trucking/Outlaw Powdercoating/Dave's Carpet and Vinyl Liquidators/PJW Trucking #3 Zeitler, and completing the top five, in fifth, was the Whit-Log Trailers/Redmond Trucking/Double R Powdercoating #57 Rocket of Roseburg's Dusty Redmond.
Patrick Dills was fast time of the night and victorious in the Dot's Trophy Shop Trophy Dash would be Sutherlin teenager Cooper Desbiens in his J.H. Desbiens Construction/Budget Lumber/Lithia Auto Body/FK Rod Ends #4D entry. It would be female domination in the heat races as Raquel Ivie and the Journey Built Homes #4J KPC of Boston Massachusetts driver Allison Journey were the winners.
A very entertaining IMCA Modified race occurred. Kinzer Cox snatched the lead early in his C.J. Fire Protection/Robert Howell Logging/Hard Knocks Brewing/BC Motorsports #1K Loose Gruff. The Cottage Grove youngster would surrender the lead on lap three to the A-1 Auto Supply/Furniture Options/Mackin Street Customs & RV's/Absolute Auto & Air #84 Shaw driven by Eric Ashley. Ashley, of Jasper, would set a very wicked pace but ultimately lost the position to Cox on lap seventeen. Cox would stay up front the rest of the way to win his first race of 2016.
Eric Ashley would end the evening the runner-up while Cottage Grove's Tyler Smith, in his DeWalt Racing/S&L Photography/Bam Carbide/Carrothers Automotive Machine #73 Hassey, was third. The rest of the top five would consist of the Springfield Point S Tire Factory/KMC Wheels/Pyramid Brewing/Fastenal #11 X-Factor, driven by Springfield native Steven Sturdevant, in fourth while fifth place went to Jake Mayden, also out of Springfield and chauffeuring his Hoppes Motorsport/Courtney Auto Repair/Eugene Gutter Service/Quality RV Repair #5M Dirt Works.
Kinzer Cox was fast time in qualifying and Cottage Grove's Curtis Towns, in his Superior Fuel Cells/West End Performance/BSB Manufacturing/IBEW Local 280 #24 Superior, was the winner of the Dot's Trophy Shop Trophy Dash. Only one heat race was ran during the night and Eric Ashley finished in first place.
The Late Model feature would practically go from green to checkered. There was a caution on the opening start but it would be the only time that the field would be bunched back up. Lebanon ace Josh Sim put his MG Construction/Westshore Tailgating/Mother Goose Resale #20 Swartz to the front on lap one. Sim would hold the lead for a little bit before being passed by Salem's Britton Donahoo. Donahoo, in the O&O Farms/Watson Service & Repair/FinishLine Graphics #5 MasterSbilt, would have no issues after getting to the lead. Donahoo would cruise the rest of the distance to win his first career Late Model event.
The Lucas Oil Products/Thomas & Sons Distributing #88 Swartz of Mike Peters, from Cottage Grove, was fast time and Britton Donahoo was the winner of the Dot's Trophy Shop Trophy Dash. Like the IMCA Modifieds, only one heat race was ran and Donahoo was the victor.
Last but not least was the Quality RV Repair Hornets. Junction City's Marcel Forte lead the first circuit in his Junction City Muffler Shop/Twisted Bit Arena/J&M Racing/Snap On Tools #23F machine. Forte would hold the position until lap five when Josh Corley made it around him. Corley, of Westfir and in the J&M Racing #7C Nissan 200SX, would stay there for quite some time.
With just a few laps to go the Royal Refuse/More of Everything Racing Collectibles #11 entry, of Veneta's Joe Maricle, would get by Josh Corley and pulled away. Unfortunately Maricle would go off the top of turns one and two with a couple of laps to go to giving the lead back to Corley. Corley would stay up front the rest of the distance to win his third straight main event of 2016.
Marcel Forte was second followed by the Quantum Mechanics/Quality RV Repair/Big B Tire #30 Mazda Protégé of Springfield's K.C. Scott in third. Joe Maricle crossed the line fourth while the Kimwood Corporation/Industrial Finishes/It Works by Kayla Simmons #1N Honda Prelude of Mike Simmons, from Cottage Grove, was fifth. After the races Scott did not go to the scales so that bumped everyone a position and giving Eugene driver Eddy Mesceji, driving the Rick L Racing/Eugene Gutter Service #03 car, the official fifth place finish.
K.C. Scott was fast time of the night in time trials and Joe Maricle won the Dot's Trophy Shop Trophy Dash. Heat race winners included Scott, Josh Corley, and Mike Simmons.
Cottage Grove Speedway gets back underway with a doubleheader weekend. Things kick off on Friday May 13th for the first $5.00 FAST FRIDAY. Spectators that are 13 years or older get in for just $5.00 and 12 or younger are FREE. Racing will be starting a little bit later then normal and things are expected to get going at 7:00 PM. Classes racing include the Clark Printing Extreme Sprints and the PHRA Dwarf Cars.
Then on Saturday, May 14th, CGS hosts Grad Night. All senior high school students that have a student body card get into the races for FREE. Classes racing on night two are the Clark Printing Extreme Sprints, Late Models, Quality RV Repair Hornets, and PHRA Dwarf Cars.
Tickets are Adults $13.00, Juniors/Seniors/Military $10.00, Youth (6-12) - $5.00, Family Pass $30.00, and Children 5 or under are FREE. Pit Passes will be offered for $30.00 each. Pit Gates open at 2:00 PM, Front Gates 4:00, and Racing is scheduled to start around 6:30. For more information log on to www.cottagegrovespeedway.com and check out the track's Facebook page and click "Like".
---
Submitted By: Ben Deatherage
Back to News