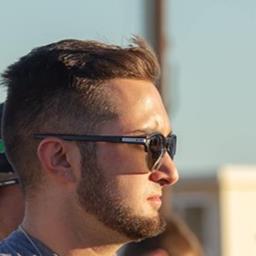 Michael Fanelli
Rio Rancho, NM
Driver Information
Michael Fanelli is a graduate of Cleveland High School in Rio Rancho, NM. Michael was born in "Brewtown" Milwaukee,Wi. Michael's interest in racing started at a very early age. He remembers that as soon as he could walk and ride a trike he was attending Quarter Midget races to watch his older brother Matt race. Michael started racing Quarter Midgets at the age of 5. His first race was May 15, 2005. Michael experienced his first win on August 7,2005 at Sandia Speedway in Albuquerque, NM where he shared the limelight that night with his uncle JR Fanelli who won the MIdwest Late Model tour race also.
Michael has raced and won in many states including California, Nevada, Arizona, New Mexico, Colorado, Texas, Kansas, Ohio, Florida, North Carolina, Alabama, Georgia, Indiana, and British Columbia,CN. Michael has competed in 8 National Grands events in Topeka,KS, Madera, CA, Sacramento, CA, Xenia, OH, Indianapolis, In, Austin, TX, Vancouver, CN, and Huntsville, Al. He has raced in 10 A mains at the grands with the highlight being the National Champion in Heavy Mod in Huntsville, AL. Other memorable wins include the USAC Battle at the Brickyard where Michael was the Champion in both Heavy World Formula and Unrestricted Animal. He has also posted big wins at Columbus Indoors Winternationals in Heavy 160 and at Little E at Eldora Speedway in the USAC Dirt Nationals in Heavy 120 and Heavy 160. He has also won 3 Mopar USAC Next Generation Tour National Championships in Heavy 160, Unrestricted Animal and Heavy World Formula.
Michael began driving a Ford Focus Midget in 2011 for Eric Rankine Racing. In 2012 he drove his own cars on the Ignite Ford Focus Midget series and won 3 A Main features in Las Vegas and finished second overall in the points championship.
In 2013, he got the opportunity on his 15th birthday to drive a 360 non wing dirt sprint car for SEH motorsports. In 2014 MFM teamed up with Hilltop Racing and John McGerigle and Michael piloted the #38 360 Sprint car. In 2016 MFM purchased a Maxim sprint car and 360 motor from Matt Mitchell in California and the Blue Deuce was back. Michael was the youngest racer to ever win the New Mexico Motor Racing Association NMMRA 360 Non Wing Championship in 2016 at 18 years old.
Michael's favorite Nascar driver is Tony Stewart and his favorite local drivers are his Uncle JR Fanelli, Johnny "Hollywood" Herrera, and Derrik Ortega. Michael's favorite quotes are "Get in it and Go Win it!!" "Second place is the first loser" and "Make Someone's Day". His favorite movies are: Driven, Talladega Nights, Days of Thunder,Step Brothers, 21 Jumpstreet and The Other Guys and his favorite television shows are Two and a Half Men, Street Outlaws, and Duck Dynasty. Michael's favorite sports teams are The Ohio State Football Team, Los Angeles Lakers, NY Yankees and Green Bay Packers.
Michael's main interest is driving race cars he also enjoys making the cars race ready before the trailer is loaded,and head down the highway to the next track. If you are near a track where we will be racing stop by the trailer and say hi.
2018 Sandia Speedway 360 Non Wing Sprint Car Stampede
2016 NMMRA 360 Non Wing Sprint Car Championship
2013 USAC Night Before the 500 National Midget 5th place at IRP
2012 USAC Focus Midget "Night of Fire" at LVMS
2011 USAC Mopar Next Generation National Championship Unrestricted Animal
2011 USAC Battle at the Brickyard Champion Unrestricted Animal
2010 USAC Mopar Next Generation National Champion Heavy 160
2010 USAC Mopar Next Generation National Champion Heavy World Formula
2010 USAC Battle at the Brickyard Champion Heavy World Formula
2010 USAC Dirt National Champion at Eldora Speedway in Heavy 120 and Heavy 160
2009 QMA Eastern Grands Champion Heavy Mod
Winning Sprint Car Stampede, Setting Quick Time and New Track Record in Sprint Car at West Texas Speedway in Lubbock, TX August 2019, Winning USAC National Championships
Favorites
Track

Where ever he can get to and race

Driver

Tony Stewart

Food

Steak and Corn on the Cob

Movie

Talladega Nights

Song

Sicko Mode by Travis Scott

Sports Team

Ohio State Buckeyes
Recommendations
Restaurant

Hooters

Fast Food

Whataburger

Car Manufacturer

Lamborghini

Beverage

Miller Lite and White Claw